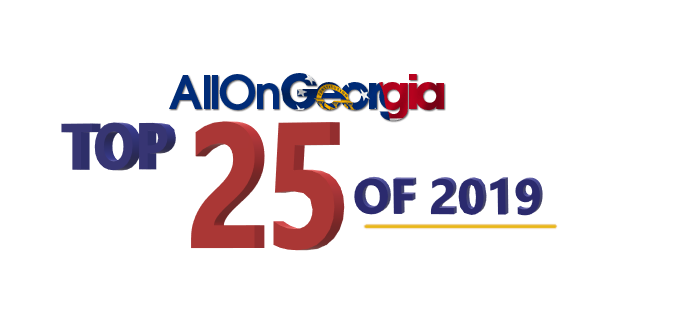 Can you guess which articles made the list for the most readers over the last year?
It's been a great year here at AllOnGeorgia with stories detailing the goings on in all corners of our great state on everything from state politics and local government corruption to biggest catches and lifestyle commentary. There are dozens we think are worthy of a second look, but we narrowed it down to the Top 25 based on which articles you – the readers – read the most over the last 365 days.
Click the title next to the number to redirect to the individual article.
25. COLUMN: Verdict in Kingsland Police Officer Case Missed Mark

23. Georgia School District Ends Team Chaplain Sponsored Prayer After Complaints 
22. Former City Clerk Arrested by GBI in City of Soperton
21. Ga Man Shoots Wife, Self in Front of Children
20. Former Bulloch Deputy Arrested for Sexual Exploitation of Children and Possession of Child Pornography 
19. Fatal Car Accident Claims Life of Chattooga County Man
18. Evans Co. Superintendent Hires Wife Without Board Approval or Public Advertising 
17. Body Cam Video Reveals Dog Shooting Incident
16. Deadliest Catch Cast Member Sentenced to 51 Months Imprisonment 
15. Georgia Firefighter Charged with 16 Felony Charges 
14. Evans County Board of Education Turns Special Needs Child Over to Court System for Documented Medical Issue
13. 2 Bills Target Confederate Monuments, Stone Mountain 
12. Georgia Sets Execution Date for Marion Wilson
11. Arrest Made in Thursday Murder in Tattnall County
10. City of Oak Park Suspends Police Department
9. Bill Seeks to Oversee Transitions to Homeschooling, Involves DFCS More Easily 
TIED
VIDEO: Bulloch Resident Says He Was Stopped by BCSO Without Cause
8. Officials: Georgia boy dies in hot car as parents sleep in house
7. Convicted Murderer & Gangster Disciple Found Guilty of Running Trafficking Ring from Inside North Georgia Prison
6. Man Sets New State Record with Monstrous Alligator 
5. Evans County Judge Arrested for DUI
4. Bulloch Co Commissioner Arrested by Statesboro PD
3. Lawmaker withdraws bill to prohibit truckers on highway when not en route for delivery (See #1 below)
2. VIDEO: Commissioner's wife facing charges for assault on AllOnGeorgia reporter.
1. Georgia lawmakers want semi-truck presence on highways banned if delivery not in progress
Thank you for being an AllOnGeorgia reader. See you in 2020!