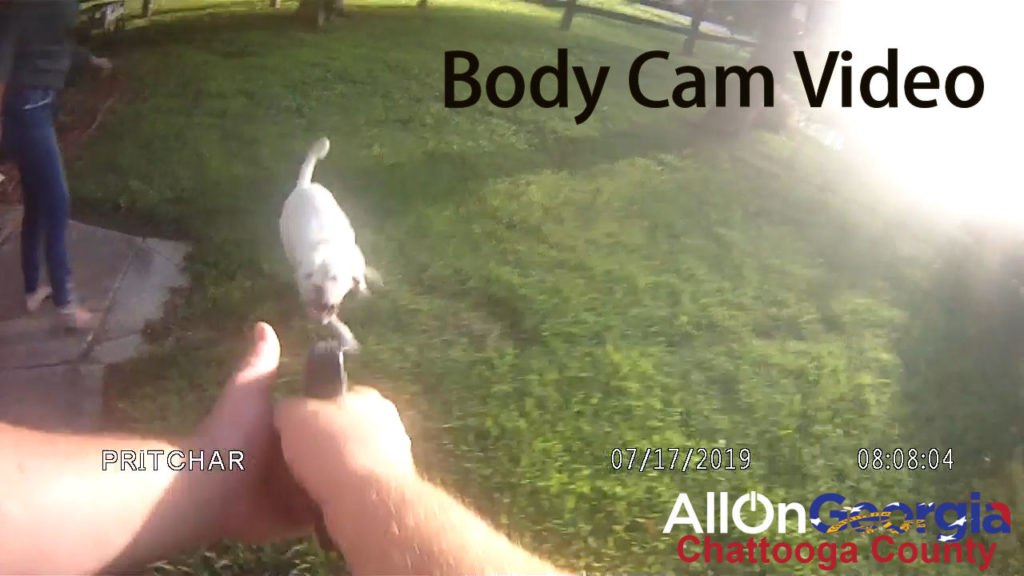 On July 17th, a Summerville City Police Officer, while responding to a report of an aggressive dog, was attacked and bitten by the dog and the officer fired a single shot, killing the dog.

Watch body cam video footage here: https://youtu.be/dWXjt1EqCI4
Officer Matt Pritchard reported the following account in the incident report:
"On the 17th day of July 2019 at 0725 Am I was dispatched to Hawkins Dr in reference to an attempted dog attack. Upon arrival I met with Tonia Johnson who was clearly very emotion and still upset. She described to me that she walks the Highland Ave area every morning and several walkers have had a bad experience with an animal at Highland Ave. She described to me an encounter with a white boxer/pit bull dog mix that had aggressively charged her and tried to bite her several times. She had to retreat into Highland Ave during the assault almost being hit by a moving vehicle. 
Upon my arrival to Highland Ave when I got out of my patrol vehicle I was immediately charged by a A dog matching that description. I yelled at the dog and the animal stopped and continued to growl, It then charged me once again and I used OC spray on the dog which then ran into the patio area of the residence. I then made contact with Lori Howell and described the nature of the complaint on her animal. While we were speaking the dog ran from the patio area around in front of me and tried to attack when it came by. 
The animal did place me in fear of immanent bodily harm at this time, Miss, Howell came out of the residence in between me and the dog and was telling the dog to go into the house. She then stated , "He's not acting right ,something is wrong with him." 
The animal refused to follow all commands from her and run wide around her and attacked me. In one motion the dog jumped and bit my foot as I kicked the animal and fired one round into the dog stopping the threat. The pair of Rocky Alpha Force duty boots issued by my Department did have a puncture and tear mark across the toe of the boot damaging the water-proof membrane leaving a piece of hanging leather. 
Officer M.Armstrong respond to the scene and assist me by calming Miss. Howell and taking pictures of my boot then also contacting animal control. We were advised that it would be the owners discretion on the removal of the animal and Miss. Howell request it be left where it expired. 
After further investigation into dog complaints at this address I did locate a previous incident report with case number 0010-07-19 in reference to a dog bite at this location where the victim was transported by Ems for treatment. Additional 911 Cads Available in reference at this location, Incident#57131 and Incident#570584."
The dog's owner Lori Howell told AllOnGeorgia: "It was like a scene out of a horror movie."
Summerville Police Chief Stan Mosley told AllOnGeorgia the "the video fully clears the officer… the dog did attack the officer and did bite the boot of the officer, that's when he shot the dog."