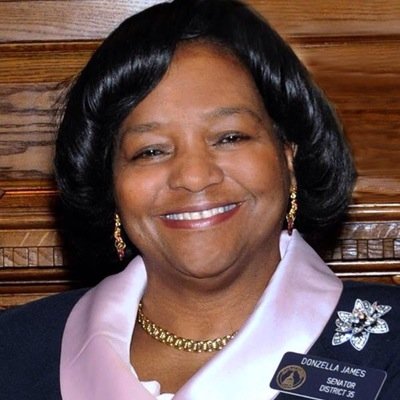 Less than twelve hours after AllOnGeorgia broke the story of Senator Donzella James' plan to prohibit truckers from driving on state highways if they weren't en route to a delivery, the bill has been withdrawn, according to the Senator herself.

She made the announcement on Facebook around 8:00 PM Thursday night.
The bill sparked outrage in the trucking community and from consumers.
From earlier:
Three Georgia lawmakers want to prohibit tractor trailers and semi-trucks from driving on state highways if trailers or semitrailers are not engaged in the pickup or delivery of persons or property.
State Senators Donzella James, Harold Jones, and Michael Rhett filed Senate Bill 23 the bill to limit the travel on Wednesday. All three are Democrats.
The bill does provide an exception for traveling to or from such pickup or delivery.
Specifically, the legislation states that "No person shall drive or move on any highway any trailer or semitrailer unless such trailer or semitrailer is engaging in the pickup or delivery of persons or property or traveling to or from such pickup or delivery."
Opponents of the bill question how such a law would be enforced since law enforcement officials must have a reason to detain a vehicle or truck on the roadway and checking the purpose of travel would not meet that threshold.
But there's a caveat. The code section being amended reads that, "Any vehicle suspected of being operated in violation of this article chapter may be the subject of an inspection conducted by any law enforcement officer who has reason to believe such violation is occurring, without the necessity of obtaining a warrant to permit such inspection," which means that a trailer or semitrailer could be stopped on suspicion that it is not en route for delivery or pickup.
A violation would be a misdemeanor punishable by up to a year in jail and a $1,000 fine.
You can read the bill below. [If you're reading on a mobile device or having trouble loading the PDF, click here to read the bill.]
Lawmakers have until the 28th legislative day of session to pass legislation out of their respective chambers and on to the opposite legislative body in order for the bill to have an opportunity to become law this year. The legislative calendar has not yet been set.