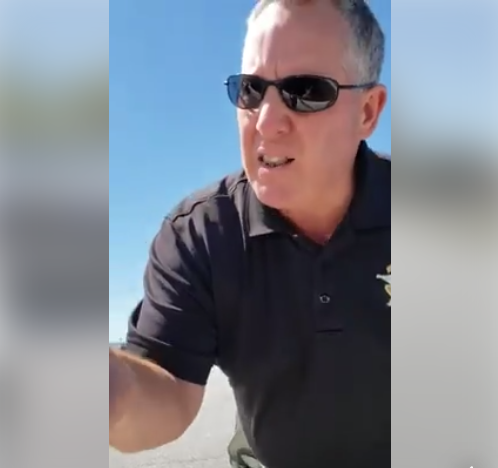 [Article updated as of 6PM to include response from Sheriff's Office, which is linked below. Previously, the BCSO had not provided comment on the incident]

A Bulloch County resident is upset over a traffic stop that occurred just outside the city limits, one he says never should have happened in the first place.
The incident happened Wednesday on Highway 301 leaving Statesboro.
Chris Glover, a longtime Bulloch County resident, says he was traveling towards I-16 in his wife's vehicle with their two children after lunch. He says he changed lanes on 301, using his blinker, and a few moments later, a truck pulled up behind him in the right lane on his tail. Glover says he was unaware that the vehicle was a police vehicle until it was close enough to see the lights outfitted on the inside of the truck and on the grill. As the truck stayed on his bumper, Glover said he flashed his hand twice with his fingers spread to indicate the speed limit for 55 mph. That's when the blue lights came on.
Glover recorded the traffic stop with Captain Rick Rountree, who is over Internal Affairs and Professional Standards at the Bulloch County Sheriff's Office.  The video, which begins in the parking lot, quickly spread on social media, reaching over 25,000 views by Thursday at lunch.
Captain Rountree can be first seen approaching the vehicle saying, "I'm trying to get somewhere," after Glover asks why he was tailgating him.  Glover tells Rountree, "Well, you're not running any lights or anything," to which Rountree replies, "That's right."
Glover says, "That's right, so you have the right to do whatever you want to do?" "Right," Rountree replies.
Captain Rountree again tells Glover he was "trying to get somewhere," to which Glover says, "So, if I turn my scanner on, I'm going to hear that you're trying to get somewhere?"
Rountree replies, "Listen to me, I don't have to explain anything to you."
The pair continued to exchange words before Rountree, walking away, said, "I'm not going to forget you." He returned to his unmarked vehicle, at which point Glover asked for the badge number and name of Rountree. Rountree responded by exiting his vehicle again, asking Glover for his name, and asking to see his driver's license. Glover refused.
Glover repeatedly asked Rountree what he was being stopped for which Rountree eventually said, "Refusing to…to…yield to a car trying to move over."
The pair continued to argue. Glover repeatedly argued that Rountree did not have emergency lights on while Rountree said, "I got somewhere to be."
"I'm not going to forget your tag number," Rountree told Glover as he walked back to his truck again. "Trust me."
No traffic citation or warning was issued by Rountree. It is not unlawful for a law enforcement officer to conduct a traffic stop in an unmarked vehicle. O.C.G.A. 40-1-7 permits the use of unmarked vehicles, but stipulates that issuing citations or conducting traffic stops as an unmarked vehicle cannot be the sole, full-time use of the vehicle. 
Glover says he did not commit a crime and doesn't believe he should have ever been stopped.
When he spoke with AllOnGeorgia Wednesday night, Glover said he plans to file a complaint with the Sheriff's Office as he is most concerned about being targeted in the future. He and his wife said they made attempts to do so Wednesday afternoon but was not successful.
VIDEO: Bulloch Resident Says He was Stopped by BCSO Without Cause
The 4-minute video of the incident – beginning at the point where both vehicles were stopped in a parking lot – is linked below.
Just ignorance at it's finest.

Posted by Chris Glover on Wednesday, March 20, 2019