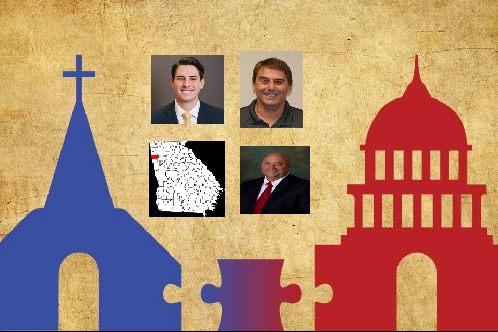 A school district in northwest Georgia has ended its partnership with a chaplain after complaints to the school system were filed at the end of June. The saga involves a football coach – who happens to be the father of a state representative – and a pastor who garnered headlines after professing at the Capitol that seven million Georgians "that are lost and dying are on the way to Hell," raising questions over whether or not the speech resulted in constitutional violations. 
How does this involve the school district, though?
The Freedom From Religion Foundation (FFRF) sent a letter on June 20, 2019 to Polk County Schools following a series of open records requests that reportedly found that a reverend was the official team chaplain for the football team and had been delivering prayer to students at school sponsored events. The football coach, Doyle Kelley – the father of Cedartown Republican State Representative Trey Kelley – has been with the school system for 28 years. He is also the Athletic Director, according to the school website. His official school bio also notes, "I also serve as pastor at Worldview Baptist Church, where I still consider myself a coach, just one coaching for a different team that always wins."
The FFRF said in its letter that, following Doyle Kelley's controversial speech at the Capitol, the organization wanted to ensure the same message and practice was not being carried out in his capacity as a football coach. 
When the records yeilded documents indicating a perceived conflict, the FFRF asked that Polk Schools cease the practice of school-sponsored prayer and the team chaplain, citing decades of case law and judicial precedent.  
[Both the letter from FFRF and the school district's response are at the bottom of the article]
Superintendent Laurie Atkins penned a letter to Christopher Line of the FFRF on June 25, 2019 informing him that Cedartown High School's practice of having an official team chaplain had ended and the involved parties, including the Reverend (Wayne Benefield), Coach Doyle Kelley, and principal Scott Hendrix, had been informed. "I have met with both gentlemen to discuss all laws regarding the constitutional separation between state and church," the letter reads.
In her letter, Atkins also said that "no staff member, nor non-school affiliated adult, is allowed to promote or endorse religion to students." She said school staff with not schedule prayer at school-sponsored events, "including sports banquets." Atkins relayed that administrative staff will undergo training on the constitutional separation of church and state in mid-July. 
In a press release, the FFRF said the organization applauds the move by the district. "FFRF is very pleased with the district's prompt response to this issue," FFRF Co-President Annie Laurie Gaylor commented. "We commend the district on its commitment to upholding the rights of conscience of its students and community members."
PolkSchoolDistrictGA