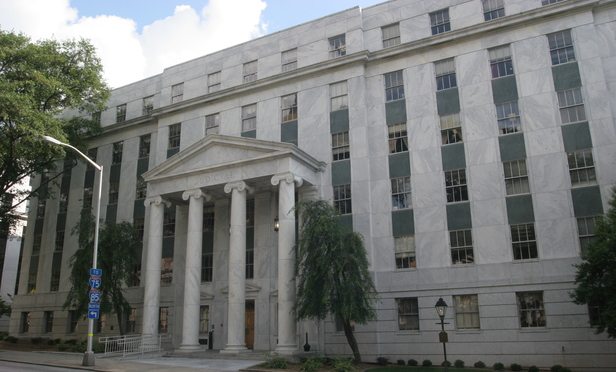 A notice posted on the door of the community center where Oak Park Council meetings are held may be in conflict with a Supreme Court of Georgia ruling issued back in 2006.
The notice, pictured below, was posted on the door ahead of the May Council meeting, which was disrupted by angry citizens speaking out against the city clerk and the mayor. The notice was the policy approved for the June meeting, which had no disruptions but was also conducted by Mayor Pro-Tem Royce Dismuke, who permitted a few questions from the audience.
The notice cites OCGA 16-11-34 in its entirety [verify by clicking here] but fails to take into account State v. Fielden and State v. Touchton, both cases from the City of Valdosta in 2006.
The sign reads:
O.C.G.A. 16-11-34  Preventing or disrupting lawful meetings, gatherings, or processions 
(a) A person who recklessly or knowingly commits any act which may reasonably be expected to prevent or disrupt a lawful meeting, gathering, or procession is guilty of a misdemeanor.
(b) This Code section shall not be construed to affect the powers delegated to counties or to municipal corporations to pass laws to punish disorderly conduct within their respective limits.
The two persons were present at a Council meeting in Valdosta when a speaker during the "Citizens to be Heard" portion of the meeting would not leave the podium at the Mayor's request. A second person stood silently in support of the first person.
Oak Park does not currently have a portion of the council meeting for citizens to ask questions or voice concerns. Mayor Larry Wilson stopped that procedure several months back.
In the two Supreme Court cases, the Supreme Court ruled that O.C.G.A 16-11-34, specifically part (a) was "unconstitutionally overbroad." This came after a trial court ruled in favor of Felton and Touchton, but the State appealed. A statute is unconstitutionally vague if it describes conduct in a manner so unclear that it leaves intelligent people uncertain as to the limits of its application.
The Court said, "A statute that is clear about what it prohibits can nevertheless be unconstitutionally overbroad if it stifles expression or conduct that is otherwise protected by the Constitution. The First Amendment is "a broad umbrella that shelters all political points of view and shields a wide range of avenues for expression, including symbolic speech.   The 1983 Constitution of Georgia provides even broader protection."
The justices, in their opinion, also said, that sister states of Georgia have recognized that "disruption statute reflects an interest of the government [that] is substantial, even compelling, in that it is aimed at balancing the fundamental right of assembly with that of free speech. "That interest would be less effectively achieved were the government to allow "substantial obstruction or interference" with any lawful assembly of its citizens in the name of protecting the First Amendment right to free speech."
The Supreme Court was clear in saying the law applies to things like heckling referees at sports venues or in venues for business symposiums:
Any recklessly or knowingly committed act that could reasonably be expected to prevent or disrupt a lawful meeting, gathering or procession is a misdemeanor, regardless where it is committed, how trivial the act, its impact, or the intent of the actor other than the intent to commit the act itself.  OCGA § 16-11-34(a) thus applies to the reckless or knowing commission of such acts as heckling a referee at a sports venue, leaving on the audible ringer of a cellphone during a business symposium, changing lanes into a funeral procession on a rainy day, even playing the stereo loudly in an apartment while a neighbor hosts a dinner party.   These examples demonstrate that the literal language of OCGA § 16-11-34(a) reaches conduct that is at once innocent and protected by the guarantees of free speech, thereby affecting and chilling constitutionally protected activity.
You can read the full Supreme Court opinion here.
The Supreme Court chose not to rewrite OCGA 16-11-34, and said the trial court correctly ruled that OCGA § 16-11-34(a) is unconstitutional and thus void.