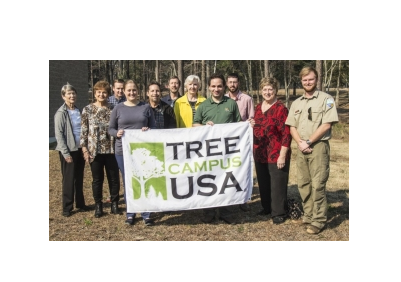 East Georgia State College was recently recognized as a Tree Campus USA for 2018. This designation from the Arbor Day Foundation are awarded to universities and colleges across the United States for promoting healthy trees and student engagement on campus.
"I would like to thank all the member of the Campus Tree Advisory Committee members for their diligent work during 2018," said Dr. David Chevalier, Chair of the EGSC Biology Department. "EGSC and its employees are committed to promoting environmental awareness on campus and enlightening members of the community about the importance of trees."
This the second time that EGSC has been designated as a Tree Campus USA. In order to obtain this certification, EGSC successfully completed five standards, including the Arbor Day observance and the completion of a service learning project for EGSC students and the local communities. Arbor Day was observed on February 16, 2018 and the tree that was planted was dedicated to Dr. Robert Brown, former Dean of the School of Mathematics and Natural Sciences. The service learning project for 2018 focused on a series of three workshops about tree identification.
"Being nationally recognized as a Tree Campus USA and meeting the annual standards, you will create a campus that helps benefit and create a more sustainable environment, as well as instilling pride in the students, faculty, and community," said Alex Ballard, Regional Specialist with the Georgia Forestry Commission. "Having green spaces and tree canopy also gives students and faculty a great setting to relax, study, or socialize during school hours."
Pictured are Campus Tree Advisory Committee members EGSC Director of Plant Operations David Steptoe, MMGYSTC Coordinator Erin Youmans, EGSC Professor of Chemistry Dr. Cerpovicz, EGSC Associate Professor of Biology Dr. John Cadle, community member Helen Center, Dr. Chevalier, EGSC student Joshua Horne, and Ballard. Also pictured are three members of the Glad Garden Club: Audrey West, Sylvia Durden, and JoAnn Trammell. Not pictured are EGSC Marketing Coordinator Katelyn Moore, Director of the Sudie A. Fulford Community Learning Center Jean Schwabe, and EGSC Dean of the School of Mathematics and Natural Sciences Dr. Jimmy Wedincamp.