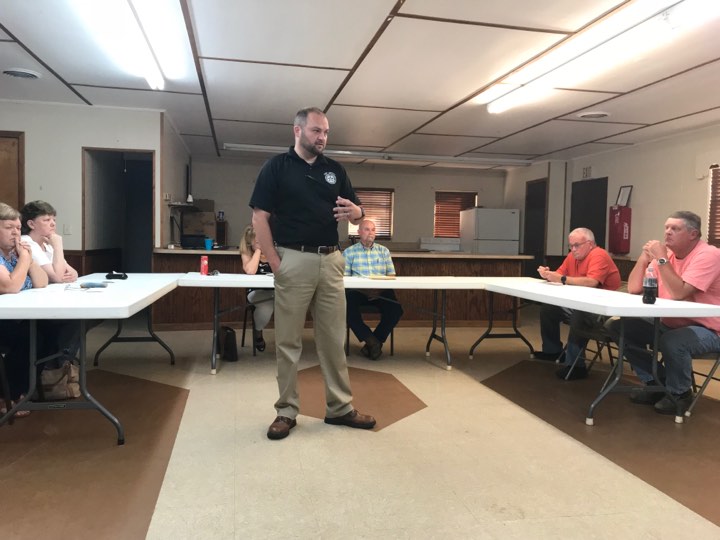 Citizens in Oak Park heard words of assurance from the county's top chief law enforcement office Monday night in hopes of calming concerns over the recent dissolution of the Oak Park Police Department.

Emanuel County Sheriff's Office Chief Deputy Rocky Davis and Patrol Division Lieutenant Matt Lamb addressed the Oak Park City Council Monday night on behalf of Sheriff Tyson Stephens.
"The Sheriff's Office is committed to being here. You're all Emanuel County citizens whether you're in a municipality or not. He's obligated to serve, he wants to serve, and you elected him to serve. And that's what we're going to do," Davis told the room, which was about half full.
The Oak Park PD was effectively closed as of April 15th after a vote by Council on April 1 and a months-long investigation into the overall costs of operating a full-time police department.
Among the major concerns in dissolving the police department temporarily or permanently was the issue of response time. Davis said in the meeting that the Sheriff's Office was already responding to calls in the city limits, even when the police department was in full force, if the OPPD was unavailable or needed assistance. While acknowledging that the response time could, in some instances, be longer than it was with the police department, he said the Sheriff's Office has already taken steps to change how they patrol.
"We're the 7th largest county in the state. We've got a lot of area. We're 40 miles by 40 miles, basically. But what we have done to step up is divide the county into two different zones. So we've got more deputies showing attention down this way, so you'll always have a deputy south of [Highway] 80." With 30 deputies in the Office, Davis said the county can ensure there is no lapse in protection due to sickness or vacation, which can happen in smaller departments.
He told citizens that Oak Park has considerably more commercial business than it did before the Oak Park Police Department was created, citing the Dollar General and a number of convenience stores. "We want to protect that. We want them to feel like they've got protection." Deputies will be doing business checks throughout the night and citizens will see an increased presence of patrol.
The Sheriff's Office will also be able to provide their investigators for cases relating to burglary, theft, or other crimes needing more extensive law enforcement services.
The Emanuel County Sheriff's Office is also offering to sit down with city officials and discuss a more formal partnership, much like it does with the Emanuel County Board of Education, where a substation would be in place in the city limits along with a dedicated deputy responsible for the area. That, of course, would come with a price, but is an offer on the table for consideration as the city continues to work through financial issues.
"We just want you guys to have confidence in us," Davis told the room, "But we want your input, too."
Davis and Lamb both left contact information for citizens and council members at the meeting. They have asked citizens to continue calling 911 for emergencies, but to reach out directly if they have any questions or concerns.