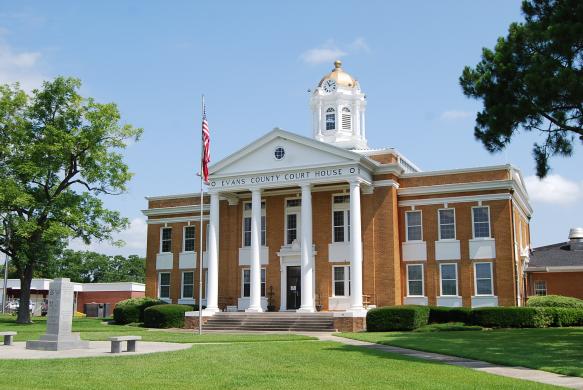 Evans County Commissioners voted to back track on slashing the funding of the Evans County Industrial Authority for the upcoming fiscal year at a special-called meeting Thursday evening.
Commissioners had previously made an announcement to stop the $50,000 annual payment during a workshop last Tuesday, but opted to change the proposed funding from $0 to $15,000 in FY 2020.

The decision came after new hire Adam Kennedy met with Commissioner Tony Lewis, a FY 2020 budget committee member, following the public announcement of the funding cut. Lewis said the IDA is uncertain about the stability of funding salaries despite their substantial bank balance, list of cash deposits, and rental income from the new housing center.
Commissioner Jill Griffin said she was opposed to restoring the funding because of the large amount of money available as well as the income going to the IDA, but would be happy to reconsider throughout the year if the IDA demonstrated a budgetary need. Chairman Brian Croft, who does not have a vote, echoed her sentiments saying he did not agree with providing the funds unless it's shown that the funds are needed.
IDA Director Adam Kennedy was present at the meeting as were IDA Board Members Larry Anderson and Marshall Smith, but no comments were offered.
The IDA, as a governmental body subject to state governmental entity laws, will have to adjust how to provides money to the Chamber of Commerce as well, since state law does it allow for a duplication of services and prohibits the use of tax dollars for private entities unless there is a "substantial public benefit."
More on that here:
City of Claxton's Funding of Chamber of Commerce Raises Constitutional Concerns
A recent audit report provided at the development authority meeting, which provides numbers as of June 30, 2018, showed a fund balance totaling more than $800,000, with more than $137,000 in cash assets and an excess of $400,000 in CDs. The balances were prior to the new rental agreement the EDA signed with the Todd Padgett Housing Center, which will bring in $16,000 annually.
After a brief discussion Thursday evening, Commissioner Lewis made the motion to move forward and Irene Burney seconded the budget option with the IDA funding. It passed 3-1, with Griffin opposing. Commissioner Shela Holland was not present.
The budget still has to move through two public hearings and a final vote by commissioners next month before it can take effect.