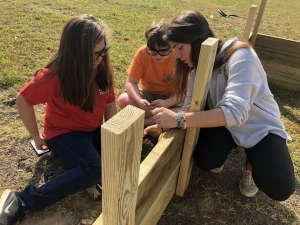 Swainsboro Middle School students recently joined East Georgia State College to build raised garden beds outside the Academic Building Expansion.

SMS SciFries students, science teacher Deanna Ryan, and Chase Hammond, high-school student from Jefferson County High School, joined Susanna Hall, East Georgia State College junior in the Bachelor of Science in Biology program and vice-president of the EGSC chapter of the Beta Beta Beta Biological Honor Society, and Dr. David Chevalier, EGSC Chair of the Biology Department at EGSC.
From a press release:
The team built six raised beds and will meet in the next few months to plant Georgia native plants in the raised beds. These raised beds are part of a long term project between EGSC and the Georgia Plant Conservation Alliance (GPCA). GPCA is non-profit organization that includes botanical gardens, state agencies, museums, plant societies, and universities. EGSC has been a member of the GPCA since 2015. The raised beds will be used to propagate Georgia native plants and then reintroduce them in their natural habitat. Once completed, the raised beds will also be used as an outreach educational tool to educate students from local schools about Georgia native plants and plant conservation.
Students from the SciFries said that they were excited to learn how to build raised plant beds and how to use the tools, such as a power drill with different bits, to put everything together.
"It's so encouraging as a biology student to see the next generation of young people passionate about our environment," said Hall. "Ms. Ryan does such an amazing job with the SciFries; I enjoyed working with them!"
"'I enjoyed watching the SciFries, EGSC college students and community come together to help build a place for endangered plants to thrive," said Ryan. "SMS students, like Elizabeth Hebert, have investigated the endangered plants they want to tend. so this is especially exciting for them."
This project is supported by a $5,000 grant to the East Georgia State College Foundation from the Mill Creek Foundation.
"I would like to thank the Mill Creek Foundation and its board members for sponsoring this project," said Dr. Chevalier. "It is always so rewarding when students from local schools and EGSC students work together on a project."