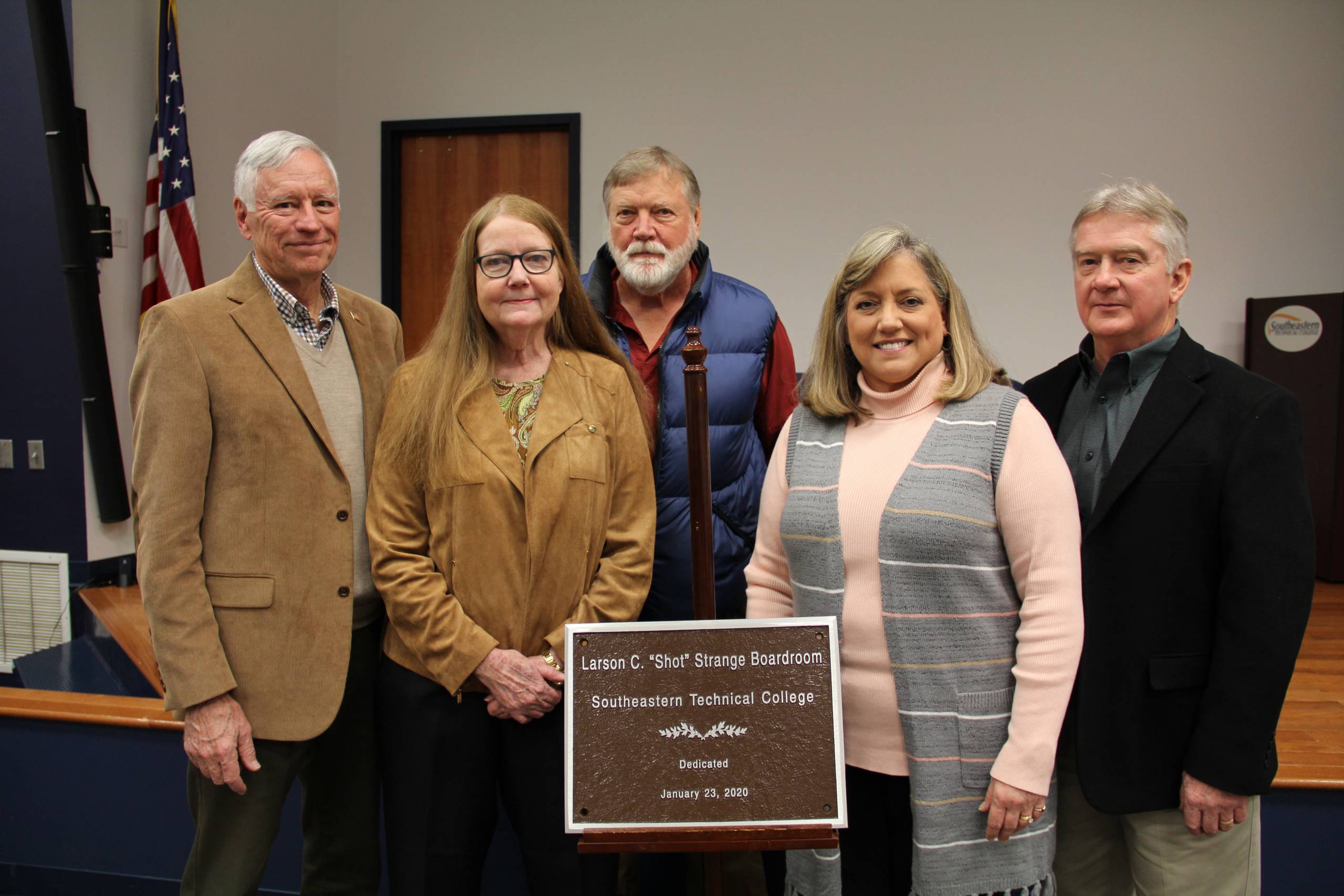 Southeastern Technical College (STC) recently held a dedication ceremony of the Swainsboro campus boardroom, named in honor of Mr. Larson C. "Shot" Strange, for his leadership, guidance, and vision as a Trustee of the STC Foundation.
The proclamation recently presented to Mr. Strange's family stated:
Mr. Strange was known far and wide as a well-respected business person, community leader, and outstanding citizen of the State of Georgia, an esteem that he earned not only for his years of service with the Georgia Department of Corrections and as a member of the Southeastern Technical College Foundation Board, but also because of his steadfast belief that every Georgian deserves the opportunities afforded through access to higher education. We thank him for his unwavering belief in the unlimited potential of our students.
Mr. Strange served the Foundation Board with distinction and honor by graciously and unselfishly sharing his time, knowledge, and wisdom to help build and promote the College. He also endowed the Shot and Jean Strange Scholarship to ensure that students at Southeastern Tech would have access to scholarship funds for generations to come.
Mr. Strange was first appointed to the Swainsboro Technical College Foundation Board to represent Emanuel County by President Donald Spier in 1995, and subsequently appointed by President Cathryn Mitchell in 2010 to the Foundation Board upon the merger of the two Colleges.
Mr. Strange served as host and graciously donated the use of his Clubhouse as the location of the Annual STC Foundation Appreciation Barbeque for more than 30 years.
Mr. Strange completed his long and highly successful service as a advocate for the College upon his death on December 21, 2018.
"We express our sincerest appreciation for his exemplary commitment and devotion to the College. Mr. Strange served as a dedicated Trustee of the STC Foundation for 23 years. Over the years, he generously donated his time, property, and financial resources to the College and the Foundation," said Blythe Wilcox, Executive Director of Institutional Advancement.
The dedication and reception was held on Thursday, January 23 in the Maurice Boatwright Auditorium on STC's Swainsboro Campus.
Mr. Larry Calhoun, President of Southeastern Technical College, referenced, "an outstanding article in the 2018 edition of the Emanuel County Living Magazine about Mr. Strange." John Terwilliger, who worked with Strange for 19 years and had a front row seat for many of his endeavors noted, "He was the most civic-minded person that I've known. He was devoted and committed and never let anything deter him."
"Mr. Strange supported STC through the years. He served on the foundation Board of Trustees for many years and not only did he raise a lot of money for STC, he gave generously of his own resources. From establishing a scholarship endowment to providing a wonderful location for our annual BBQ for 38 years and legislative luncheon to writing articles and doing interviews, his support was incredible," said Larry Calhoun.
In attendance were Mr. Strange's daughters and sons-in-law, Vicky and Donald Moore and Lacey and Perry Bishop.