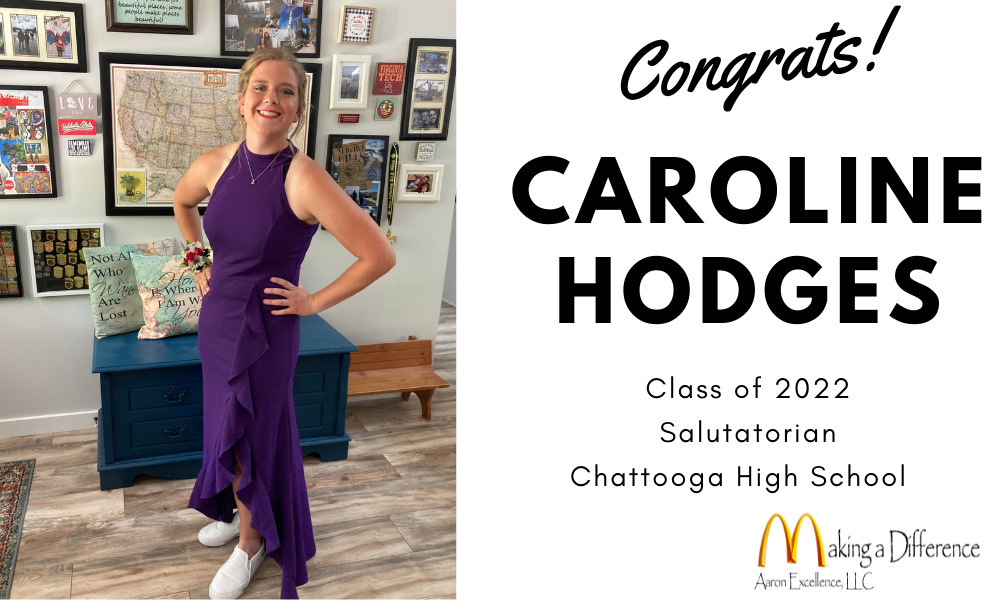 Unless you live under a rock in Chattooga County you have heard the name Caroline Hodges over the last four years.

The Chattooga High School senior literally can do anything.
She has excelled in the classroom, in the area of friendship, on the football court, in track and field and on the golf course.
Last week she became a Georgia High School State Champion in discus. This week she is playing golf in the State Championship. She walked off the football field as the all-time PAT scorer in Chattooga Football history.
And this spotlight concentrates on Hodge's excellence in the classroom where she earned the distinction of class of 2022 Salutatorian while being a three-sport athlete, and is brought to you by Jim Aaron's Summerville McDonalds.
What are your plans after high school?
Hodges: I don't really have any specific plans. I have a few schools I am looking into but nothing is set in stone as of right now.
Which extracurriculars, clubs, sports, have you been a part of?
Hodges: During high school, I competed in four sports Track and Field, Football, Golf, and Basketball. I was also an honorary cheer team member. The clubs I have been a part of include Beta, FCCLA, and Future Problem Solvers.
How do you want to be remembered from high school?
Hodges: I want to be remembered as someone who went out of their way to help when someone needed it. Someone who put others first.
Favorite Class/ Favorite Teacher?
Hodges: Chemistry/ Mrs. Rowe
Where did you attend elementary/ middle school?
Hodges: I went to elementary school at Maxwell Elementary and Thomson Elementary in Thomson, Georgia. I went to middle school at Chattanooga Valley Middle in Flintstone, Georgia.
Where do you see yourself in ten years?
Hodges: There are so many possibilities the future holds, and so many unexpected things happen. So I'm not sure where I'll be in ten years, but it will be where I'm meant to be.
What sport was your favorite in high school?
Hodges: It's hard to choose a favorite. Each sport is different and holds a different place in my heart.
What was your favorite memory from each sport?
Hodges: Football: One of my favorite memories is my first varsity game ever. It was the start of an amazing four years. I have made some of the best friends and accomplished so much all because of that first varsity PAT.
Track and field: The track meet I threw 130' 1. It was super cold but my friends got to come and it was really fun overall. 130' was a goal I had for a while so it was fun to finally achieve it.
Golf: My favorite memory of golf in high school was qualifying for the State Golf Tournament. It was a great day and it's something I've been trying to get to for the past three years.
What has been the highlight of high school?
Hodges The highlight of high school has been my friends and sports. Another would be having my Dad as a coach.
Describe your high school experience in three words?
Hodges: Sports, Friendship, Adventure
Complete the sentence: "I will always remember…"
Hodges: I will always remember the friendships I have made. I will also remember the sports and the lessons that have come from them.
What will you miss most about CHS after you graduate?
Hodges: I will miss seeing my friends every day and being coached by my Dad most.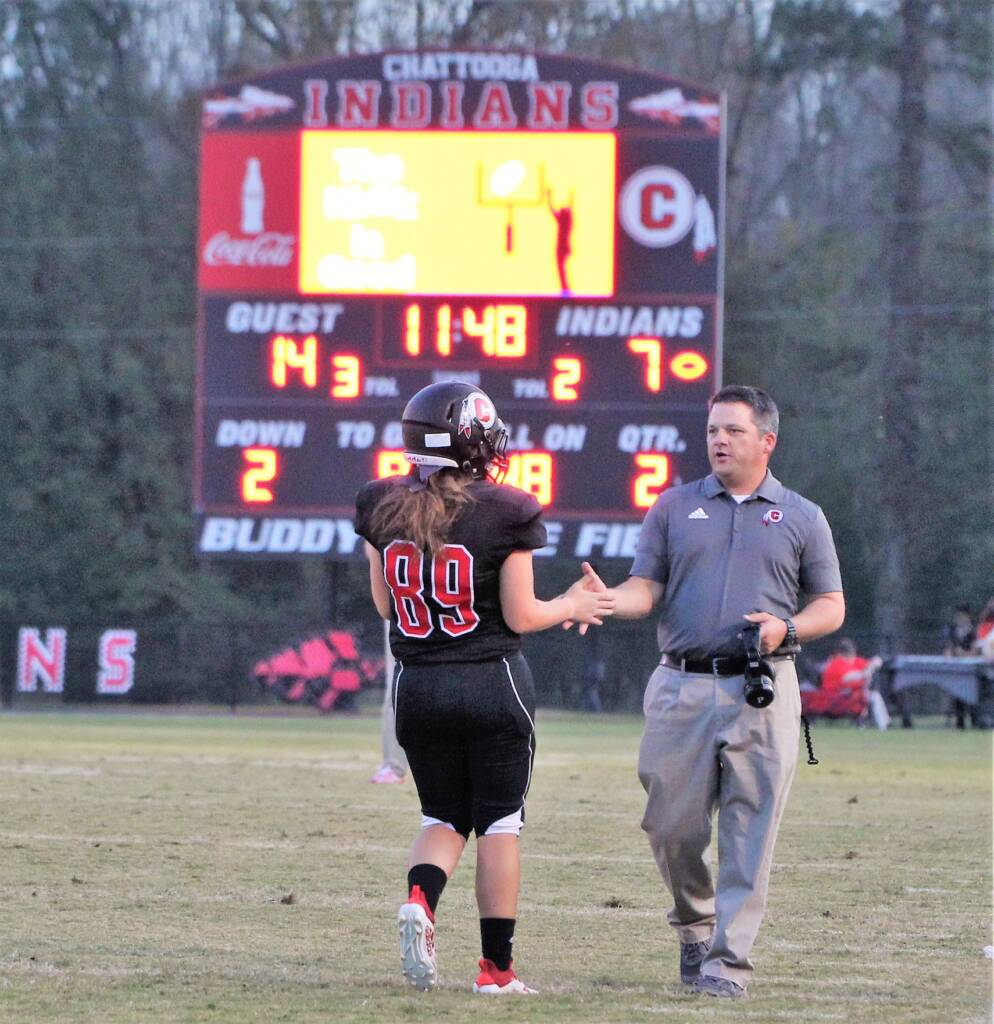 What was the most challenging class for you?
Hodges: College Algebra DE
What is your greatest achievement during high school?
Hodges: Becoming Salutatorian while being a three-sport Varsity athlete has to be one of the greatest achievements I have ever gotten. It has been tough getting here but it is definitely worth it.
How have you changed since freshman year?
Hodges: I have become more open to trying new things and meeting new people. I came to Chattooga not speaking to anyone and now I talk to almost everyone.
Out of all your years in high school, which one was your favorite and why?
Hodges: All four years have been great but senior year has to be my favorite. Between all the records and being on the homecoming and prom court, spirit weeks, etc. It has been really fun and memorable.
A senior quote
Hodges: "Beware; for I am fearless, and therefore powerful." – Frankenstein, Mary Shelley
A word of advice for underclassmen
Hodges: 1. Don't underestimate your self-worth. 2. Remember that you don't have to know exactly what you want to do with your life yet. 3. Have a backup plan because life happens and plans change. 4. For all the athletes, if you have a sport you love remember to Have Fun.
What teacher had the most impact on your education?
Hodges: Every Teacher has made some kind of impact on my education and who I am today. One that has impacted me the most would have to be Lisa Montgomery. She was never my teacher personally but she was my coach. She has taught me so many life lessons and I wouldn't be where I am without her.
More about Caroline:
Caroline Hodges Continues to Kick History Through the Uprights
Chattooga High Track and Field Athletes Qualify for State Championship Meet