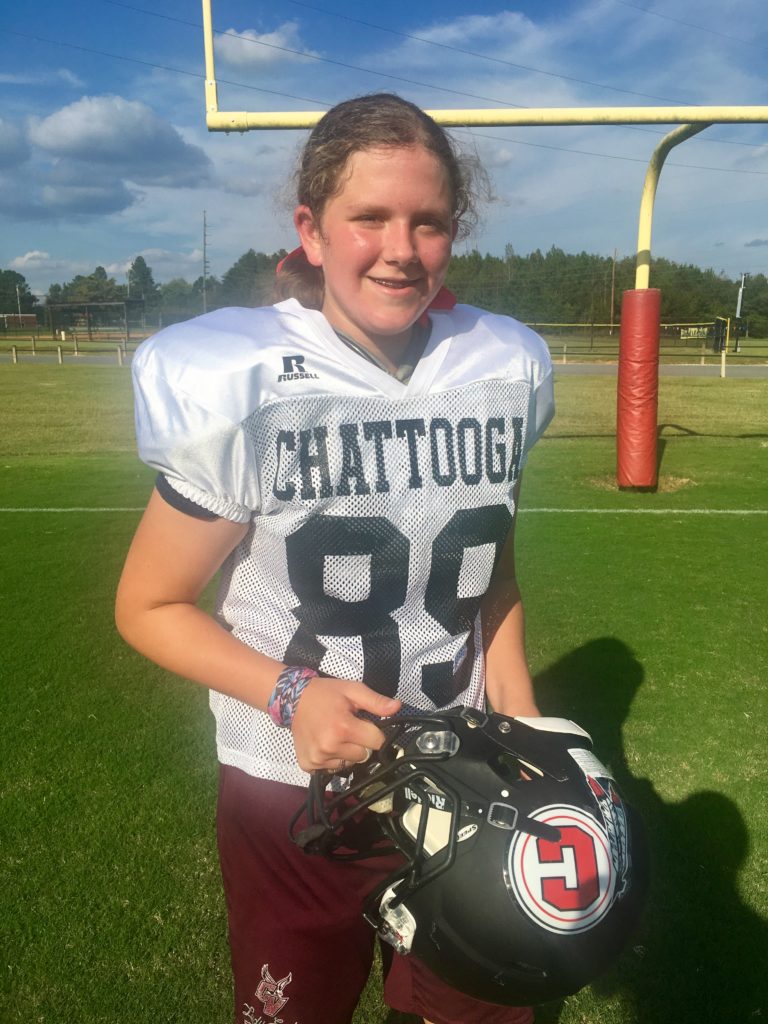 The Chattooga Indians Junior Varsity football team won a tight contest against the Dade County Wolverines on Monday October 1st. The 7-6 victory would not ordinarily be considered spectacular, but this was no ordinary game. The Indians won by a single point but that single point represented much more than a single JV victory… especially for the kicker who scored it.

Glass Score Board
Kicking through a glass ceiling of her own, 14-year old freshman Caroline Hodges suited up with the Indians for her first high school football game.  While she is not the first girl to play football for Chattooga, she is believed to be the first girl to score a point in Chattooga football history. Hodges kicked the extra point which became the deciding factor in the game.
Chattooga opened up the scoring in the first quarter with a Ty Veatch touchdown, giving Hodges her chance to kick the PAT. Dade answered with a touchdown of their own and chose to go for the win by attempting a two-point conversion. The conversion failed and Hodges' PAT became the game-winning point.
Caroline Hodges scores extra point for Chattooga! pic.twitter.com/ehb0rxNsQj

— Casie Bryant (@AllOnChattooga) October 3, 2018
"I was nervous on the way to the game," said a calm and mature Hodges. "…but as soon as I stepped on the field, all the nerves went away." Hodges is a veteran athlete but is still learning the game of football. "It is different than any other sport I play, and I play four different sports." Chattooga's newest Indian pointed to her teammates as a calming influence. "As soon as I walked onto the field and and saw my team, all the nerves went away."
Hodges plans on playing football all four years of her high school career. In addition to football she also plays basketball, golf and track. And Hodges doesn't just compete in sports, she excels. She was the gold medalist for her age group at the 2018 Georgia Games in discus. She maintains a 4.0 GPA.
Play Like a Girl
Caroline is not the only girl suiting up for the Indians this season. Kendra Heroch, a Summerville Middle School 7th grader, plays linebacker and fullback. Kendra has been playing football for several years. In addition to football, Kendra won her 4th consecutive USA Wrestling Georgia Girl's State Championship by pinning all opponents last year. Despite being the only 6th grader in her weight class, Kendra won the 120 lbs Middle School Division without allowing a single point to be scored against her.