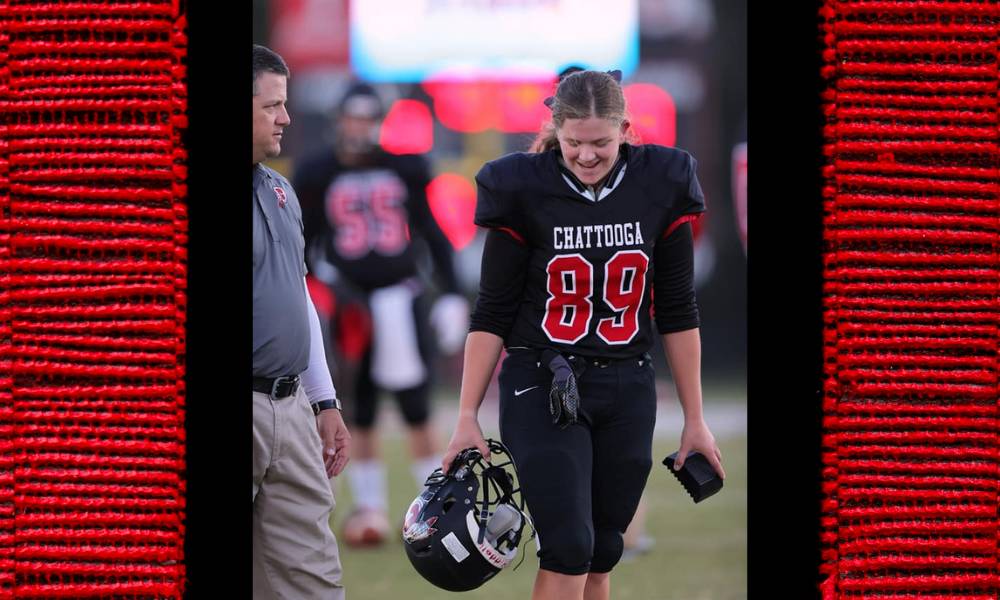 At 14 years-old Caroline Hodges made Chattooga Football history as the first female to score in a high school football game, and for the last three years she's been kicking– and kicking well.
In her senior season Hodges is 27/28 (96%) PATs , 1/1 FG (which was 23 yards) and 1255 total yards for kickoff this season so far. Throughout her high school career she is 53/61 (87%) Career PATs so far, 2/2 FG (longest 28 yards) and 2601 total yards for kickoff so far. 
While she has kicked through glass ceilings at Chattooga High School she still has more to accomplish. AllOnGeoriga recently caught up with Hodges to find out about her senior season.
AOG: What are your personal and team goals this season?
Hodges: Personal goals – Personally my goal is to have fun and do my best and enjoy the rest of my senior season. I also want to be the reason the opposing special team coaches get worried about their kickoff return team. 
Team goals – Team wise my main goal is to see our kickoff team continue doing a good job. We have made great progress in getting where we want with the kickoff unit and I'm excited to see how much it improves every week. Another team goal is to play each game like we're going 1-0. 
AOG: Best thing about your teammates?
Hodges: The best thing about my teammates is they're a great support system and are always hype. (Also shout out to our snapper, Billy Settlemoir, and holder, Brody Mobbs, they have been doing a great job on PATs)
AOG: What other sports will you be participating in this year?
Hodges: I will be participating in golf. And I will also be doing shot put and discus for the track and field team. 
AOG: How did it feel to be on the Homecoming court in your uniform?
Hodges: Honestly I felt out of place wearing my uniform on the homecoming court. I felt under dressed compared to all my friends in their beautiful dresses. It meant a lot to me to have so many people hype me up about wearing my uniform even though it was so different. It was an honor to be voted by my classmates and to represent my team with the uniform. 
AOG: What is the absolute best part of high school football?
Hodges: The best part of high school football is the family and confidence built from it. Since I have started football I have gotten a big group of brothers and a sister. And having that group to stand with has brought on more confidence in myself.
AOG: How does it feel to wear your game day jersey to school on Fridays?
 Hodges: I feel like it's an honor to get to wear my game jersey to school on Fridays. It shows support to the team. I think it also gets other students to be aware of the games and get them more eager to be at the game. 
AOG: Plans after high school?  
Hodges: Right now I am looking into doing some traveling. I am also looking into food science programs at various colleges.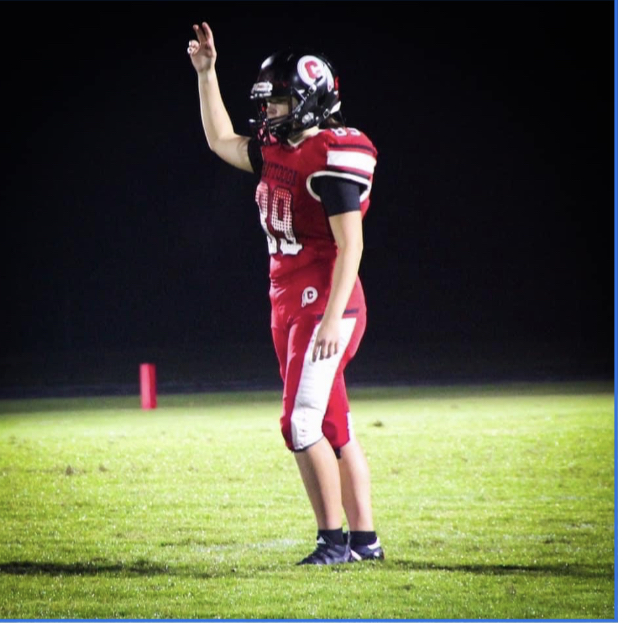 GPA – 3.9
Favorite Class – Honors Chemistry 
Overall how has it been being a girl and playing football? Is it something you would encourage other girls to do?
Hodges: Overall being a girl playing football has been fun. It has been a great experience for me as an athlete and person. The guys have been very supportive and have made me feel welcomed to the team for the past four years. I would encourage anyone, girl or boy, to try football. Football is a sport that will get you ready for life. It teaches that even when you get knocked down you can get back up. If a girl wants to play football then I say do it. To any girl thinking about playing: Be determined, work hard, and prove that you deserve to be there just like everyone else.
Along with her teammates Hodges shares the field with her dad Coach Chris Hodges, "playing for my dad has been an honor. He is an amazing coach and has taught me everything I know about kicking. Our special game tradition is to do our handshake before opening kick off."