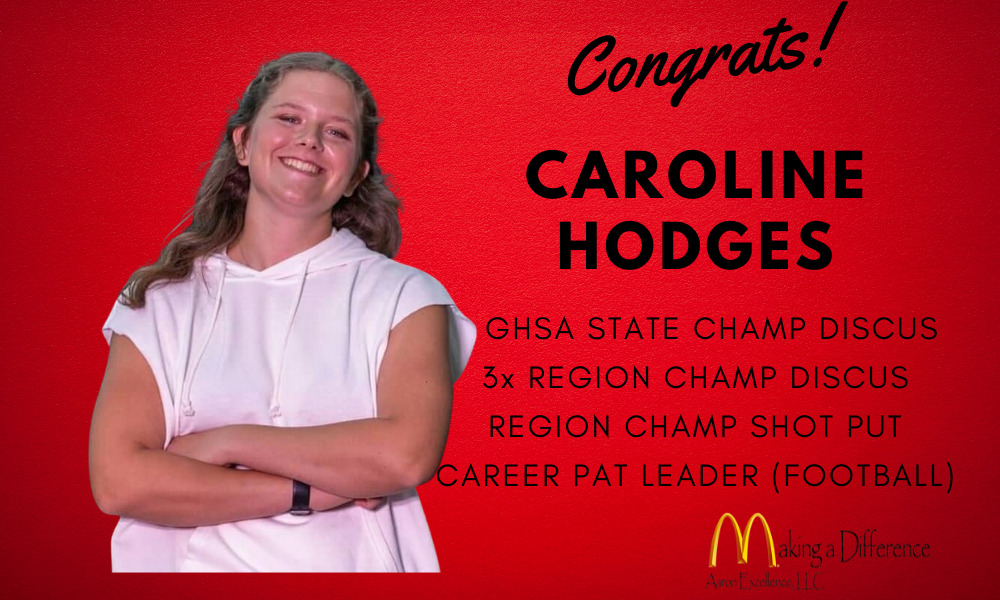 This week's AllOnGeorgia Player of the Week honors brought to you by Jim Aaron's Summerville McDonalds go to Chattooga High School Senior Caroline Hodges.

Hodges will deliver her Salutatorian speech Friday night during the graduation ceremony and her high school career will officially come to an end.
And what a remarkable, record setting four years she had. Hodges is the career PAT leader in football (among a bunch of other firsts, including first female to score points in varsity football for the Indians); track – school records in shot put (35'1″), discus (132'0″) and javelin (75′), three time region champion in discus, (she missed last season due to COVID restrictions), one time region champion in shot put, Georgia State Champion in discus; finished 7th in area last year and 17th in the state in golf this year. Only female in school history to compete at state in golf.
More about Caroline:
How many years have you been participating in track and field?
Hodges: I have done track and field for six years now. I compete in discus and shot put.
Do you play any other sports?
Hodges: I also do football and golf. I don't have a favorite, each one is different and so I love them all differently. 
Football Stats for Hodges–
Senior season: 
35/36 PATS

1/1 FG

23 yards – Longest FG

38 Total Points

1549 KO yards

47 – Longest KO
Career stats:
61/69 PATS

2/2 FG 

28 yards – Longest FG

67 Total Points
How is track and field different than football?
Hodges: Track and field can be more of an individual sport since each person has to work on whatever specific event they do. Football is more of a team sport and it requires everyone to do their job right or it affects everyone else on the field. 
Do you have a favorite track and field athlete you keep up with?
Hodges: There are a few discus throwers I keep up with including Sandra Perković, Valarie Allman, and Yaime Perez. 
Who is your role model and why?
Hodges: My role model for discus would be Sandra Perković, watching her technique for the throw has helped me get to where I am so far. 
Do you have any special talents or hobbies? What is something most people do not know about you?
Hodges: A few of my hobbies are baking, drawing and photography. 
What is the most important thing you've learned from your coach?
Hodges: One of the things I have learned from coaches is that bad days happen. Just come back better the next day. 
What's your most memorable moment in high school track and field ?
Hodges: My most memorable moment in high school track and field was winning state. 
How does it feel to cap off your senior season with a state championship?
Hodges: It feels amazing to be capping off my senior season with a state championship. I have worked for this for the past 4 years and it's amazing for the hard work to pay off. 
How do you mentally prep for a throw and what do you tell yourself just before you throw? Is it different than when you get ready to kick
Hodges: I normally listen to music and hang out with the other throwers. It is important to be relaxed when throwing discus. Just before I throw I literally tell myself don't mess up this is what you practiced so much for trust it. It's different for kicking because when I'm in a game kicking I just think about timing and nothing else. 
What's the best thing about your teammates?
Hodges: The best thing about my teammates is that they are supportive and cheer me on. When I threw at state they were there cheering me on and it was amazing.
Favorite class? Favorite teacher?
Hodges: Chemistry/ Mrs.Rowe
GPA?
Hodges: 4.0
Parents names?
Hodges: Chris and Judith Hodges
What will you miss about chat Chattooga Athletics?
Hodges: I will miss the support. Every coach is really supportive even if you aren't on their team and always curious on how you do. Chattooga Athletics is a family and it's going to be hard to top it. 
What makes a good athlete?
Hodges: To me a few things make a good athlete. One is dedication, you have to put in a lot of time when you're an athlete. Another thing is work ethic, you have to have the drive to do what needs to be done. Not everyone is gifted with natural athleticism to be able to just do everything, and even if you are, hard work will win everyday. You have to love the sport. Some people go through sports and hate them and are miserable. If you don't love the sport you won't have the dedication and work ethic needed to be successful. 
What makes a good coach?
Hodges: A good coach communicates with their players and doesn't treat the player like they aren't smart enough. They also need respect and patience. 
Do you plan to play sports after high school?
Hodges: I do plan to continue sports after high school. I plan on playing golf whenever I am free too. And I want to do track and field in college.