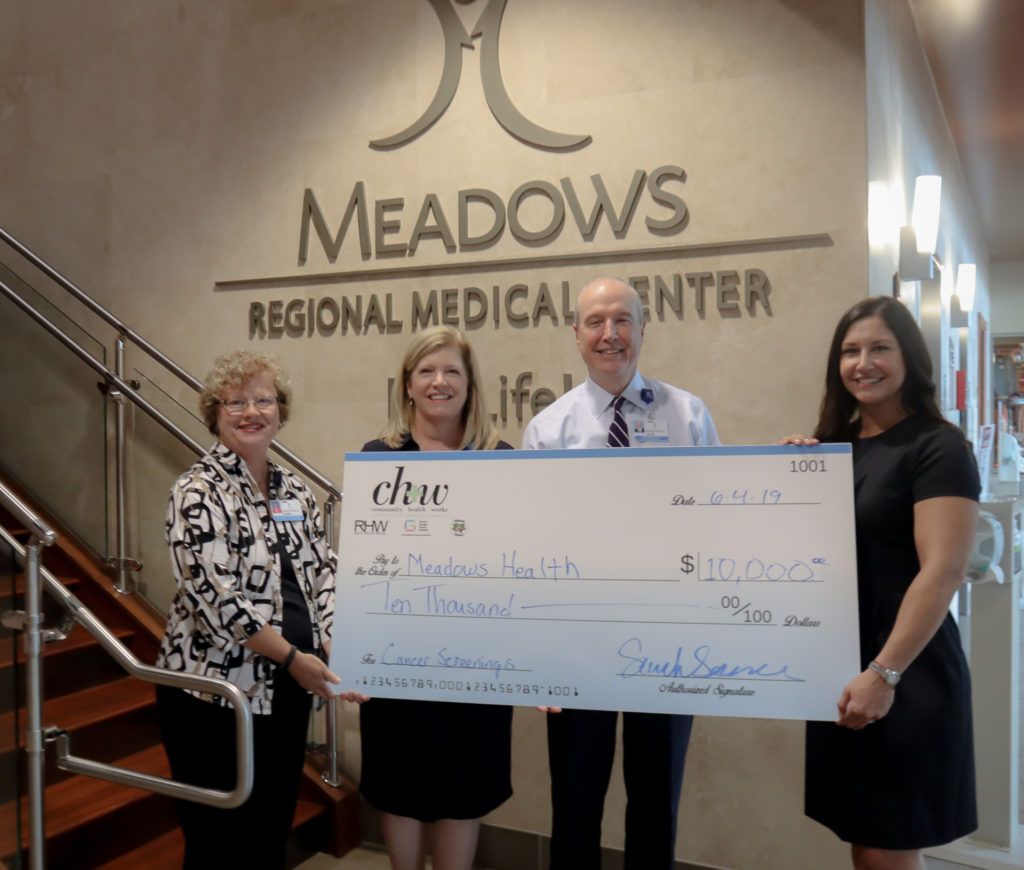 Community Health Works Selects Meadows Health for a $10,000 funding award which expands local cancer screening programs for indigent patients.
An increase in funding for FY19 allows Community Health Works (CHW) to expand the Central Georgia Cancer Coalition by adding 14 counties in central and southeastern Georgia.
Community Health Works (CHW) along with Meadows Health, combine their efforts and funding to expand cancer screening programs.
Since 1999, Community Health Works (CHW), a non-profit public charity, has continued its quest for innovative solutions to help local communities throughout the state improve health outcomes. CHW remains committed to promoting overall wellness behaviors, improve access to preventive health services, reduce the burden on healthcare providers, and provide compassionate advocacy for people financially compromised by their medical needs.
Chief Operating Officer for CHW, Sarah Sessoms, reinforces the organizations' mission statement which is "to leverage our knowledge, creativity, and resources to develop innovative ideas and programs that improve the overall health of the communities we serve. Our vision is simple: better health for all."
CHW's, Director of Programs for Rural Health Works, Ursula Spence, says, "I am pleased to inform you that this award is more than just monetary in measure. The additional funding given to Meadows Health is to continue and expand the cancer screening programs for indigent patients. We recognize the outstanding work this organization provides in furtherance of the health of our community and strongly believe that this funding will help you build the network into a reliable source in cancer screenings and early detection."
CHW is a leader, partner, and advocate in creating healthier, more vibrant communities where a healthy workforce makes an economic impact. With Georgia named one of the unhealthiest states in the nation, CHW is here working from a grassroots effort and with policy changes to create a culture of change so that our community may live longer, happier and healthier lives.
This is a press release from MEadows Regional Hospital.