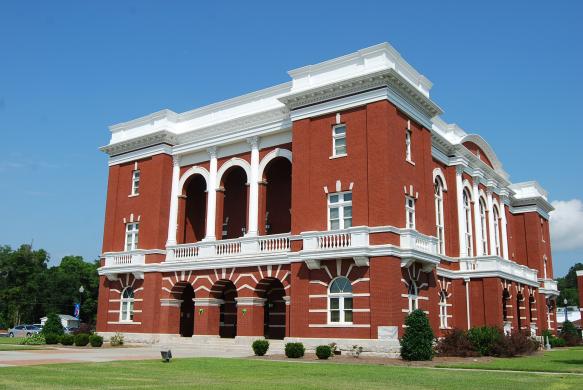 Hosted by the Greater Tattnall Chamber of Commerce and moderated by Mark Thompson -with the help of his timekeeping daughter, Madeline – the candidates for district four of the Tattnall County Commission seat of the late-Mourice Collins gathered Thursday night for a forum.


Because original questions were featured in the previous week's edition of The Tattnall Journal, the forum structure focused on elaboration of those questions and answers.
Candidate Timothy Bland was unable to attend due to a work trip scheduled several months prior to announcing for office, as was Timothy Phillips. Candidate Wayne Tatum was ill and unable to attend.
INTRODUCTIONS:
Rod Kirkland, resident of Tattnall County for 26 years. Married to Robin Kirkland, a elementary school teacher, and they have three children, April, Stephen, and Allison, and 10 grandchildren. He said he is uniquely qualified because he has 31 years in public service serving in the Kings Bay fire department, working with the Department of Corrections, the Georgia State Prison fire department, and as a firefighter captain. He's been the Tattnall County Public Safety Director and a volunteer firefighter in Glennvile, though now he services as the EMS Operations Chief in Bryan County. He said additionally, he's worked with budgets ranging from $80,000-$1,o00,000.
Stephen Moore is a retired solider who spent 21 years in the military as an electronic technician over ten offices with German and American workers. He also spent fifteen years as a prison worker in Tattnall County. He supervised numerous inmates in that capacity. He's now retired, though his wife is a Park Ranger. He has a son who is stationed at Fort Stewart. He believes his retirement provides him opportunities to work as a full-time commissioner.
Mourice Collins, Jr., son of Mourice Collins Senior, is a manager at the Wal-Mart distribution center. He has a daughter and son and has resided in Glennville his entire life. His experience is shadowing his father and watching decision making when Tattnall county community members would come to the house to discuss issues.
Timothy Phillips had a statement prepared and read by Mark Thompson: "Due to a prior commitment concerning my employment, I will be unable to attend the debate. I respectfully ask the citizens of the 4th district to excuse my absence during this event, however, I look forward to serving as your commissioner. Please vote for commitment, integrity, and accountability. Vote Timothy Phillips. Thank you."
Timothy Bland also had a statement prepared and read by Mark Thompson: "Due to a work obligation that's been on my calendar for over six months, I am unable to participate in the forum. I appreciate the invitation and I'm sorry I missed the opportunity.  I wish my opponents the best as we all seek the opportunity to serve the citizens of Tattnall County. My experience in the sales and customer service industry along with the operation of my own business makes me uniquely qualified for the county commission position. I am familiar with all aspects of small businesses  and I operate my business on the principle of honesty and integrity. Building relationships is important to me and is evidence by the fact that I have customers that have been with me since I opened in 1999. Through my job at NeSmith Chevrolet, I have also built relationships with through prompt customer service and satisfaction. It is my goal to ensure that my customers are satisfied and return in the future. Both of my jobs have given me the opportunity to demonstrate my ethics and hardworking skills as a caring and honest individual.
---
QUESTION 1: What are the 3 strongest assets of Tattnall County and how would you work with the commissioners to remain strong?
Collins – Diversity and Agriculture can remain strong by tending the farm land, keeping the ditches clean, and making sure the roads are safe to travel on.
Kirkland – Transportation, infrastructure, and natural resources. With the Ports of Savannah and Brunswick, Kirkland believes the interstate  is valuable. The cities have worked hard to bring in more businesses and more industry to grow the county. He said Tattnall County needs to do a better job of selling what the county has to offer. Being involved with the Fire Department, he knows the ISO ratings help businesses get a break on insurance and so he'd like to see an improvement on fire protection to lure businesses in. Also, the natural resources of the Altamaha River, there needs to be more access.
Moore – The prison system, according to Moore, is the most important strength because of the jobs. Some believe the prisons are bad because of the lack of taxes on state land but the local economy benefits from the heavy employment. Moore said local supplies, paying personnel, materials and the outside sources from Atlanta all help benefit Glennville and Reidsville. He believes Tattnall County should have first choice on contracts from out of towners coming to the county, too. Prison values are only trumped by farmers, he said.
Bland offered comments via a statement: Strongest assets are the people of Tattnall County. Agriculture, banking, and very active churches show a community rich in history and family traditions. He wants to ensure assets remain strong.
---
QUESTION 2: In your opinion, the 3 most pressing issues facing the county are what? Do you have a plan to work with Chairman Durrence and the other commissioners to address these issues?
Kirkland said communication is the key to success. He was asked if he was aware of any failures between county and city governments, and if so, how would he make the successes. Kirkland said he wasn't aware of any failures, and they do appear to communicate well. He said he would like to see more transparency. He said overcommunicating and being as open and honest as possible is the best route.
Moore said fire safety was the most pressing issue. He was asked if he had a specific plan to improve the fire safety plan, to which he replied that a second look needs to be taken at the populated community and how it compares to Tison, Gooseneck, and Mendes where fire station access is limited. Many don't have hydrants and he believes there should be more water out in the community so fire trucks don't have to go back an forth in an emergency. It also drives the cost of insurance up.
Collins – said better education is the issue. He was asked how the Commission could provide better education. Collins said he would team up with schools, support after school care, provide more computers, more training on computers, and give more to the schools from the County.
Bland in a prepared statement said the three most pressing challenges facing Tattnall County include increasing revenues, bringing new jobs, and maintaining and expanding county services. He believes the county should work with the Economic Development Authority to attract businessses to increase revenue without raising property taxes. The increase in revenues will ensure that the county is able to maintain the services.
---
QUESTION 3: What are your goals as Commissioner and how do you plan to pursue them?
Moore- Check heavily populated communities where buses cannot pass on dirt roads. He was asked if, as a commissioner, he would personally inspect roads or if he would leave that to the the Road Department Superintendent. Moore said he already inspects the roads, but would work with the superintendent and the Chairman of the Commission to talk to people in the community and the drivers of the buses.
Collins – Said his primary goals were to listen and communicate. He was asked how he will balance that with a job in Statesboro. Collins responded that he will work on his off days (Friday and Saturday) to meet with people in a central location as well as give out his phone number and return calls.
Kirkland – Said his goal would be to build confidence and trust in the community. He was asked how his previous work experience of having people's lives in his hands will help build that trust and confidence? Kirkland responded that his volunteer work in the rec department and at the school has him established in the community. Having pressured decisions and hard decisions to make, and other times needing to get recommendations and do research to weigh a situation to make solid level decisions puts him in a good place.
---
QUESTION 4: What can the Board of Commissioners do to promote economic development for favorable employment conditions and keep young people in Tattnall County?
Collins said he will work with city officials to see what can be done to bring jobs to Tattnall County.
Moore said when you look at Atlanta, Savannah and Augusta, the jobs are paying more hourly and otherwise. They're going to leave, but we can at least make it a nice place for them if they are going to work elsewhere. Young people want to stay close to home, but they want to make money.
Kirkland said over his years as Public Safety Director, the BOC has worked to enlarge the airport and pursuing businesses to come to Tattnall, including the solar farm. He believes Tattnall is doing everything they can, but need to better promote the assets – going back to the fire assets and the ISO ratings. Until more jobs come here, the youth will leave. They will get their education and leave.
---
QUESTION 5: Mourice Collins Sr. was the longest serving Commissioner and many on the current board have been there many terms. Do you believe term limits are necessary? Why or why not?
Moore – No. If a commissioner is doing a good, effective job and serving all of Tattnall County, and there is an ear to listen, and make suggestion and the people continue to vote them in over and over, health and death should be the reasons your term is limited.
Kirkland – Said he leans toward the two year terms because 4 and 8 year terms limit fresh ideas.
Collins – No. "Sometimes you move to a position and the problem takes longer to address because of the person that was there before you. Some situations take longer than others. The work is no good if you can' finish anything. And if the system ain't broke, don't fix it."
---
QUESTION 6: The Georgia Constitution allocates powers of governing authority (Board of Commissioners) and county-level Constitutional officers like the Sheriff, Clerks of court, the Tax Commissioner, and the Probate Judge. Commissioners have fiscal authority and responsibility over the entire county which includes approving an annual budget for some of those constitutional offices. Problems have arisen between the two branches. How would you maintain the spirit of cooperation, manage your duties and protect the county functions?
Kirkland said communication is key. Spending time with elected officials and understand the problems they face with their department and their budget and understanding what it is they are trying to accomplish for the year. Take that back with the Chairman, the Board, and the County Manager to develop a strategic plan on the budget to provide the services needed
Collins – Work with them and build a consensus. Build relationships, build a coalition and stay in touch. Plan what they want to do. Don't turn an ear and just say NO. He wants to listen before he makes a decision and stay close with them.
Moore – Plans to work with the county manager and departments to begin with an outlined budget. Take that to the manager who would offer opinions and proposals for department allocation, and in turn take it all to the Chairman and commissioners for discussion and decision. He said he will not just do favors for friends.
---
QUESTION 7: One of the major issues addressed by the Tattnall County Commission in recent months is the consolidation of the county road department. Do you think the road department should be consolidated? Why or why not?
Moore said when he didn't see the road grader, he became worried. It took almost three weeks after the rain to return to his area. He said if it saves a lot of money, then it is a good idea, but selfishly, he believes it takes too long.
Kirkland mentioned he believed Collins and Kennedy were not in favor of the consolidation. He believes that if a commissioner of the district is going to be active with the people, the responsibility should remain in the district. Allow the commissioner to have more say so over what happens. From a business standpoint and the decisions that needed to be made over the budget, he isn't sure what the county was facing, but he liked how the previous Mr. Collins handled the road situation.
Collins would have voted NO on the consolidation. Three weeks to plow a road is too long and unacceptable. It used to be same day, if necessary. He said sharing equipment and driving it from district to district takes too long.
Bland in a statement said "I would first like to acknowledge the good work that our road department does. Tattnall County is a large county and we have a lot of roads both paved and dirt to maintain. I believe the decision to consolidate the road department was a good one and in the best interest of our citizens as a sound financial practice. As I understand, the previous system had its own equipment and road department which was not an efficient use of county resource. Some equipment received more use while some districts needed more work than others. This allows a supervisor to coordinate the work and for impartiality of the order issues are addressed in order of received."
---
QUESTION 8: With the unique nature of the race and the shorter than usual time to prepare have you attended any board meetings or done any research to prepare for the job ahead
Moore said he hasn't attended the meeting recently but he's been on the website recently as well as some of the issues brought up. He said it gave history of Tattnall County as well, much of which he wasn't aware of.
Collins said he had not been to any meetings recently but he has done research on the Internet and asked questions of his dad. He's spoken with voters and asked for a copy of the county charter as well. Additionally, he requested a copy of the budget.
Kirkland said he has previously attended many meetings in his official capacity but he's also requested minutes from many meetings in the past. He's also been to several city council meetings.
FOLLOW UP : Do you feel with the limited time that the citizens will have sufficient time to examine all the candidates and make a sound decision?
Kirkland – Said no. The questions in the paper and the forum are just an introduction to who the candidates are. But the district is big and there is a lot to offer. Everyone has given a good effort, but it may not look the same the next time around after someone wins the seat to finish this term.
Moore – Said no. He left after high school and didn't come back for some time. When he returned, he was going by Stephen, whereas, in high school, he was known as 'Stevie." It's hard to get to know the folks you knew years ago.
Collins–  Said yes. If you're a people person and you get out in the community, meet people and talk to them, it can be done. But no, because it is happening so quick.