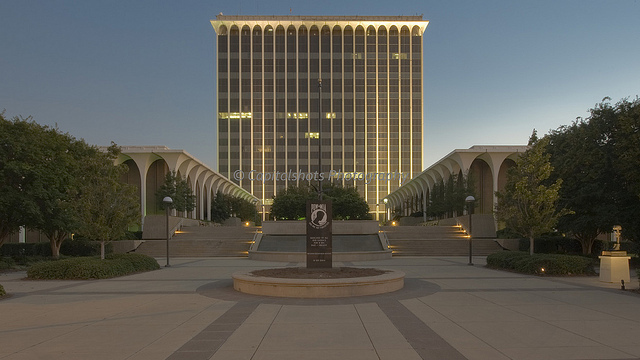 The Columbus Government Center faces additional water damage that is effecting at least four floors in the aging building that was hit by flood conditions over the weekend for the second time since June 18.

The incident in a bathroom on the fourth floor was discovered on Saturday. Water eventually spread to the third and second floors as well as the Plaza Level. Workers from ServPro, a local maintenance company, returned to the building on Monday to assess damage and to begin the process of drying potentially damaged materials.
Most affected were valuable files in the third floor offices of District Attorney Julia Slater.
City Manager Isaiah Hugley issued the following statement to Mayor Teresa Tomlinson and members of Columbus Council. His statement was later shared with members of the Columbus Bar Association whose members may face more challenges in offices and courtrooms located in the Government Center.
####
To: Mayor and Council,
It is unfortunate that I report to you another incident of flooding in the Government Center Tower. I received a call around 12:45 p.m. today indicating flooding on the fourth floor resulting from Public Works/Facilities Maintenance personnel making planned repairs to a plumbing problem.  The problem may have been minimized if the building had shut off valves. I have directed staff to retro fit the building with shut off valve on every floor. Immediately.
I arrived at the Government Center around 1:00 p.m. and authorized ServPro to be called in to remove water, secure equipment and records. I requested from the Sheriff and authorized pay for off duty deputy sheriff personnel to work overtime to monitor ServPro employees and city maintenance workers performing cleanup (because of the sensitive records and documents on floors four, three and two).
I called Chief Judge Gil McBride, District Attorney Julia Slater, Clerk of Superior Court Clerk Shasta Glover and Judge Maureen Gottfried to brief them on the impact on floors/offices related to their workspace and the immediate action we would be taking. They arrived and had staff whose offices were affected to report to the building to secure and protect records/documents in their respective offices.
My directive to Servpro employees and city maintenance workers is that no records, documents or equipment will be touched/removed in any area on these floors without a deputy sheriff escort present. No person is to be present in any area on these floors unless a deputy sheriff is present. Again, because of the sensitive documents on these floors, the sheriff authorized off duty deputies to come to work and I authorized overtime payment as necessary for hours worked.
I have authorized ServPro and city workers to work the hours necessary this weekend to have these floors ready for the workday on Monday morning …

Isaiah Hugley
City Manager