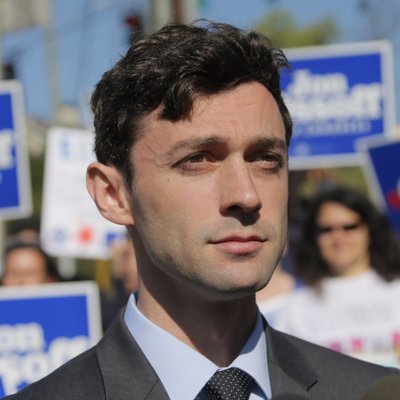 The candidate once blistered in a Congressional race for not living in the district in which he sought office is giving a run for public office another try.

Democrat Jon Ossof announced he is running for United States Senate in Georgia. The news broke Monday night, but Ossoff's formal announcement came Tuesday morning. In a press release, Ossoff said:
I can't stand what's happening to America. It's not just this obscene President. It's deeper than that. It's the corruption, greed, and cruelty that have become commonplace. Our republic is at risk. The planet is at risk. But we can fight back. And we must fight back. So today in Georgia, I'm announcing my candidacy for the U.S. Senate.
These are trying times.
But I learned from my mentor, Congressman John Lewis, that when we band together we can push the wheel of history toward progress. And I learned in 2017, when I ran for Congress, that we can build a grassroots army to rival the power of the corrupt machine. I believe we are all called to stand up to the abuse of power.
Real talk — here's what at stake:
Corruption threatens our republic.
When 9 out of 10 Americans support universal background checks but Congress refuses because they're bought by the NRA — that's corruption.
When Congress won't crack down on price gouging by drug companies, and guts protections for pre-existing conditions, because they're bought by insurance and pharmaceutical industries — that's corruption.
When the federal government silences its own environmental scientists because science threatens the fossil fuel industry — that's corruption.
When dark money from secret donors and powerful industries floods our airwaves with vicious propaganda — that's corruption.
Let's fight back together. The time has come to launch an all-out attack on corruption in America.
Republicans were already speaking out against Ossoff's run at the office before his formal announcement hit the news. The National Republican Senatorial Committee (NRSC) released this statement:
"The bitter and divisive Democratic primary welcomes another unaccomplished, far-left candidate. Failed congressional candidate Jon Ossoff's serial resume inflation and extreme left-wing views will fit in with the rest of the crowded Democratic primary but will stand in sharp contrast to David Perdue's positive record of delivering results for all of Georgia."
The Democratic U.S. Senate primary between failed business executive Sarah Riggs Amico, Teresa "I have a higher progressive score" Tomlinson, and socialist Ted Terry has been marked by its "leftward drift" and nasty infighting. 
Ossoff misled Georgia voters during his failed congressional campaign when he tried to inflate his "national security experience" and "security clearance" credentials. The Washington Post, PolitiFact, and the Washington Free Beaconwere just a few of the outlets who highlighted Ossoff's "resume puffery" and misleading claims. 
Democrats in Georiga are still without a top-tier U.S. Senate candidate. 
The Georgia Action Fund's Director, John Burke, also issued an early morning announcement:
"Jon Ossoff is a radical liberal whose entrance will only continue to push his party's Senate primary further to the left. Ossoff proved he was nothing more than a straw man for Nancy Pelosi and far-left donors from California and New York who already spent nearly 30 million dollars to watch him fail at running for Congress. Georgia voters will reject him in 2020."
Ossoff lost in a special election to Karen Handel in Georgia's 6th Congressional district in 2017. Their race was the most expensive congressional race in American history.