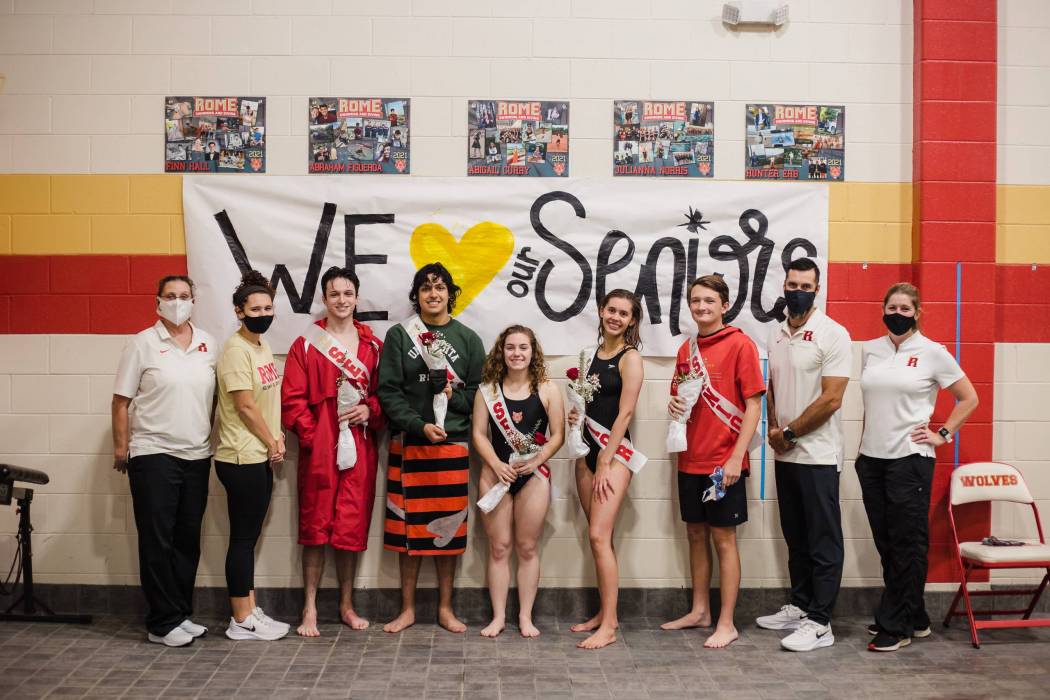 Rome High School's swim team hosted Dawson and Floyd County for their first home meet of the year. Head Coach Joey Powers also planned a special ceremony during the contest to recognize the contributions of his senior class.

Things look a bit different around the RHS pool, as male and female swimmers waited in the school gymnasium until their event was announced by Powers. The RHS swim coaches have developed a system that prevents large groups from gathering around the pool to keep athletes safe and stay within the boundaries of the system's physical distancing guidelines.
Still, Rome swim fans were able to watch from the stands above the pool and parents of seniors were able to pose for pictures during the special Senior Night ceremony.
In addition to the fanfare, the Wolves had a great showing during the meet.
Sophomore Nathan Medley finished the boys 200-yard freestyle with a state qualifying time of 1:47.68 and he finished with a final time of 51.98 to qualify for the state meet in the 100-yard butterfly event.
The boys 200-yard freestyle relay team (Hunter Erb, Andre Durand, Philip Johnson, and Nathan Medley) also qualified for state with a total time of 1:36.10.
Rome's women swimmers finished the meet in first place with 72 points, followed by Dawson County with 62 points and Model High School with 20 points to finish third.
The Rome men finished first as well, with a score of 136 for the meet, followed by Model High with 27 and Dawson County finishing third with 20 points total.
Rome also took home the combined best score for the meet with 208 points, Dawson County finished second with 82 points and Model High took home third with 47 points.
Coach Joey Powers and his staff were pleased with the results of the meet, and they were even happier to offer their upperclassmen the chance to be recognized during their first meet at home.
"I have coached most of our team since middle school," said Coach Powers when speaking about how much his seniors bring to the pool, "and I have watched them grow not only as athletes but become great young adults. They are wiser and more mature, and they are making great decisions that will determine their futures. They have a mix of different personalities. We have some athletes who are hilarious, some of them are sassy and some of them have a macho side, but they all bring something to the table that makes us better. If I could give them something to take with them to the next phase of their lives, I would tell them that success requires time management. This year, we are practicing three days a week at six in the morning, so by balancing the rigorous routine we have for them in the pool and their studies, I feel like we are setting them up for what lies ahead. They are all so dedicated, and I think that is something that will follow them whether they go to college, the military or enter the workforce. Rome City Schools has a mission to prepare all of our students for the next chapter of their lives and I have no doubt these seniors will excel."