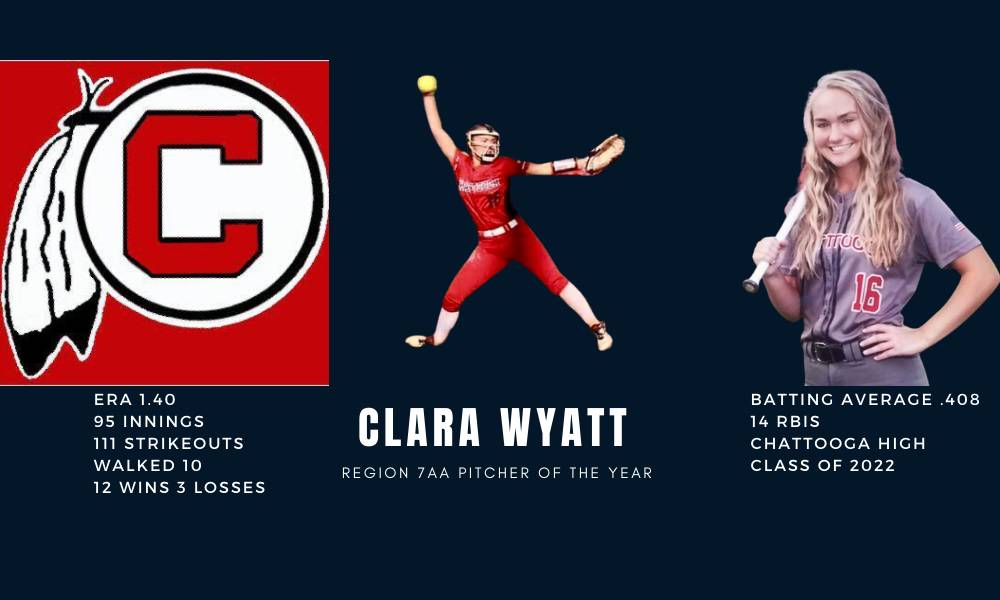 Clara Wyatt has been selected Pitcher of the Year for Region 7AA. Coaches from around the region vote for pitcher of the year award.
Wyatt is a junior at Chattooga High School. She has played softball for ten years and has been pitching eight years.
Wyatt has helped the Lady Indians secure playoff appearances for three consecutive years, a first in school history. She also is the first Chattooga Indian to be awarded pitcher of  the year honors.  She plays travel softball with the Georgia Impact organization and helped her travel team finish 5th place in Nationals for the Summer 2020 season.
When she isn't playing softball she enjoys spending time with friends, and being outdoors. She hopes to receive a scholarship and be able to continue to play softball in college.
Pitching Innings Pitched 95, Wins 12 Losses 3, 111 Ks, 10 walks, ERA 1.40, Batting Avg. .408, 14 RBIs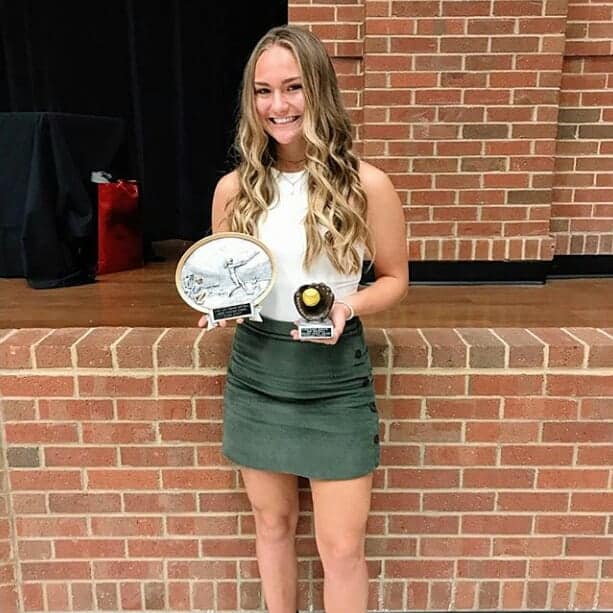 "Clara is a very hard-working young lady since she's been with us as a freshman she takes pride in her pitching. Every year we have seen an improvement in her work ethic. Her goal is to pitch in college," Indian Head Coach Jeff Bennett said.
Wyatt said about the recognition, "it feels amazing… I am very honored and thankful to be pitcher of the year!"
Regarding her practice routine, "I work very hard year round, every day in high school season. I take pitching lessons once or twice a week and work at home every day I don't have pitching lessons. My pitching coach is Danielle Rubin, she is based in Canton, Ga. The travel team I play for is Ga Impact Schroyer 2022. With my travel team we practice one to two times a week, Sunday practices are five hours long and Thursday practices are three hours long. There were times after my five hour practices I would have to go to high school practice. My travel team is based out of Canton, Ga, but we have girls from all over the nation. We have one from Indiana, Tennessee, Alabama, and we had one from Florida a while back. My travel team plays tournaments at the highest level of A ball. We travel to Alabama, Tennessee, Colorado, California, South Carolina, Florida, and Texas. I have so much love and dedication for this sport! I'm so happy my family
has supported me since day one or else I wouldn't be where I am today, playing in tournaments days away. My travel ball and high school schedule usually take up all of summer, but in my opinion it is the best way to spend it! There's nothing I'd rather do!"