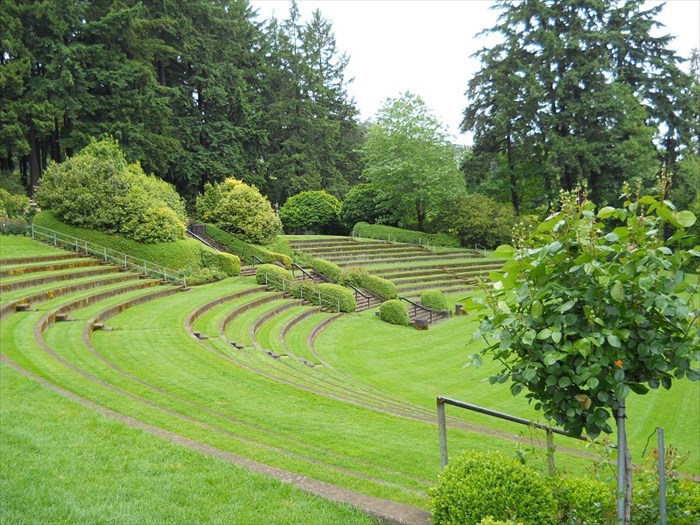 A representative from the Economic Development Authority of Claxton addressed Commissioners Tuesday night to request the use of county property for a possible amphitheatre in Evans County.


Ed Bradley told Commissioners that the Authority was considering building an amphitheatre behind Tippins Bank between DeLoach Street, North Newton Street, and East James Street. His official request was 'for the use of the property' owned by the county.
The Development Authority does not presently have a piece of property suitable for the project and Bradley told Commissioners that the property they're seeking is ideal due to the fact that it is concave and already resembles a bowl.
"It would enhance our community so much by giving us an opportunity to have different venues there, local talent, concerts, outside talent, Christmas in Claxton," Bradley told Commissioners. "It would be a wonderful place for everyone to come together for a sense of community and pride."
Bradley said the project would be like the outdoor amphitheatre at Ogeechee Technical College, however, it would not be made of concrete and would instead be built in tiers off the ground. Commissioner Gary Bell asked how many people could be seated in the proposed amphitheatre but Bradley said that information is not yet known. Bradley said that private funding and grant options are being explored to help fund the project.
"We've come to request the use of that property however you see fit to handle that. We would very much appreciate it if we could have your blessings on it," Bradley said.
Commission Chairman Shela Holland asked how long the project would take to plan and build, but Bradley said that information could not be provided at this time because surveying and grading would have to be completed first. He told Commissioners he would be happy to come back with more information at a later date.
"I know that in the preliminary stages it would just be a group effort to try to get people together to find out what we do need to do. Then I can come back to you later and give you more details about the progress we've found out. I'd be glad to do that," Bradley told Holland.
Commissioner Del Beasley said he was glad to support the idea. County Attorney Jay Swindell said that if the county was going to commit to the project, at some point, details would need to be worked out as to whether a lease would be put in place or the property would be conveyed.
Commissioner Brian Croft said he liked the idea, especially with regard to Christmas in Claxton. "It'd be safer to have it off the streets and not have to close the streets," he said.
Commissioner Gary Bell made a motion to move forward with the project and allow Swindell to draft an agreement between the county and the Development Authority. It was seconded by Commissioner Del Beasley and passed unanimously 4-0. Commissioner Jill Griffin was not present for the vote.
The vote did not include any direction on whether the land will be conveyed outright or if a lease will be drafted between the two entities.
A copy of the map and possible plans was provided to Commissioners by Chamber of Commerce Director Tammi Hall, but not to the media. An open records request has been filed and once the documents are received, AllOnGeorgia will publish them in their entirety.