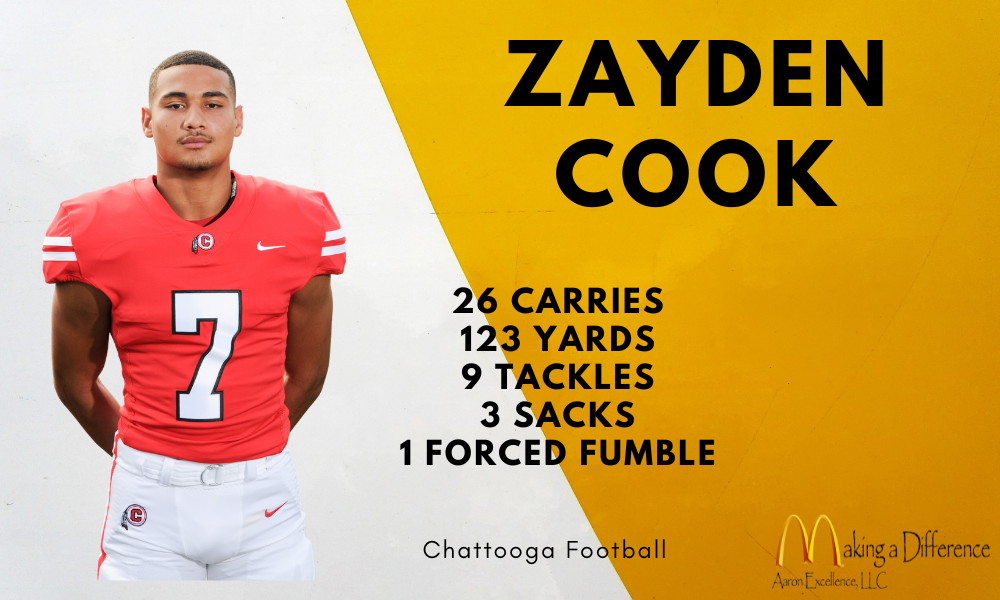 This week's AllOnGeorgia Player of the Week honors brought to you by Jim Aaron's Summerville McDonalds go to Chattooga Football's Zayden Cook. 
Cook (6'0″, 190) is a 16 year old junior, and sees action on both sides of the ball as a running back and outside linebacker for the Indians. Cook is a four sport athlete for Chattooga High School.

In the 17-14 victory over Coahulla Creek Cook had
26 carries
123 yards
9 tackles
3 sacks
1 forced fumble
"Zayden is very humble young man," Indian head coach Roone Gable said.  "One of the hardest workers on the team if not the hardest worker.   4.0 student.    Team captain.   Plays 99% of the snaps on Friday night- rarely comes out.   He's awesome!"
In Cook's other two games this season he performed equally as dominant. Against Lafayette he had 15 carries for 80 yards, 3 catches for 49 yards, 1 kick off return for 20 yards and 6 tackles. In the Temple game he had 27 carries for 109 yards and 1 TD, 1 kick off return for 25 yards and 6 tackles.
What was your favorite play or part of the game? 
Having 3 sacks on defense and making a few good runs on offense.
Do you have any personal goals for this season?
I am shooting for 2,000 yards this year, with the hopes of even more next year.
What makes a good leader in football? 
A good leader is someone who leads by example, gives their all everyday, and motivates their teammates to do the same.
What qualities make a good football coach? 
A good football coach knows the game of football and has the ability to inspire and teach. They must care about the players development on and off the field.
What's the best part of being a Chattooga football player? 
The best part of being a Chattooga football player is the fact that my teammates feel like brothers. We're like a family and the bond we share is something special. Plus the Friday night lights and support of our community is incredible.
GPA 
3.88
Favorite class? 
My favorite class is math because I just understand it better than other subjects.
Favorite teacher? 
My favorite teacher this year is Mr. Windom because of all the stories he tells.
In ten years where do you see yourself?
I will have completed college and hopefully pursuing a career in business or computer science.
You play both sides of the ball, do you prefer one over the other? 
I prefer offense because there is just something special about having the ball in my hands, whether it's pushing my way down the field through a wall of defensive players or running into the end zone for a touchdown.
Who is your role model and why?
I can not pick between my two parents. Both have made me the person I am today.
What is your favorite football memory so far?
My favorite football memory so far has been to be able to play with my brother before he graduated. It was awesome to be able to be out there on the field together.
What is your pregame routine?
My pregame routine starts by me and my Dad watching film before the game the next day then I just try to stay focused on football after that.
What is your favorite memory of being a Chattooga Indian?
My favorite memory as a Chattooga Indian so far was making it to state in track. It was a great experience being able to place in the hurdles and I hope to do it again this year.