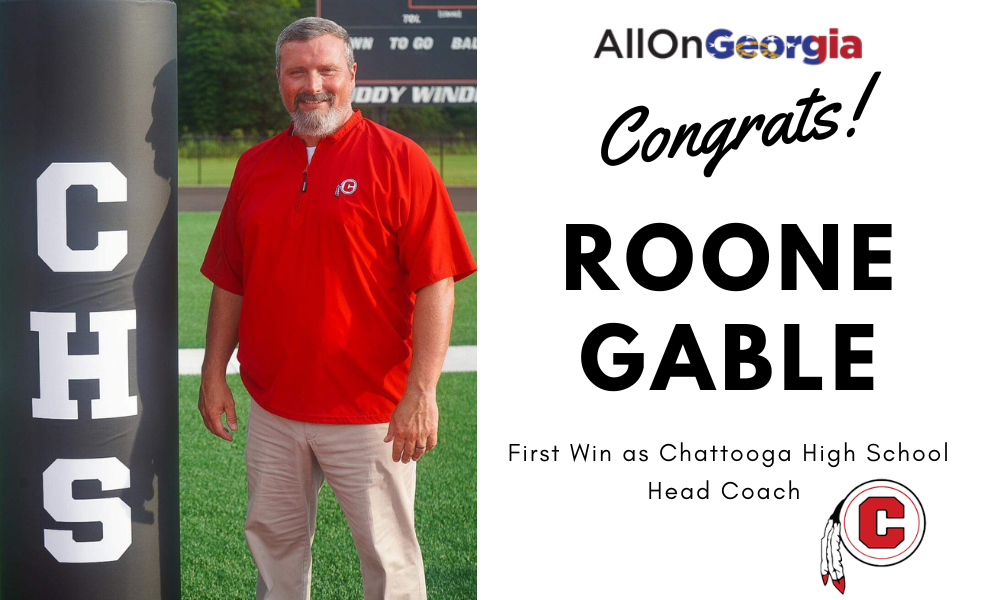 Friday night was full of excitement under the bright and colorful lights at the Little Big Horn Stadium. It marked the season's first home game and provided many fans with an opportunity to witness the new turf field up close. Prior to kickoff, the field was officially rededicated as Buddy Windle Field, with former Coach Buddy Windle and some of his family members in attendance for the special ceremony.

In a thrilling conclusion, the Chattooga Indians secured their first victory of the season with a last-seconds field goal, marking a momentous occasion as Roone Gable notched his first win as head coach as the Indians defeated Coahulla Creek 17-14.
AllOnGeorgia reached out to Coach Gable to get his perspective on the evening.
Growing up as a coach's son, always on a football field — how special was Friday night's win?
First win was very special. I was very proud of our kids and how we won. Game winning drive under a minute to play- that's good stuff. They have worked so hard- they deserved to win and I couldn't be more proud of them.
You had a large support group in attendance tell me about their support and what it means to you.
Growing up I knew I always wanted to be a coach. My Dad was obviously my biggest influence in my life. My coaching philosophy comes from him. Got to work hard everyday and do the little things right. I was very proud that he was there to experience it with me.  My family is very close- I made the comment to Dr. Mobbs and Mr. Hosmer that when they hired me, that they just didn't hire me.  They hired my entire family. Everything I go to watch in other sports- Stacey and my two youngest kids (Grayson and Peyton) are there right beside me. They love being part of this community. Grayson and Peyton love going to school at Lyerly. My parents just moved back to Summerville last month to be a part of our community. And I was proud to have my brothers and their families at the game Friday night too. We all grew up watching each play sports and supporting each other so that was special to me. Coach Rosato who is like family to me was there as well.   He has been a major influence in my life as well. Thankful he was there as well as Lisa Hall who has been so good to my family over the years. There are so many people who called or texted or message congratulating me.  I was very overwhelmed but very very appreciative.
Recently there was a picture on social media of you helping a rec player with his pads. Tell me a little about that:
First of all I had no idea Michael Lee took that picture.   I just love working with young people.  Kids of all ages.   When my kids were younger, I coached every sport they played on the rec level- baseball, basketball, softball, etc.   it's fun to be around them.  these kids are the future of our school and sports programs.  I want them to feel like they are always welcome and that they are a part  of our sports teams.    When we had our youth football camp this summer we tell all the kids that they are a part of the Indians and we want and need all their support.  In return we need to support them every opportunity we get.   My players enjoy working with them and being around them as well.
What does One Tribe mean to you?
One Tribe means we are all in this together.    We are family.   We have such a supportive school and community.   It's special here.  The atmosphere Friday night was something I will not forget.   Large crowd, loud student section, cheerleaders and band all working toward a common goal.   That's what One Tribe means to me.  I'm very proud to be a part of it.