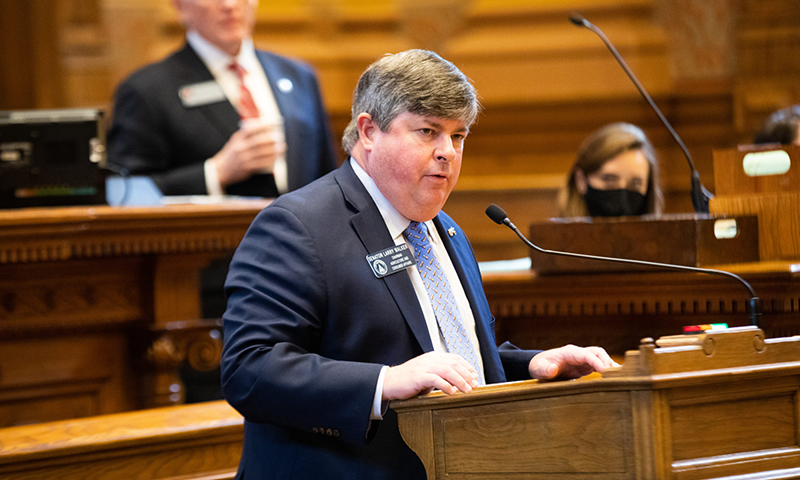 By: Sen. Larry Walker (R – Perry)

Week 10
This past week, the Senate experienced one of the longest and most critical days of the legislative session – Crossover Day. In this marathon voting session, the Senate considered over 45 pieces of legislation over the course of roughly eleven hours. The work did not end there, however, as we convened for three additional legislative days this week, concluding with Day 31 on Friday.
On Wednesday, Governor Brian Kemp signed House Bill 910, the amended budget for 2022, into law. This budget prioritizes investments in the areas of public safety, education and healthcare while also returning nearly $1 billion back to Georgia's taxpayers through refundable tax credits. Additionally, the $30 billion midyear budget also ensures that our teachers and other state employees receive a $5,000 bonus for their critical work in maintaining our state's most basic functions, even during a global pandemic. Work also continued throughout this week on the general budget for 2023, with Appropriations subcommittee hearings taking place. While work on these budgets is long and arduous, it is necessary to ensure that taxpayer dollars are spent in a fiscally prudent manner.
Later in the week, the Senate passed House Bill 1302, a measure we previously discussed as being incorporated into the budget. HB 1302 provides a one-time tax credit for all eligible taxpayers while filed a return in both 2020 and 2021. Single filers would be eligible for a tax credit of $250, those filing jointly will be eligible for a credit of $500 and those filing as a head of household would be eligible for a $375 credit. Taxable nonresidents who would otherwise qualify for the credit would be prorated based on the ratio of taxable income to Georgia. This is another example of Georgia passing along our economic surplus back to the people of Georgia.
On Thursday, the Senate granted final passage to an urgently needed measure to bring relief to all Georgians. With skyrocketing gas prices from the lack of domestic oil suppliers and because of the ongoing conflict in the Ukraine, Georgians are in desperate need of financial relief just to travel to and from work, school or to receive medical care. In an effort to ease the financial pressure placed on our citizens, the Senate passed House Bill 304, which would suspend the collection on the state excise tax on gasoline until May 31, 2022. While this will not bring down gas prices overnight, it will provide some degree of relief for those impacted by the unacceptably high cost of gasoline.
We only have nine legislative days remaining and, with Crossover Day behind us, we have our work cut out for us over the next few weeks. While we can no longer introduce Senate Bills with the hope they become law this year, there are still countless pieces of legislation awaiting action in both the Senate and the House. If you have any questions or concerns about any of these bills, please do not hesitate to reach out to my office.
---
Week 11
The Senate has just completed its penultimate full week of the 2022 Legislative Session. The period between Crossover Day and Sine Die is typically the most hectic of the session with votes occurring on the floor at a record pace and committees in both chambers meeting early to late.  This year has been no exception and, this week alone, the Senate took up and considered 20 bills and resolutions. Despite this productivity, the General Calendar (all bills still available for action) remains lengthy and it will be impossible to vote on each and every remaining measure. We are certain to hold increasingly longer days in the Senate Chamber debating and passing legislation prioritized based on its significance to the people of Georgia.
This week, the Georgia Department of Agriculture recognized Georgia Agriculture Awareness Week. In recognition of our state's largest and most important industry, the Senate passed a few measures aimed at improving the lives of our farmers and others involved in the agriculture sector. A few years ago, the General Assembly established an elementary agriculture education pilot program to develop curriculum and evaluate gains in student achievement from offering ag education in lower grades. The results of the pilot program were a resounding success and House Bill 1303, which the Senate passed on Tuesday, would make this program permanent and calls on the Department of Education to offer this curriculum to all school districts that want to participate. This program will teach children across the state where we get our food and fiber, provide a practical relatable way to teach math and science lessons, and capture students interest at an early age in the many and varied career opportunities available in the agriculture. I foresee this program being immensely popular and leading to new agricultural leaders in rural and urban areas alike.
Later in the week, Governor Brian Kemp signed House Bill 1302, officially codifying the disbursement of refunds that all Georgia taxpayers will receive over the next few weeks. The refund amount will depend on filing status, with single filers eligible for a refund of $250, joint filers eligible for $500 and $375 for those filing as the head of a household. Over the last two years, Governor Kemp has led Georgia through the pandemic with a focus on protecting both lives and livelihoods, allowing Georgia businesses to stay open with reasonable precautions.  By keeping our economy open, we are now emerging from the pandemic in a stronger financial position than we predicted. The strength of our state's economy has given us the opportunity to return this unexpected surplus tax revenue back on to you – the people of Georgia.
I've touted my pro-business public policy initiatives in previous articles, and I'm proud that Georgia is nationally recognized as the number 1 state in which to do business. While I've worked hard to provide economic opportunity for my constituents, I'm also committed to making Georgia the most military friendly state in the nation. With nine major military installations, including Robins Air Force Base, Georgia plays a key role in our nation's defense and is home to tens of thousands of active-duty military and their families. In order to entice these talented patriots to become permanent residents of our state and continue to contribute to our workforce after they finish their military service and to reward them for their sacrifice in keeping us secure, we passed House Bill 1064. This bill exempts up to $17,500 of qualified retirement income for military service members under the age of 62 and an additional $17,500 of income earned in Georgia. I was proud to work with Governor Brian Kemp and members of the Veterans, Military and Homeland Security Committee to ensure this bill passed.
On Friday, the Senate passed our version of the General Budget for the 2023 Fiscal Year (FY23). The FY23 budget totals just over $30 billion and targets specific areas of need including public safety, education and healthcare. One of the most significant additions in the FY23 budget are salary increases for our teachers and other state employees. Specifically, this budget approved a $5,000 salary increase for all state employees, along with an additional $2,000 pay raise for our teachers to bring their total raise over the last two years to $5,000. Incentivizing quality was also essential in this budget, with $5 million being added to increase capacity for our state's skilled nursing programs and $28 million to fund an aggressive campaign to improve third grade reading levels. One major area of concern in our state has been the lack of qualified medical examiners and death investigators. This is a niche field that Georgia is in desperate need of qualified practitioners in order to made headway in our violent crime case backlog. I was proud to work with the Appropriations Committee to secure $2.7 million in funds to hire 16 positions related to these programs, with a central facility housed in Macon. To pass a balanced budget is no easy task, but all involved undertook this challenge with professionalism and dedication and designed a budget that all Georgians should be proud of.
We are well into the home stretch of the 2022 session, with only five legislative days remaining and Sine Die (our final day of the session) just over a week away on April 4th. While we are down to the wire, it is still not too late to reach out with any questions, comments or concerns. Your voice matters, especially now, to ensure the issues that matter most to you are considered before Sine Die.
---
Sen. Larry Walker serves as the Majority Caucus Vice Chairman and Chairman of the Senate Agriculture and Consumer Affairs Committee.  He represents the 20th Senate District, which includes Bleckley, Houston, Laurens and Pulaski counties.  He may be reached by phone at 404.656.0095 or by email at larry.walker@senate.ga.gov.