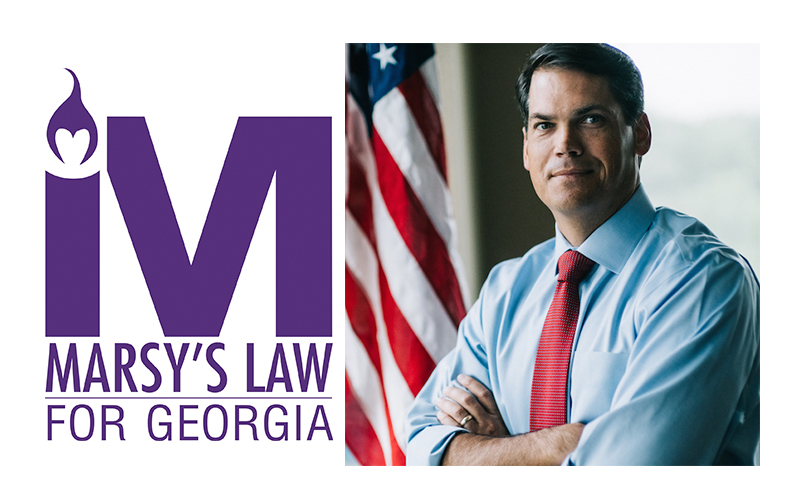 Marsy's Law for Georgia recently gathered at the Georgia Capitol to award Lt. Governor Duncan with their organization's "Champion Award Challenge Coin" in recognition of the Lt. Governor's work on advancing protections for crime victims in Georgia through Senate Bill (SB) 441.
Also known as the "Criminal Record Responsibility Act," SB 441 modernizes the state's criminal data reporting system and paves the way for Georgia to further expand victims' rights.  Since its introduction in the Senate, SB 441 has received bipartisan support from lawmakers and organizations such as Marsy's Law.
"The Lt. Governor has been such a pivotal advocate to victims," said Dr. Tamiko Pugh, Marsy's Law Advisory Board Member, life coach and victim rights advocate. "It is because of his tireless efforts that the Criminal Record Responsibility Act and Victim Notification Package passed through the Senate 53-0 and we have no doubt that the Georgia House of Representatives will respond similarly."
The presentation occurred in the Lt. Governor's office and was attended by esteemed Marsy's Law for Georgia's representatives, including Advisory Board members Dr. Tamiko Pugh; Beverly Muhammad, Atlanta Victim Assistance; Carla Rieffel, Prosecuting Attorney's Council (PAC) of Georgia Comms Director; Mel Hewitt, Isenberg and Hewitt Partner; Harralyn Rawls, Fellowship Community Outreach & Resource CEO; Natalie Williams, Criminal Justice Coordinating Council Victim Services Project Coordinator; Chief Andrea Alibi, Fulton County Solicitor's Office and the Prosecuting Attorneys' Council of Georgia Executive Director Pete Skandalakis.