The following article is an opinion piece and reflects the views of only the author and not those of AllOnGeorgia.com

---
More than a year's worth of colorful stories in the media accompanied by dozens of tips and tidbits about the City of Guyton passed through my inbox before I attended my first city council meeting last fall. Tips on the police department, the elected officials, the police department, the city manager, the fire department, the upcoming election, the police department…the police department…Few could pinpoint the root of the issue and no single person was to blame for every problem, but also…the police department. "Please help. Something's got to change," the messages would read. 
The first council meeting was undoubtedly a circus. It was standing-room only, citizens were visibly and vocally frustrated, and city officials had planned a four-page agenda complete with a discussion on a $189,000 piece of equipment. I kept to myself, I observed people, discussions, body language, and I took several pages of notes. It took less than an hour for me to see where (and by whom) many of the problems were rooted. At the next meeting, I had the opportunity to talk with several citizens, a few of whom were running for office at the time. Each was unique in their own way, but all shared a common theme: "Something's got to change."
And that's exactly what the voters ordered in Guyton last November when they elected a new mayor and two new council members. Unfortunately, that is not what has been delivered. Most of the six month tenure has more closely resembled a state of perpetual darkness in a place where the sun just won't rise instead of the 'New Day in Guyton' that was promised. Charter violations, illegal missteps, silencing of citizens in public meetings, authoritarian rule, and now termination of volunteers who voice opposition to city decisions. 
The council is not free from accountability or their own problems, but Guyton's City Charter calls for a 'strong mayor form of government,' which means the position is more powerful than in most municipalities in the state. As Mayor of Guyton, Russ Deen's gavel of authority is pretty heavy. But when he ran for office, he painted a faithful and heartwarming picture of what Guyton should be – complete with ethics, transparency, accountability, and fiscal responsibility. There is always a risk when elected someone who has not held elected office before (you know, the saying about 'the devil you know'…), but Deen gave the impression that he had a servant's heart, and an understanding of why God gave us two ears but only one mouth.
"I pray I'm never too big to admit when I'm wrong if elected Mayor Guyton," he wrote in an October post. 
"Even if we disagree, we should all be heard."
"Government should be built on understanding and compromise."
But 'then' and 'now' are polar opposites. Day and night. Capable and proficient. Harmless and harmful.
The Police Department
In a September 15th post from the campaign trail, Deen said "Our police department will be priority one on my agenda," after council couldn't agree on a tenured new hire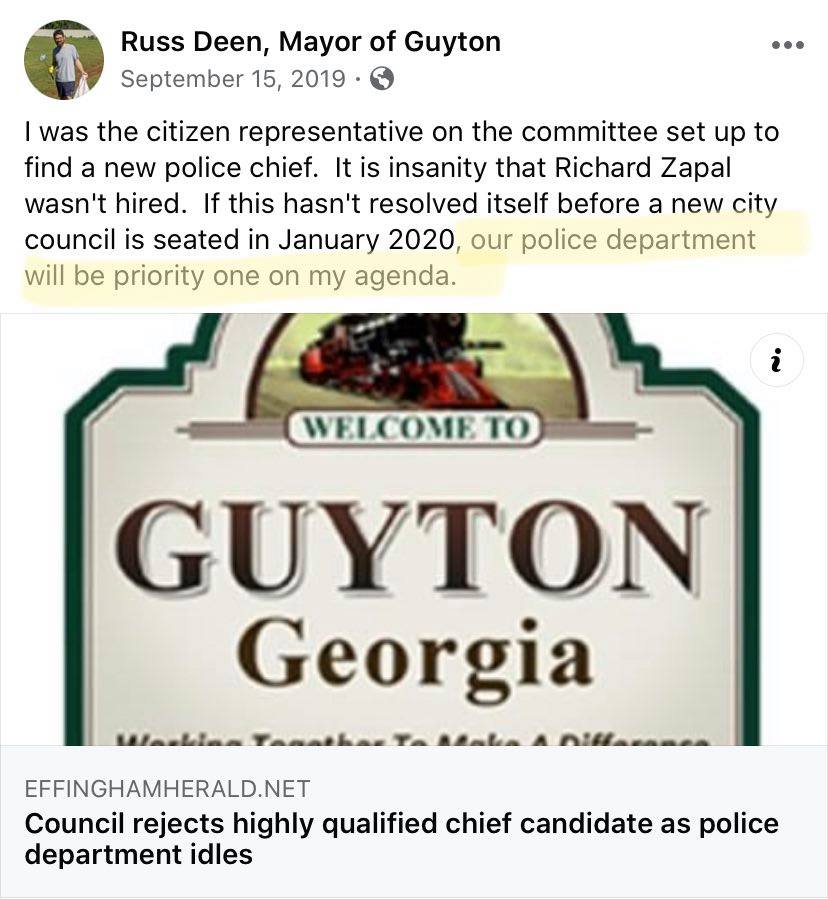 for the turmoiled police department. It was something Deen professed repeated and an initiative the citizens were eager to see addressed.
That's because the Guyton Police Department has been in a state of disarray, been seen as low hanging fruit for the media, and a blemish to the badge for quite some time now. Between the election and the swearing in of the new administration, I broke a series of concerning stories on the interim police chief at the time who is still employed by the city. It was followed up with documentation from former superiors and investigations by outside agencies, complaints from the public, grave ethical concerns, personnel policy violations, and even documentation demonstrating a pattern of lies in uniform. The department has been lacking in qualified employees, equipment, and coverage and the PD activity reports at meetings have routinely been refuted by evidence with Effingham County Sheriff's Office and the 911 center. 
The time to strike was Day 1 – when police department reform (or even temporary closure) could easily be 'priority one' as promised. Instead, responsibilities were quietly and briefly handed over to Sheriff Jimmy McDuffie (who does a lovely job) and then Guyton went back to business as usual with a new chief, the same employees, no policy changes, and no new image for the public. The message the mayor and council sent to the police department is that it is autonomous, accountability free, and without oversight. I expect to write about them in the future. 
And let's not forget that just last week during the budget hearing, the city manager said the crime is low in the city "thanks to the work of the Effingham County Sheriff's Office."
Charter Violations & Illegal Matters 
In February, in violation of Article III, Section 3.10(e) of the City Charter, city officials planned to swear in the new police chief without a vote by Council. An

AllOnGeorgia article shed light on the misdoin

g and after publication, the city corrected its course.

The City did not have a FY 2021 budget approved by the start of the new fiscal year on July 1. The drafting of the budget is the sole responsibility of the mayor, according to Section 2.29 of the City Charter.

In July, in violation of

OCGA 36-81-5(f),

the city attempted to approve the FY 2021 budget in a special-called meeting without a public hearing and in violation of the timeline prescribed by state law. Additionally, public hearings are not currently permitted via teleconference. An

AllOnGeorgia article shed light on the misdoing

and after publication, the city corrected its course.
Ignorance of the law and the contents of the City Charter is not an excuse. The city has a city clerk, a city manager, a city attorney, and the full training and resource log of the Georgia Municipal Association at the disposal of the city, which Deen has posted he has networked and attended. 
COVID-19 Control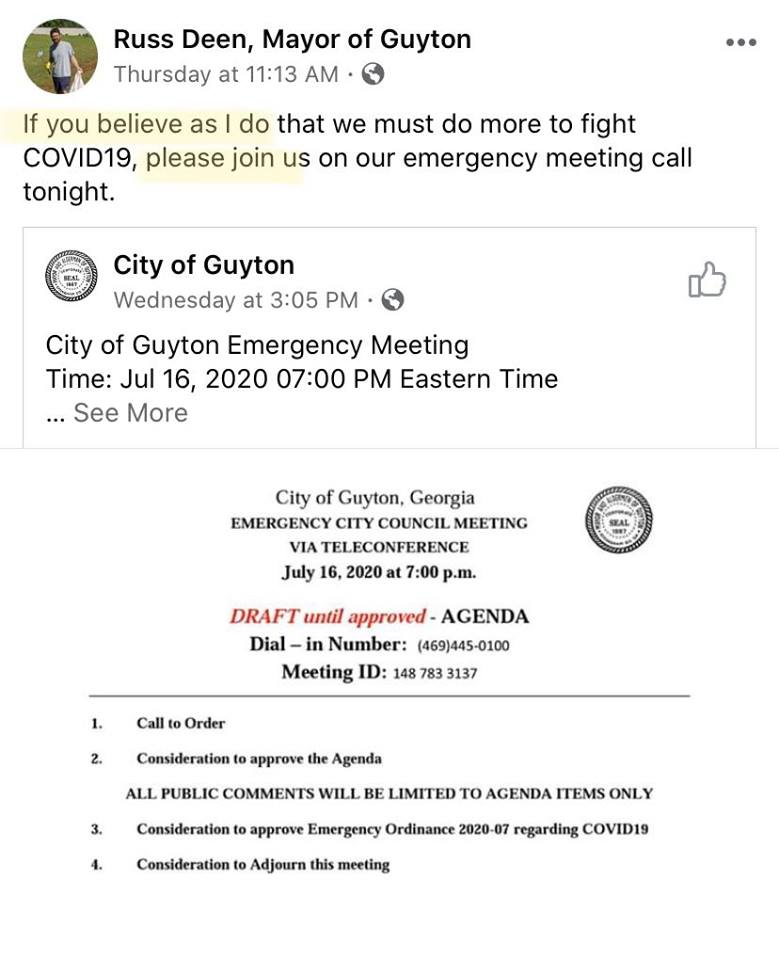 "I promise to give serious consideration to all sides of an issue." That's what Deen professed in October 2019, but just last week in a special-called meeting to approve an emergency ordinance in violation of Governor Kemp's public health emergency executive order, Deen did no such thing. He even expressed that his mind was made up before the meeting, saying on his page that those who agree with him should join the meeting. It mattered not that every person on the call expressed opposition to one of the strictest ordinances in the state or that the Governor filed a lawsuit for doing the very thing Guyton sought to do without consulting any public health officials.  
It was also a shift from statements made in March referencing the ability of citizens to decide for themselves about quarantine and COVID precautions as well as a 'We're in this together' post proclaiming support for local businesses. Obviously the businesses don't agree because there was a protest of the ordinance and Deen generally last Saturday and there's another one set for this Saturday.
Further, the ordinance is problematic for two reasons: 1) Most agencies have slowed down on public interactions for the sole purpose of, ya know, social distancing, but enforcement of this ordinance calls for more interaction; and 2) in a time when the national headlines are full of increased scrutiny of police because they are interacting with the public on matters the public does not deem 'a threat to safety,' Deen led the charge to require police to interact with citizens who refuse to obey an unconstitutional ordinance. 
The Demise of Communication 
Deen has full control over the narrative that comes out of city hall. Not only is he all-powerful (and apparently all-knowing) head of the city, he runs the city social media and singlehandedly manages the city website. That alone is improper, but even more so given how the city has isolated the public away from governmental activities since March.
As far as the 'Russ Deen, Mayor of Guyton' Facebook page goes, in February and early March, Deen provided personalized updates on city activities with long explanations and open doors for questions and comments. 
"Communication is our greatest tool against conflict, and transparency produces trust."
But since March 23rd, there have been no such updates and it's not for lack of action by the city, which has had 11 teleconference meetings, two public hearings on the lawn of city hall, and three P&Z meetings. Worse, the first two teleconference meetings in April (23rd and 29th) had audio posted on the city Facebook page, but that was swift to end and has not occurred since. They appear on the website with an incomplete list of minutes though some are poor quality or cut out entirely. 
While every city in the region I cover (Bulloch, Evans, Emanuel, Screven, and Tattnall) has returned to in-person meetings, Guyton continues to have teleconference meetings despite having a community center for people could social distance and a city hall parking lot. If the desire was there to have in-person meetings with a truly 'involved' citizenry, the City of Guyton would make it happen. Instead, city hall remains closed and the local government has socially distanced itself from the people it serves.
But I think the next part will shed light on why communication has stopped.
Bestie-Turned-Arch Enemy Andy Harville 
While there was no official slate for candidates, Deen, now-councilman Marshall Reiser, and Andy Harville appeared at campaign events together, clustered yard signs together, and endorsed one another – even through the runoff when Deen was mayor-elect but Reiser and Harville were still vying for their spots. Deen was a vocal proponent of Harville, saying 'he has what it takes to build a better Guyton' and "We agree on listening to the people, being fiscally responsible, and saying what we think in meetings [winky face].
Harville lost by 8 votes to Hersula Pelote in a runoff, but Deen was quick to appoint Harville to the Planning & Zoning Committee once he was sworn in himself.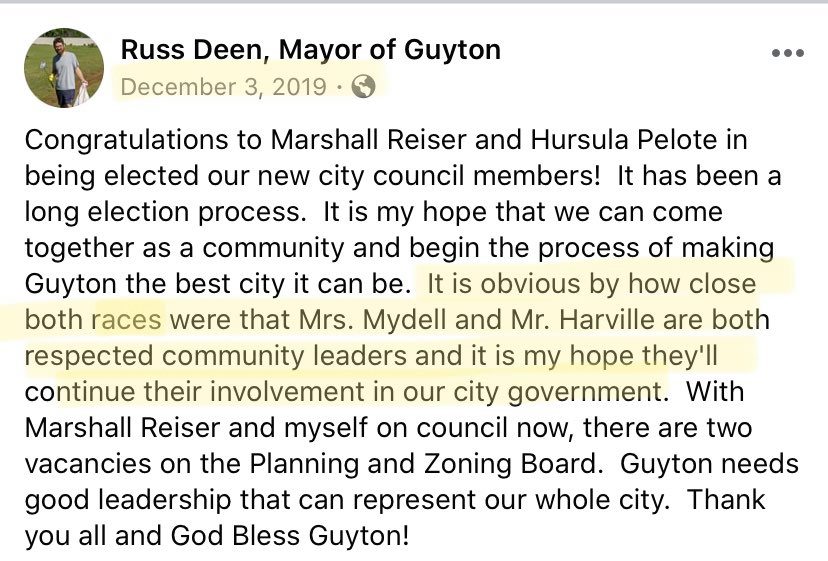 But when Harville started asking questions about the budget and the police department – particularly on matters that were discussed last fall but never acted upon, Harville was ostracized by the now-former interim city manager and Deen. Nearly every meeting resulted in public commentary on the condescending and disrespectful tone Deen addressed Harville during meetings if he asked questions and in the most recent teleconference, Harville was muted and then disconnected from the call during the public comment portion of the meeting. When Harville sought to hold city officials to the guidelines of the city charter, the next council agenda proposed removing Harville from the P&Z Committee with a proposed replacement on deck, too. 
Guyton has incredible citizens who really love their community. They've been put through the ringer with soundbites on public safety directors, scandals, racial divides, and enough federal lawsuits to give Brooklet a run for their money. For a town the size of Guyton, the amount they pay in taxes, and the seemingly endless public humiliation of having a Guyton address, the citizens really do deserve better. But there is no chance the city will ever thrive if the elected officials refuse to be held accountable. 
Just last month, Deen said '[T]he greatest tool for change is going to the polls, voting for people who share our beliefs' and then holding them accountable if they fail in that mission.' But Deen hasn't offered any suggestions for the people who feel bamboozled because they were sold on a prescription by 'Dr. Russ' but have been governed by the poison of Mayor Hyde.