The following article is an opinion piece and reflects the views of only the author and not those of AllOnGeorgia.
---
Guyton's got 99 problems and unscrupulous messaging on cell phones by public officials during government meetings is absolutely one of them. 
A number of the elected officials in Effingham's City of Guyton, in between personal insults and boastful monologues, can't seem to put their phones down long enough to offer the citizens that elected them a general sense of decency and respect. Instead, they text back and forth throughout important and divisive discussions – often with each other – and shield the public from the very thing they show up to hear: an open and honest dialogue.
A few examples:
During the October council meeting, Councilman Michael Johnson and Councilman Joseph Lee shared the blame in the 'utterly distracted elected official' category. Johnson would pick up his phone, type, place it back on the table, then Lee would pick his phone up, type, and set his phone back down just as Johnson's would vibrate loudly on the wooden table for the entire room to hear. Back and forth, over and over, lather, rinse, repeat. It was one of the most obvious things I have seen in a government meeting, which is admirable in an odd and unprincipled way. 
At the most recent meeting, Councilman Michael Johnson typed furiously on his phone as the mayor conducted the official city business, then set his phone down, waited a few moments, picked it up again, waved to get the attention of the city manager, and gestured for him to pick up his own phone…which the city manager acknowledged before pulling his own phone out and reading a message. Like a crossing guard directing traffic, it was far from discreet.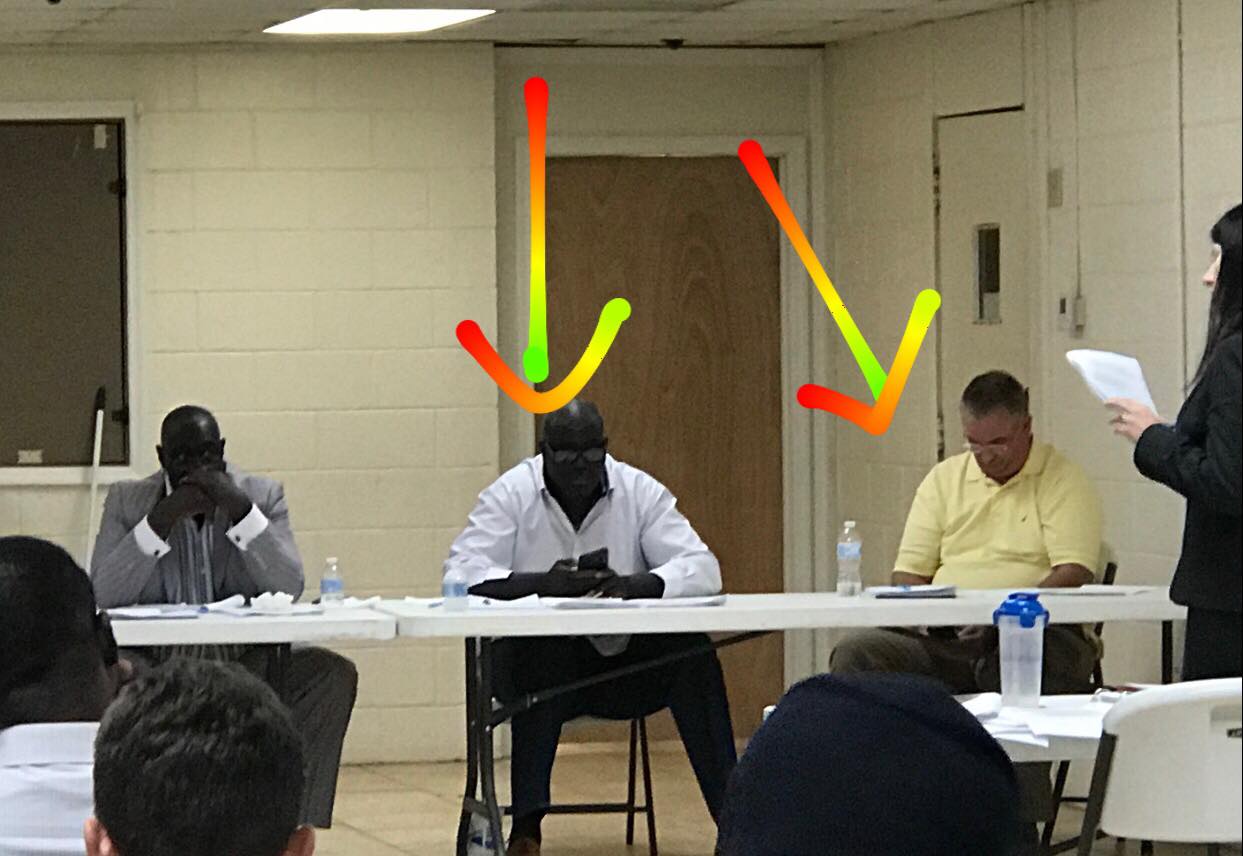 The general public doesn't know if the councilman wanted to tell the city manager to mention a line item related to city business, to keep something quiet, or if he just needed a bathroom break and at this point, it doesn't really matter. What matters is that the public is removed from some component of the conversation during an open meeting. 
During an employment termination appeal hearing in October – a meeting which lasted a whopping four hours and forty minutes – I was seated behind the wife of Councilman Steven Collins for the second half of the meeting. As she held her phone up, it didn't take long for me to notice she was texting her husband for the near entirety of the meeting and the communication was far from one-sided. At the front of the room, he kept his head down as he responded on his phone for a lengthy period during which his own mayor was being questioned and cross-examined by attorneys so as to provide answers that would determine whether or not the city faced a lawsuit over this terminated employee. Isn't that reassuring?
The worst part about it all is that when these elected officials are on their phones during discussions and deliberations, they are not paying attention. If they are not paying attention, how can the public trust that these officials have all of the information they need to cast a vote? Arguably, the public shouldn't trust them because they don't have all the information. And if they don't have all the information they need, the elected officials are either uninformed or they are showing up with decisions already made – regardless of questions and facts presented. Both approaches are a disservice to the citizens they govern. 
Perhaps it's a mere matter of decorum and elected officials should offer some semblance of focus on the office they asked the public to allow them to hold. Or maybe they should be operating on the premise that just because you can do something doesn't mean you should that something. 
It is wholly unethical to text others during open meetings – especially those in the audience – and smacks in the face of transparency guidelines encouraged by First Amendment and Open Government entities around the state and nation. 
Unfortunately, Georgia offers no protection from these kinds of antics in its Open Meetings Act, better known as Part II of the state sunshine laws unless a quorum is included in the text chain and even then it's fuzzy. For starters, most people were still paying by the text message when the Open Meetings Act was written and they clearly did not foresee this becoming the rampant problem that it is. Former Attorney General Sam Olens,' who valued Georgia's open government statutes substantially more than our current Attorney General, lobbied in 2012 to add the prohibition of text messaging during public meetings to the state law, but there was too much push back from lawmakers. Go figure. 
After a snafu in the City of Milton in 2016, which highlighted how frequent texting during council meetings can be when contentious issues are on the table, a council member introduced a rule to forbid texting during public meetings. This trend has gained momentum around the country, from Deltona, Fl and Peoria, Az to Murietta, Ca and Cincinnati, OH. It wouldn't be such a terrible idea, especially given that many cities and counties already have local provisions prohibiting cell phones in executive session. You know, to protect the integrity of the process.
Robert's Rules of Order, the standard by which public meetings are supposed to be conducted, discourages elected officials from even whispering to one another during a public meeting. I doubt it would condone private written conversations between officials. But in a day and age when ethical standards are mere suggestions and illegal acts by government officials yield no more than a slap on the wrist, it is up to the public to force the hand of their elected officials and demand they do better. (Those text messages, even if on a personal phone, are subject to Open Records Act disclosure, by the way.)
Now, don't be mistaken. The state shouldn't just hand down these accountability marching orders to local governments and call it a day like they did with much of the state's Open Records Act. State boards, officials, committees, and legislatures should all be held to the same standard. And what better use of state authority than to pass a law to make government more accountable?
After all, the entire premise of an open government meeting is to meet…to discuss government business…in the open.