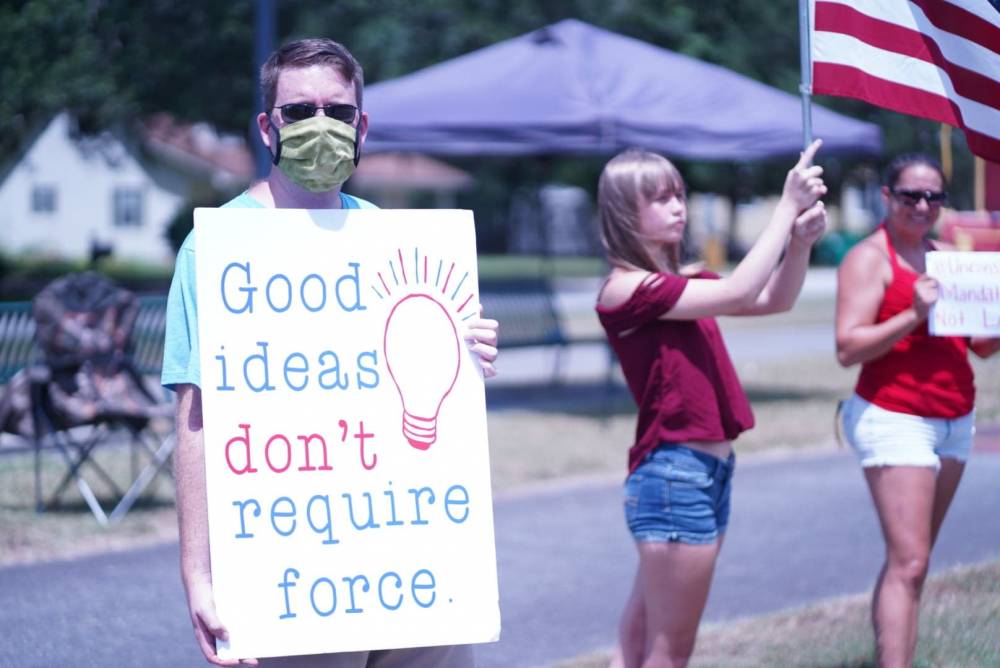 Citizens and business owners gathered in the City of Guyton Saturday to protest the mayor and council's recent approval of an ordinance in conflict with Governor Kemp's Executive Order requiring the use of face covering in all indoor and outdoor public spaces.
The ordinance even leaves room for enforcement in a home if people other than those who are members of the household are present and not wearing face coverings.
The City of Guyton in South Georgia's Effingham County approved an emergency ordinance related to COVID-19 Thursday evening – just one day after Governor Brian Kemp barred local governments once again from taking action more or less restrictive than any state order on the coronavirus pandemic response and the same day Kemp announced he would sue the City of Atlanta over their mask mandate.
The ordinance in Guyton is among the strictest in the state and mandates a number of more restrictive precautions, including face coverings in any building or outdoor space frequented by the public within the city limits. The ordinance requires businesses to mandate masks for patrons, regardless of business type.
Saturday's protest was organized Friday by the Libertarian Party of Savannah and advertised mostly on social media. In the event description, the party said:
Meeting in Guyton to protest the tyranny of Mayor Russ Deen and the City Council. They passed a face mask ordinance last night despite HUGE opposition from nearly every single speaker who weighed in at the city council meeting, myself included.
As many know this city ordinance is in direct violation of Governor Kemp's latest Executive Order, which explicitly states that cities and local municipalities can NOT mandate more or less than his Exec Order. He has filed lawsuit against Atlanta for overstepping their boundaries and infringing on civil rights of its citizens.
We want to show the Mayor and City Council that we DO NOT support mandatory masks in the city. By removing our choice they have forced our hand!!
This ordinance will unjustly punish the small businesses in Guyton that do not comply!!
This is a peaceful demonstration and social distancing is encouraged.
Any support would be appreciated! Support the free citizens of Guyton and it's Small Businesses rights to CHOICE!
Saturday's gathering & weekend enforcement
A number of people gathered in the heat at the caboose in Guyton Saturday just after noon to express their dissatisfaction with the ordinance. The sign waver were greeted by horn honking and several 'thumbs up' signs. In an hour-long period, only one driver honked to give a thumbs down with another negative gesture.
While officers drove by on several occasions, no one from the Guyton Police Department addressed any of the protesters – some of whom were masked – on Saturday. Guyton citizens, however, began posting on social media Sunday morning about their experiences being stopped by GPD and the officers who collected their information. AllOnGeorgia has drafted and sent an Open Records Request for information pertaining to this matter.
About the ordinance
In addition to the face coverings, the ordinance moves the city backward from state re-opening measures, including:
prohibiting more than 10 people in an establishment if social distancing cannot be adhered to;
gives the authority to declare a business or person with repeated violations a 'public nuisance;'
immediately closed city hall and all public property to the public.
Persons who violate the order would be subject to upwards of $1,000 in civil fines.
The ordinance remains in effect until August 12 unless otherwise extended by the Council and children under 10 are exempt entirely. Exceptions are also outline for persons who are eating, smoking, or drinking, in personal vehicles, in their residence, and in a handful of other circumstances.
You can read the ordinance below.