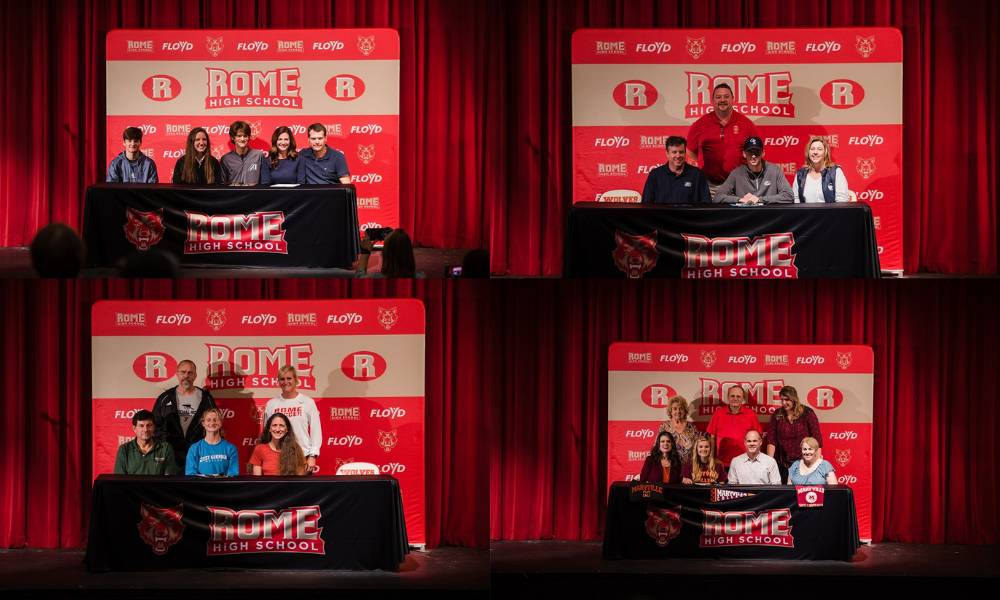 Families of Rome High School athletes were invited to the school's performing arts center for a special ceremony recognizing four athletes who signed commitments to attend college next fall.
Guests were welcomed by Rome High School athletic director, Jason Harris, and Principal Dr. Eric Holland.
Dr. Holland compared the signing of athletic scholarships to a 529 college savings plan. He told the four athletes that what they have accomplished through their hard work has, in theory, filled their college savings plan with funds that can be used to ease the financial responsibilities for their families.
"I can relate to what you have accomplished," said Dr. Holland. "Athletics was vital in my journey and helped me to reach my educational goals. I think what you all have done for our school and your families should be recognized and that is why he hold these college signing day events. As I always say, it makes me honeymoon happy and peacock proud to know that all your hard work on the court, on the field and on the track has been rewarded. I want to thank you and your families for being examples for the classes that will follow you."
After the welcome, educators who coach the four signees spoke about their accomplishments not only in sports, but in the classrooms and hallways of Rome High School.
Head volleyball coach Katie Price spoke about Abby Payne. Payne will attend Maryville College on a scholarship to play volleyball. Price said that Payne was a leader, on and off the floor and was a huge part of the success of their team.
Jessica Hewitt serves as the head soccer coach for RHS, and she said that West Georgia College is lucky to have Janet Hartman join their team next fall. Hartman, according to Hewitt, led by example and taught her teammates the value of hard work.
Hogan Ingram will join Georgia Southern University's golf program after his last rounds this spring. Head golf coach Kevin Davis sang Ingram's praises and said that the support from his parents was key to his success. As for Ingram's skill level, Davis said that all he had to do was, "feed him, drive him to the tournaments, and stay out of his way."
Finally, cross country coach Luis Goya spoke about Patrick Motes and his journey to being one of the best distance runners at RHS. Goya ran down a list of the future Augusta University runner's accomplishments and he said that the list covered seven pages of text.
After each student signed their commitments and posed for photos, they mingled with their classmates and family members who were present for the ceremony.
Rome City Schools would like to say congratulations Abby, Janet, Hogan and Patrick. We wish you well as you join your new teams and continue to score big in the classroom.
Go Wolves!!!