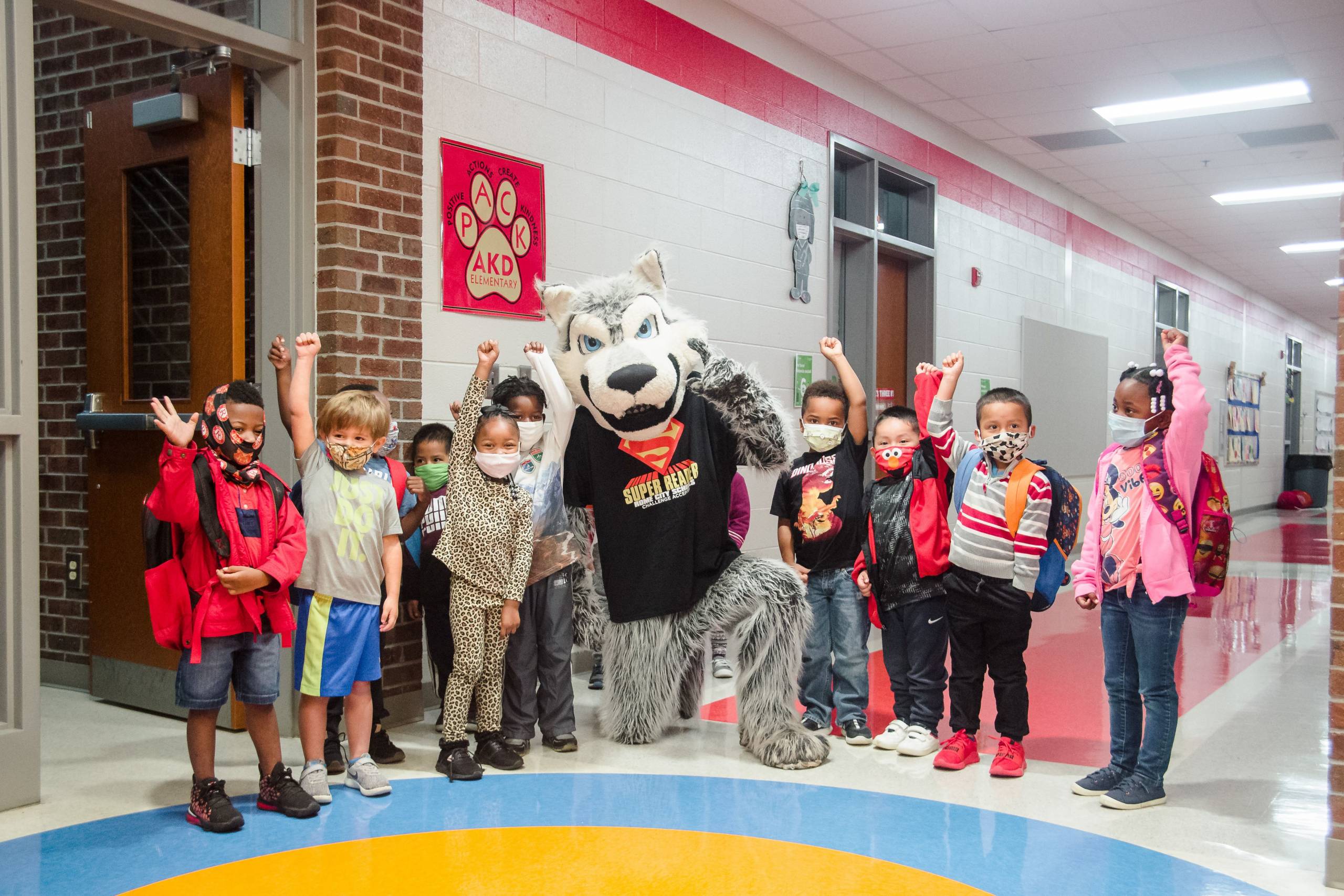 Anna K. Davie Elementary students were welcomed to campus with a surprise visit from Willie the Wolf, all in celebration of their school's kickoff of the Rome Reads program.

The Rome Reads program is a system-wide incentive program led by Julie Reid, Rome City Schools reading incentive coordinator, with the purpose of encouraging students and their families to develop improved reading habits.
This year's theme for the RCS reading program is Super Reader, which ties in perfectly with AKD's school-wide superhero theme.
Enthusiastic students filed into the school where Willie was waiting to greet them with elbow bumps and air hugs. Wearing his Super Reader T-shirt, which is one of the prizes students can win if they read just 20 minutes or more every day while at home, Willie was busy encouraging these young Wolves to read, read, read!
"This is Anna K. Davie's first year participating in Rome Reads. In prior years, we have participated in the Red Hat Achievers program. So, today is sort of our kickoff to the Rome Reads program," explained Dr. Tiffany World, Reading Specialist at Anna K. Davie. "We are all excited about getting started and getting our students pumped about reading!"
According to Reid, the purpose of the Rome Read's program is to help students develop a steady reading habit every day. "We hope this will allow students to practice what they have learned during the school day and develop consistent reading habits. Reading helps with all subjects, like science and social studies, and we want them to know that reading is fun," said Reid.
Students receive a reading log each week to take home that encourages them and their families to read a total of at least 15 to 20 minutes outside of school. As part of the Rome Reads program, students are awarded incentives for reaching their goals, which are set every nine weeks. Students can keep track of their progress through the reading thermometer located outside of the media center which records AKD's total school participation.
Tracking their reading habits is just one way to earn points; however, teachers can also reward students points when they catch Super Readers reading while at school.
"When students meet their reading goals each nine weeks, we will be rewarding them with special incentives like Super Reader bracelets, magnets, a T-shirt like Willie's, as well as the opportunity to participate in fun activities around the school," explained Dr. World. "We are just trying to do a lot of positive things to help the kids get excited and motivated to learn. We are excited to get started."
Not only are in-person students able to participate in AKD's Rome Reads program, but Virtual Learning Academy (VLA) students and teachers are able to contribute to the school's reading goals. "The more students and faculty we have reading, the better." explained Dr. World. "One of our hashtags this year is #GoodtoGreat, and we hope to take our students' reading habits from good to great. We are excited about the opportunity to work with Mrs. Reid and Willie."
Anna K. Davie has also installed book vending machines throughout the school where students and their families can spend their "Wolf Bucks" on books and reading materials to help aid in this exciting incentive program.