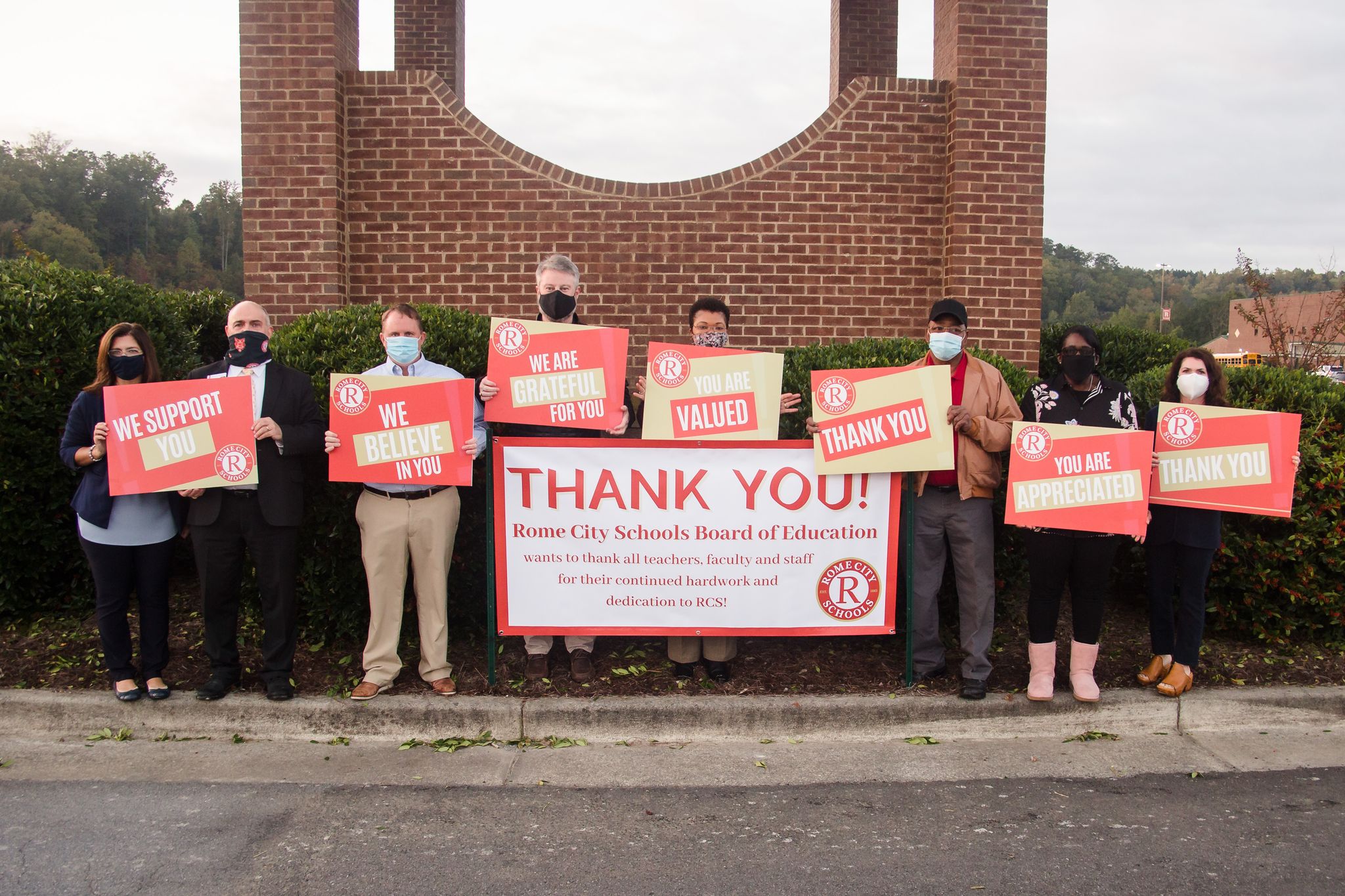 Long before sunrise on Monday, October 19, Rome City Schools Board of Education members arrived at East Central holding signs expressing their appreciation for the administrators, educators and staff members who work in schoolhouses across the system.
Born of an idea from Board Chairperson, Faith Collins, Superintendent Louis Byars and Assistant Superintendent Dr. Dawn Williams joined the RCS Board on the bus ramp at East Central Elementary and in front of the clocktower at Rome High and Middle Schools to greet educators as they arrived at school. As the old saying goes, it takes a village to raise a child and they feel that RCS faculty members have shown their willingness to take this idea and apply it to educating students.
Cars honked their horns as the thankful leaders waved and held the signs above their heads. The plan is to visit every location where an RCS employee works this coming week and let them know how much they are appreciated. Each site was also given a large banner posted at the entrance of the campus thanking everyone for their hard work.
Board members present were: Faith Collins (Board Chairperson); Jill Fisher (Vice Board Chairperson); Elaina Beeman; Will Byington; Dr. Melissa Davis; Alvin Jackson and John Uldrick.
"Every year, we choose to recognize our teachers, faculty and staff because they work very hard, and they do great job. But this year has definitely been a challenge for all of us," said Byars. "With that being said, everyone has truly stepped up and done an excellent job overcoming the obstacles placed in front of them, and I am just beyond excited to recognize all of the hard work they have put into making this year so successful. I also appreciate the RCS Board of Education for coming out this morning and wanting to help show their appreciation to every person working here at RCS."
"I just want to give a send a huge thank you out to all of our faculty, staff and administrators here at Rome City Schools," added Dr. Williams. "We appreciate you for everything that you guys are doing, from what we see, to what we don't see."
"As a Board, we thought it would be nice to let the faculty and staff know how much we appreciate them. We had signs made that all have some sort of wonderful statement on them, like 'You are Valued,' or 'You're the Best!' and we decided to stand out as our faculty, staff and administrators arrive for work in the morning. They all have been through a pretty tough year, and this was just a small way of saying thank you. We hope to continue to encourage our RCS family through small gestures like this. I mean, we think they are wonderful, and we hope that by doing small things like this that we prove it to them."