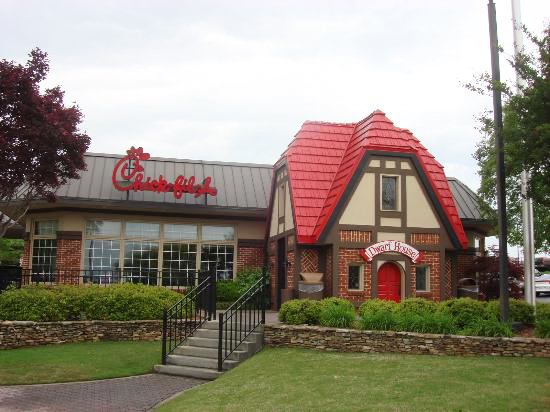 The Chick-fil-A Dwarf House on Shorter Avenue in Rome will be no more after it closes for business Friday night June, 22. Demolition of the Dwarf House is expected to begin immediately as the restaurant chain constructs a new restaurant at the same location, situated a little further back on the current lot.
Officials with Georgia-based Chick-fil-A state that demolition and construction should be completed in approximately five months. Company officials say that a new store is needed due to the current kitchen not keeping up with the volume of business that the restaurant does. The current Dwarf House has been in place for twenty-five years and has became an extension of many families' kitchen. Friends and families have made the restaurant a gathering place for birthdays, celebrations, as well as every-day meals. Yesterday evening, the Dwarf House was busy as usual, with many people stopping to take pictures in front of the iconic "little red door". Store representatives wanted to assure readers that the red door will be saved and used in the new location.
Chick-fil-A is operating a containerized temporary drive-through restaurant in the RiverWalk shopping center on Riverside Parkway and that location will remains open through the rebuild at the Shorter Avenue site. There is also a Chick-fil-A at Mount Berry Square Mall.
The new restaurant will feature a larger kitchen and a dining room that will be able to accommodate approximately 150 customers and will also feature additional patio-seating outdoors. The new restaurant is expected to be completed some time in November.