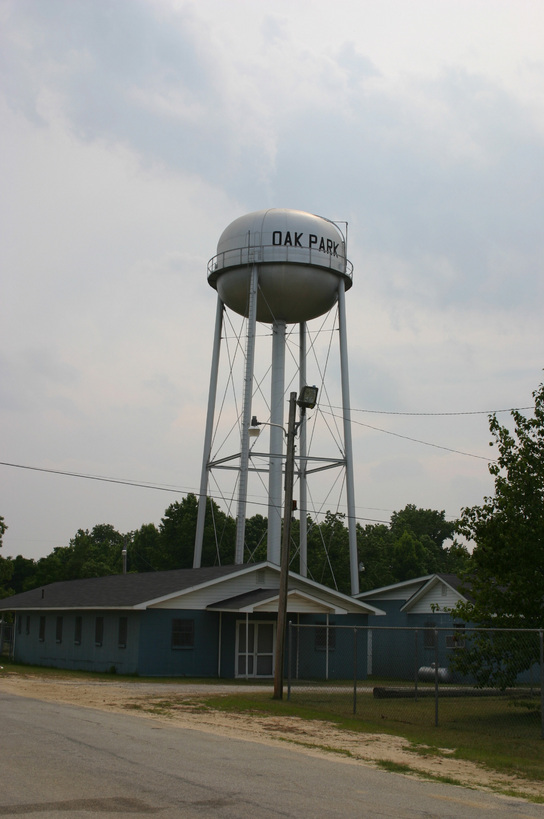 As talk of the implementation of a property tax increase looms in the City of Oak Park, citizens are growing increasingly concerned about the financial practices of the Mayor, Council, and City Clerk.

The Emanuel County municipality, which is home to 477 people according to the last Census, has an annual operating budget of $550,000. While the City Charter allows for the implementation of a property tax, the City has long-operated on the revenue collected from water fees, building permits, rental fees, and traffic citations. While revenues have increased due to police activity, expenditures have ticked upward for a variety of reasons.
A group of concerned citizens contacted AllOnGeorgia about the practices, which spawned a review of city policies and financial documents.
AllOnGeorgia filed an Open Records Request on February 12, 2018 seeking documents related to the job descriptions of employees currently on payroll, salary schedules for those employees, city financial audits, and bank statements for all city-managed bank accounts.  
Open Records Request - Oak Park 02.12.18 (1)

Bank statements obtained by AllOnGeorgia through the Freedom of Information Act revealed that the City of Oak Park is spending a considerable amount of money on training – and associated expenses – of law enforcement officers, a practice that is unusual for a city the size of Oak Park. The city is also footing the bill for meal and lodging expenses associated with the travel and certification of officers, which is accounting for at least 15% of the non-office supply expenses every month. The expenditures are coming out of the General Fund and not the police department budget.  The City of Oak Park has nearly doubled in size in recent years, employing between 8 to 10 officers at any given time. The budget for the department in 2018 was $353,000.
The chart below depicts one month of expenses – excluding electric bills, gas, and traditional office supplies – from the General Fund.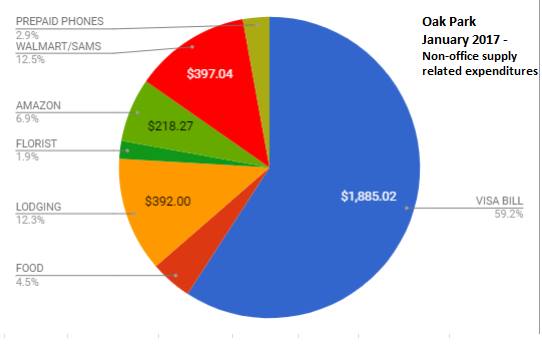 General practice in other towns ranging in size from Claxton to Reidsville to Statesboro require employees to pay for expenses related to out-of-town business and then receive a reimbursement check after turning in receipts. Regardless of municipality size, it is out of the norm for employees to take a debit card linked to the General Fund Account.
Over the course of 2017, Oak Park citizens footed the bill a number of meal expenditures at Spanky's in Savannah, Hooters, and a meal totalling more than $200 at a seafood restaurant in Brunswick. It is unclear which expenses are associated with reimbursements for out-of-town business of employees and which are not as charges include locations in Duluth, Douglasville, Atlanta, Athens, Hinesville, Jekyll Island, Savannah, Brunswick, Byron, Dublin, Macon, and Cordele. At least one employee charged expenses outside the City of Oak Park and Emanuel County every month in 2017.
Bank statements also showed an abundance of WalMart charges – in Swainsboro, Vidalia, Pooler, and Statesboro – not usually less than $100 and sometimes upwards of $1,200 a month.
The City of Oak Park carries a balance on a Visa Card associated with a Lowes account, according to employees at City Hall. In addition to payments made on the store account, city employees spend an average of $200 at Lowes on the city General Fund debit card.
The City of Oak Park is currently two fiscal years behind on audit reports due to a failure to file or conduct audit reports under a previous clerk administration. The most recent audit is available for review on AllOnGeorgia. A full breakdown of the financial expenditures will also be published on AllOnGeorgia.
The police department in Oak Park also utilized an Amazon.com account to purchase computer equipment, replacement batteries and things of a similar nature in 2017, but General Fund debit card statements indicate the city also purchased an Amazon Prime membership and a series of online movie streaming services several times a month in 2017. While it might make sense that an Amazon Prime membership would be purchased for reduced shipping charges on items purchased, receipts indicate that full shipping costs were paid on the majority of items purchased in 2017, leaving the possibility open that an Amazon Prime account was purchased for a person or entity other than the City of Oak Park. Receipts for Amazon.com provided to AllOnGeorgia did not match charges to Amazon.com on the city debit card.  
The evidence prompted AllOnGeorgia to file an additional Open Records Request on March 2018. The basis of the Open Records Request was to review Walmart receipts for itemized proof of purchases, Amazon.com receipts for proof of need, and Visa bill statements to explain large payments made once and/or twice per month. The full text of the document is below.
Open Records Request - Oak Park 03.20.18

The City of Oak Park immediately provided receipts for Amazon in 2017 but expenses on the bank account to Amazon.com did not match those provided on the city documents for Amazon.com receipts.
City Clerk Monica Slater told AllOnGeorgia in an email on March 20 that the Amazon 'digital charges', which date back to January 2017, are currently being disputed. "There are some Amazon digital charges that I am currently disputing. I am unsure what those charges are for we do not use anything with amazon digital we only order supplies or equipment for the police department," Slater said in an email to AllOnGeorgia on March 20.
Many of the digital charges Slater references dates back more than a year, but the Fair Credit Billing Act – a federal statute – dictates that disputes must be filed within 60 days of the first bill received by the account holder which would mean that no charge from 2017 could be challenged. No police report for fraud was filed in regard to the charges in dispute.
AllOnGeorgia asked for the Amazon digital charge receipts, despite being in dispute, on March 21 and again on March 26 but the City has not provided the documents. The receipts should be readily available to anyone with a log-in information under the 'My Purchases' tab. The lack of documentation remains questionable given that Slater was able to provide the other purchase. Slater has otherwise been cooperative in providing documents to AllOnGeorgia.
The Wal-Mart receipts and Visa bill statements for the City of Oak Park will be available the first week in April.
This story is Part One of a series on the financial investigation in the City of Oak Park. More information will be published as it becomes available and Open Records Requests are fulfilled. Make sure to follow the AllOnGeorgia – Emanuel Facebook page for updates and other Emanuel County news, as well as regional and statewide articles.