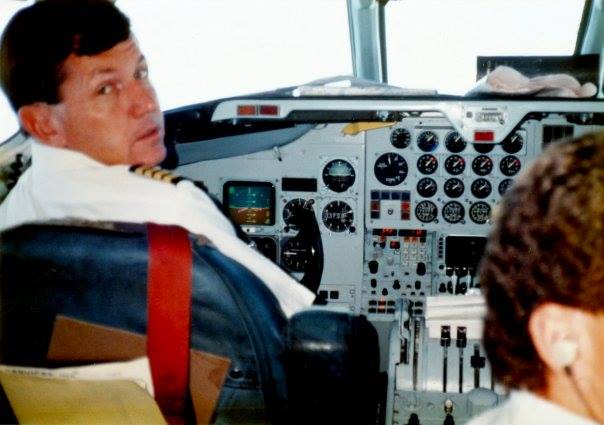 Derek Duke, a retired Delta Airline pilot who also flew 150 combat missions in Vietnam and served as a senior command pilot during Desert Storm, announced his candidacy for Statesboro City Council.  Duke, a current member of the Bulloch County Planning and Zoning board will look to fill the District 5 seat vacated by the resignation of Travis Chance earlier this month. The Special Election will be held on May 22nd at Pittman Park. Early Voting begins May 1st.


his announcement post is reprinted below:
> Friends and Family 
Pat and I have an important announcement we hope you will consider;
> The Statesboro City Council District 5 where we have lived for 40 years has a special election May 22 to fill a seat vacated by a councilman relocating out of the district.
I am honored to announce myself as a CANDIDATE for City Council District 5.
> I am a retired airline pilot and military officer and can give complete attention to the needs of our fast growing city.
I would like to help steer us back toward our core values as a regional center for employment, retail, health care, and agribusiness – and, of course, the home of Georgia Southern University aka THE EAGLES aka BIG BLUE.
> WE are a nationally recognized, award winning town thanks to the BLUE MILE initiative that links the Heart of the Georgia Southern University Campus to the Heart of Downtown Statesboro. We need to continue to grow in a manner that builds upon that spirit and deters crime, calms traffic, controls taxes, and provides for the safety of our citizens and university students
> In my career I have been trusted by large corporations and the United States military to lead teams of men and women to complete vital missions and achieve critical goals. I hope you will allow me to use the skills I have acquired to lead Statesboro to its full potential without sacrificing the quality of life we all enjoy.
> I need your help. I ask you to spread the news of my candidacy to your network of family and friends so that they too will urge voters in DISTRICT 5 to get involved and vote for the Candidate of their choosing. I hope that I can win those votes by hard work and getting out to meet every voter.
> This is an IMPORTANT ELECTION. We are blessed to live in a special place with enormous potential but it will take experienced leadership to take advantage of our opportunities
> Early voting begins May 1 at the Bulloch County Annex with the election scheduled for May 22 at the Pittman Park Church. All city election voters must vote at Pittman Park even if voting in the General Election Primary at the Fair Grounds.
> Please take a look at my profile below. – I will provide a link to my OFFICIAL CAMPAIGN SITE next week after I qualify today.
 
City of Statesboro, Georgia 
CANDIDATE for 
CITY COUNCIL DISTRICT 5
Special Election May 22, 2018
Derek Lee Duke
Honest, Common-Sense Leadership 
Veteran.
Family Man.
Retired Airline Pilot
40 year resident of Statesboro District 5
Decorated Vietnam Pilot – Flew 150 combat missions
Former Instructor and Senior Captain – Delta Air Lines
Desert Storm Senior Command Pilot
Member – Bulloch Planning and Zoning Board
Military Honor Graduate of Georgia Tech
MBA – Southern Illinois University
Married to the former Pat Harvey, a lifelong Statesboro resident and retired public school teacher
Sons graduated from Bulloch County public schools and 
Georgia Southern University
Member – Statesboro Primitive Baptist Church
Blessed to have flown over 30,000 hours during many, many years for tens of thousands of passengers.
ALL SAFE, ALL SOUND
104 Greenbriar Trail
Statesboro, GA 30458
912.541-2200