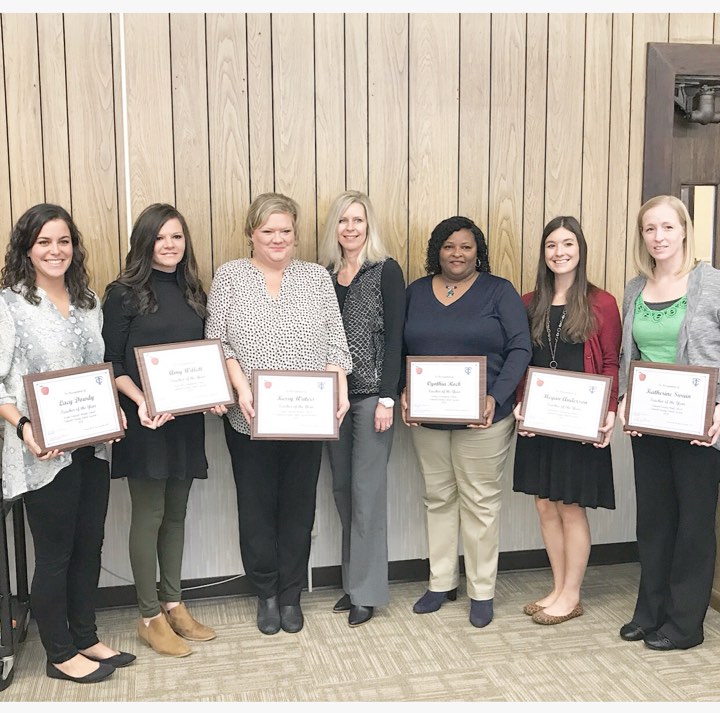 The 2021 Tattnall County School System Teachers of the Year have been announced.

The top teachers from each school were named at the November Board of Education meeting on Monday.
Assistant Superintendent Dr. Carla Waters explained how teachers are nominated within each school, which starts with a process among fellow teachers and staff to recognize individual teachers. Once each teacher is selected as the outstanding teacher for the respective schools, educators from neighboring school districts help select the system-wide Teacher of the Year.
Collins Elementary School  – Cynthia Rock
Glenn Stewart introduced Cynthia Rock on behalf of Dr. Starla Barker who could not be at the Board meeting.
Mrs. Rock – also known as Coach Rock – works at Collins Elementary but spends considerable time at North Tattnall Middle School, too. Rock has been an educator for 20 years, teaching Physical Education for the last nine. She has coached track (16 years), basketball (7 years), softball (2 years), and football (1 year). Coach Rock's team has won six regional championships with track and one regional championship with basketball.
Reading a statement from Dr. Barker, Stewart said Rock "is a great role model for our students. She exemplifies pride in all that she does. She treats her coworkers and students with great respect and is willing to anything that is asked of her and beyond. She is always flexible and is more than willing to do the extra work it takes to assist our students in our remediation time that we do in each morning called "Aim High."…She will only accept the best, but provides the support to give them their best as well. She is a pleasure to work with at CES and I'm proud she is representing us as Collins Elementary Teacher of the Year."
Reidsville Elementary School – Amy Willett
Principal David Tucker introduced Amy Willett who teaches 4th grade elementary social studies. She also leads the Beta Club and organizes the Veterans Day Program.
"She does a tremendous job and I could go on and on about the way she keeps her lessons engaging," Tucker said of Willett. "She's always willing to put in a helping hand and you can't put a price on that. If there's a need in the school, she's one of the first ones willing to help out. We're glad she's ours and we are pleased that she's the Teacher of the Year."
North Tattnall Middle School – Lacy Dowdy
Principal Donny Sikes introduced Lacy Dowdy who teaches 6th grade ELA.
"She does an outstanding job," Sikes said of Dowdy. Citing a quote from Master Teacher Rita Pearson, Sikes said "Kids don't learn from people they don't like." He went on to say that Dowdy's students "absolutely love her. All the evidence you need is right there in the classroom – her wall is absolutely papered with positive referrals. That's a testament to her and her ability to build relationships. She does a lot, she's a great teammate, and we're excited she's with us."
Glennville Elementary School – Megan Anderson
Principal Kristi Kaiser introduced Megan Anderson, who has been teaching for five years.
Kaiser said Anderson's nomination after such a short tenure teaching tells a lot about who she is. "Some of the best qualities about Megan is that she's extremely hardworking, her work ethic is impeccable. She puts in the hours and the dedication for her students. She's one of our aspiring leaders for the county, so that's great as well. She's also about to earn her doctorate degree, so this young lady has done a lot in her short amount of time in our school. One of her best qualities to me, though, is her high expectations for her students. She believes that regardless of who you are or where you come from, you will finish that race, you will get there. Her test scores radiate that."
South Tattnall Middle School – Kerry Waters 
Principal Pam Barnett introduced Kerry Waters – a 25 year teaching veteran – who teaches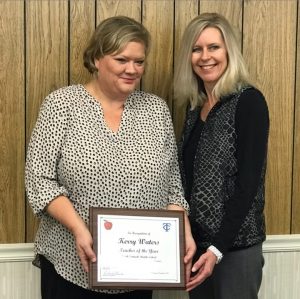 6th grade ELA and leads the Junior Beta Club.
"I can talk to you all day about what she does within the walls of our building, but I want to talk about Kerry Waters as a human being," Barnett said of Waters. "She is a difference maker in the lives of our kids that walk in our building that have deficits and needs and she recognizes them very quickly. She is there to serve the whole person, the whole child. She's irreplaceable. I hope I'm not around if she ever leaves…She is one of the blessings as an educator and a principal. We do appreciate her."
Mrs. Waters is also the system wide winner and will compete at the state level.
Tattnall County High School – Katherine Swain 
Principal Kristen Waters introduced Katherine Swain who is in her 4th year in the Tattnall County school system. Waters said it's a requirement to have three years in the system before a teacher becomes eligible to be Teacher of the Year and Swain has been nominated the last three years.
"She's very organized. She's very efficient. She teachers our Accelerated Algebra and Geometry courses. She wants to be sure that she's giving our students what they need and doing her best every day. She keeps everybody positive and she has tremendous growth with our students from their freshman and sophomore years. She just expects the best out of them and that, in return, is what they're willing to give," Waters said of Swain.
Each teacher will receive a $200 allotment for classroom supplies and a $500 stipend. As the system Teacher of the Year, Mrs. Kerry Waters will receive an additional $500 stipend for a total of $1,000.
School Board Chairman Richard Bland thanked all of the teachers for their dedication to the students and Superintendent Gina Williams remarked that the school system is 'extremely blessed.'
Mrs. Teresa Thompson of South Tattnall Middle School is currently serving as the 2020 Teacher of the Year. She placed in the Top 10 for the state.