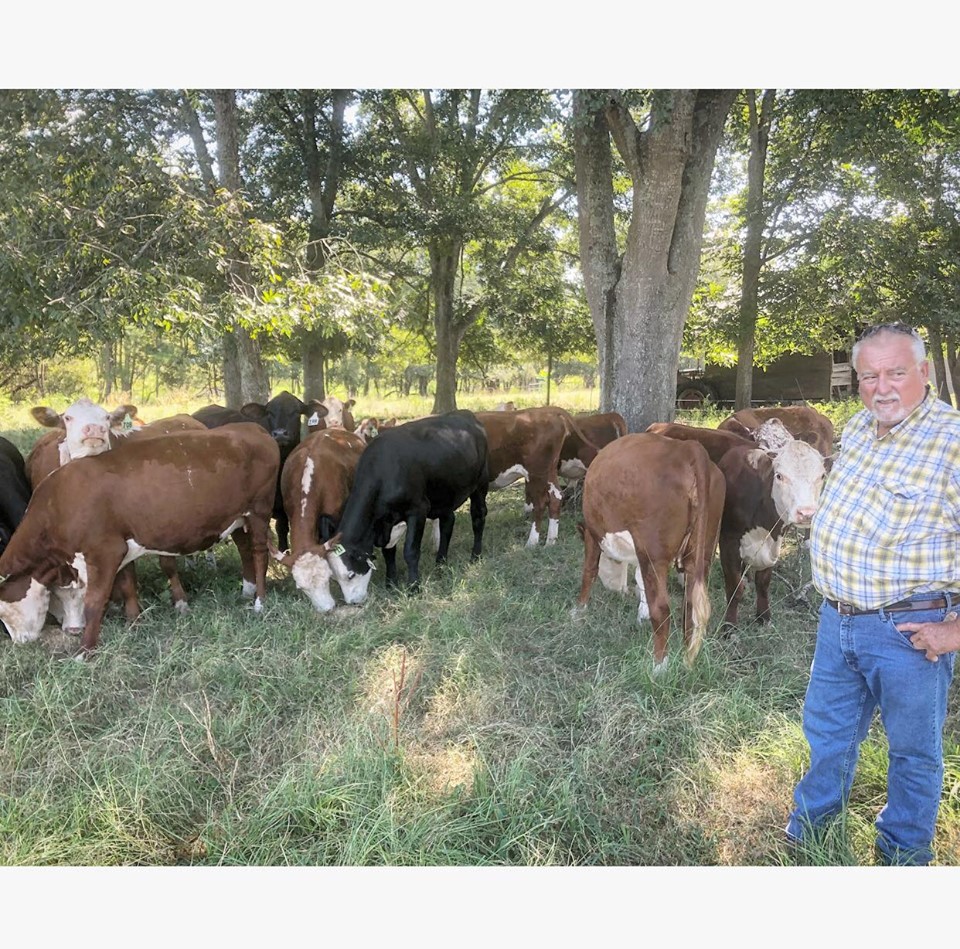 On his farm out between Tellie Akins Road and Beasley Farm Road in Evans County, Mr. Del Beasley farms on the land that has been in his family for generations. Not far from where he lives and surrounding the spot where many of his family members have resided over the years, Beasley farms a rotation of row crops and keeps cattle under the name CinDel Farms.


The land he farms today has Beasley ties dating back well before Evans County was even Evans County. His great-great-grandaddy, Pridgen Beasley, was born in 1812 and his granddaddy – Neal Beasley was born in 1898 near Highway 169 and U.S. 301. Both lived and farmed in the surrounding area.  Del is one of four children and the son of Delmas and Carrie Beasley, but the only one that has built his life around farming. Today, he farms about 75 acres of his grandaddy's farm, some 500 acres of farmland from his great-great-grandaddy's land on the Sikes side, and as a whole tends about 1,100 acres with his farmhand James – who he has known for years. In 2019, roughly 700 of those acres are row crops of cotton, peanuts, and corn, though he also has about 100 acres of pecan trees.
Today's row crops are different from the older days of his row cropping though. Over time, Beasley has grown tobacco, peanuts, corn, soybeans, carrots, cucumbers, cabbage, tomatoes, and onions during various seasons, depending on the market. "Tobacco paid our bills. It's the reason we're here," Beasley said in the shaded pasture away from the South Georgia heat when he had his interview with AllOnGeorgia. 
He has seen a lot in his 58 years. Beasley, who spent 20 years as a County Commissioner in Evans County, only recently stepped down from the post in 2018. But his tenure in elected office contributed to his institutional knowledge of the county itself, adding to the encyclopedia-like grip Beasley has on the generational history on Evans County – agriculturally, familially, and politically. 
Beasley keeps about 250 head of cattle these days as well, though a few favorites are more like members of the family than anything else. Named by his wife, Cindy – who he has been married to since 1982 – and their two daughters – Kate and Cassie, both Rosie and Lily stood within a few feet of Beasley for the duration of his interview. Rotating between wanting snacks and a few pets from Beasley, the pair vied for Beasley's attention for most of the hours-long interview.  
But keeping cows has not always been Del's own personal farming niche. His father, Delmas Beasley, kept cows when Del was getting his own farming operation started back in his teens. Later in life, Beasley bought cows from his uncle, Dilworth Beasley and many of the cows in his pasture today are from the same bloodline as those his granddaddy had – something that is almost unheard of in 2019 as more and more small farmers get out of the business of keeping livestock. 
While the livestock aspect has not always been front and center for Beasley, growing up on generational land with generational ties to the industry has positioned Beasley to build a life around agriculture. He started curing tobacco in 1973 when he was just 12 years old. He and his daddy worked together on the farm when he was a senior in high school and Del sharecropped on his granddaddy's land growing tobacco and peanuts. 
Beasley was asked if he had always wanted to be a farmer, a question he answered simply and smiling, "I'm afraid so." But having more than forty years in farming will teach anyone a number of lessons.  Beasley said that the period after the market shift on tobacco was one of the most difficult times to be in agriculture and a point at which he thought about quitting, though he says now that he never really gave it a serious consideration. His daddy stopped farming full-time when he was 62 as the stress of tobacco and the troubles of hiring help began to choke out the industry. Del expanded his farming operation then and partnered with other farmers in Evans and Bulloch counties to test the waters with different crops, but his personality and his frugal ways, he says, kept bringing him back around to the things he already knows how to do.  
Knowing how to do something doesn't make it easy, though. As larger agriculture operations dominate the industry, smaller farms are hit harder by disaster, market instability and a lack of control. That's why Beasley credits the combination of the unpredictability of the bureaucracy, the prices, and the weather as the bigger hardships on farmers. South Georgia as a whole has been impacted tremendously by the sequential hurricanes the last three years, placing a strain on row crops, pecan trees, and even the cattle. Hurricane Matthew tragically claimed a few of Beasley's own cows. 
How does one sustain themselves through that?
"Different farmers can be good at different things. Some are really, really good at growing a lot of crops, cover a bunch of ground on a lot of acres. I think that what's kept me around is money management. An old farmer told me when I was just getting started, Clifford Riggs, 'Del, you want me to tell you the hardest thing about farming? Managing the money and realizing the money.' He always told me 'Don't spend money you don't have and that isn't yours' and I've always followed that to the tee." 
Over the course of the three hour interview, Beasley shared stories of some of the greatest joys as well as the major losses his family has seen over the years. Even the tough stories, like the loss of  his Uncle Dilworth on his homeplace, end with a smile because of the pure adoration of the seeing things grow, the peacefulness of the country, and the devotion to the land. 
What's in store for Beasley's farm over the next couple of decades isn't really something he thinks about too much. Though fewer and fewer people go into agriculture every year, Beasley is hopeful for small farmers who will keep farming as long as they can, even though he also predicts a trend toward more government involvement in the process – from seed to sale. "They dictate what we grow, how much we grow, how we work at it, what the insurance program will look like…," he said. But stopping just isn't in the cards. "It's all I know and I love doing it.