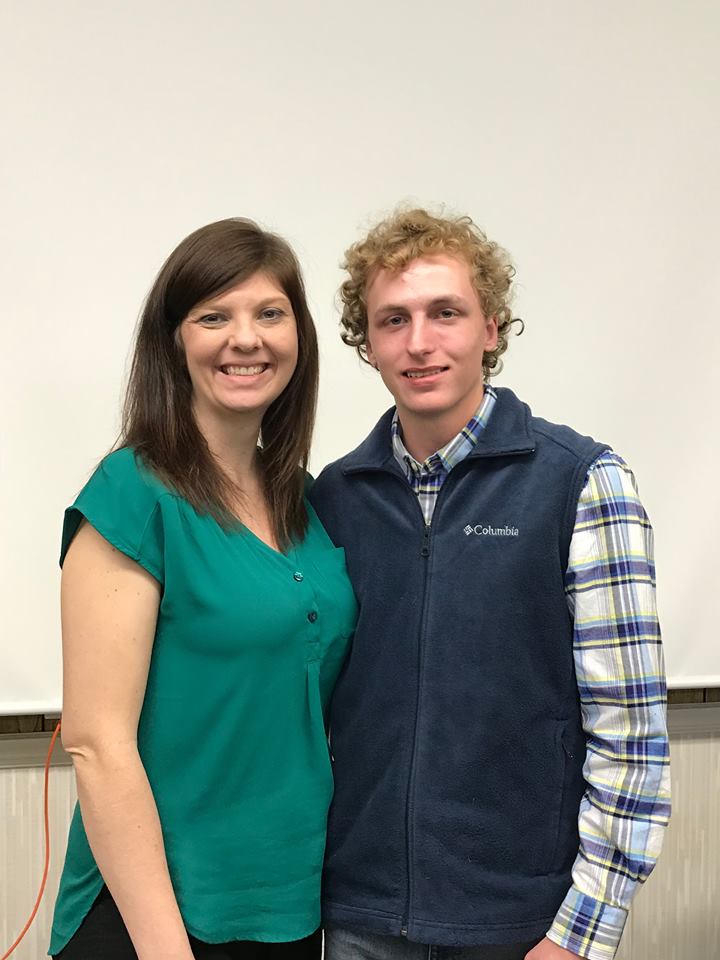 Tattnall County High School student Ben Brazel and TCHS teacher Jessica Helms were recognized at the March Board of Education meeting for their respective nominations as STAR student and STAR teacher.

The Professional Association of Georgia Educators (PAGE) STAR Student and STAR Teacher program honors outstanding high school seniors across Georgia and the teachers who have been most instrumental in their academic development. To obtain a STAR nomination, a high school student must have the highest score on one test-date administration of the SAT through the November date of their senior year and also be in the top 10% of their senior class.
The 2018 STAR student, as announced at the March Board of Education meeting, is Ben Brazel. He is the son of David and Barbie Brazel. Brazel takes the most rigorous classes offered at Tattnall County High School. He is currently ranked No. 2 in his senior class and is enrolled in Dual Enrollment taking college courses. He is a member of the Tattnall County High School baseball team and the TCHS marching band. Brazel is also a member of FBLA, FCA, and the Student Ambassador program.
Brazel told Board of Education members Monday, "After graduation, I'm going to East Georgia for a year and then to Georgia Southern for electrical engineering. I chose Mrs. Helms because when I got into high school, I wasn't that interested in science, and she got me interested and now I want to do electrical engineering."
Helms has been in education for 14 years, 13 of which have been in the Tattnall County school system. She teachers Honors Physics, Honors Chemistry, and Honors Physical Science while also serving as the Prom Coordinator and the School Success Coach for 'Student Success: Imagine the Possibilities.' She is married to Chad Helms and they have two daughters, with a third on the way.
Helms spoke briefly on her nomination, saying:
"It is an absolute honor that Ben chose me to be his STAR teacher. It's an honor that every teacher hopes for but we never really anticipate the day that it will happen. He has been an amazing student for the three years that I have had him in his high school career and I'm sad to see him leave me. I hope he knows that I really appreciate this honor."
The PAGE STAR program is in its 60th year and has celebrated more than 26,500 high school students who have in turn chosen a high school teacher.