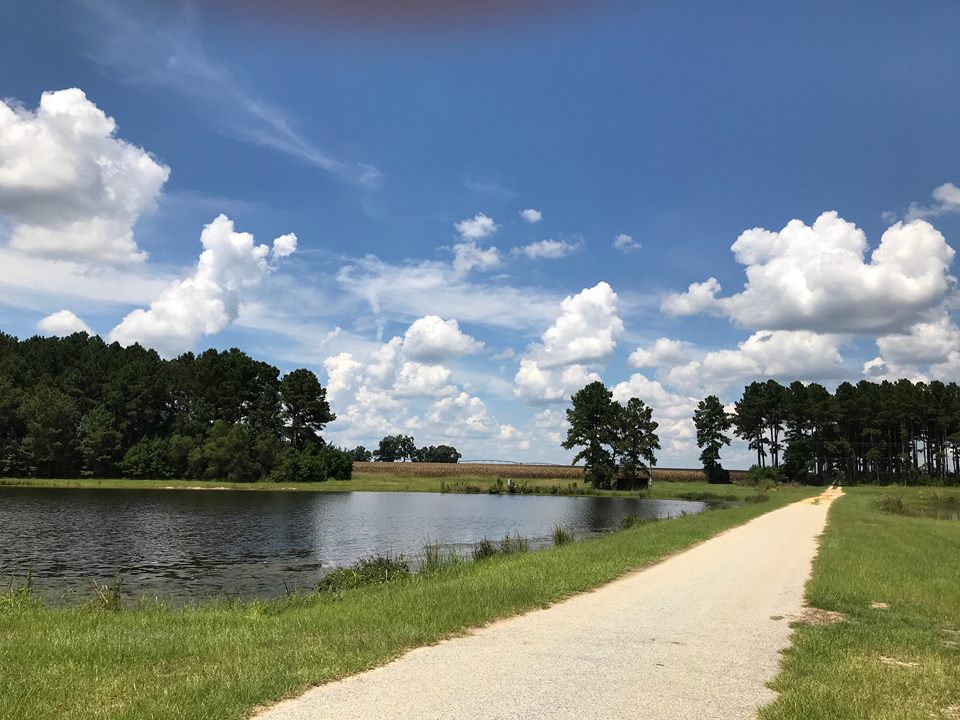 Stop by Mr. Andy Hendrix' house around lunchtime mid-week and you'll find a seasoned farmer with an entrepreneurial spirit snacking on a homecooked meal. 

His home, which is on generational family farmland, is in the center of Evans County where his grandparents farmed as did his late father, Archie Hendrix.
Previous generations farmed a good bit of produce, including watermelons that were shipped out by tractor trailer to a number of locations around the country in the early 1960's, something that was generally unheard of. At the time, the family had the only 10-wheeler truck in this part of the country which allowed them to not only haul watermelons out but to bring back fertilizer for other farmers in the area.
His dad, Archie Hendrix who passed away in 2001, was a tobacco farmer who grew
soybeans, peanuts, and corn while also raising cows.
In his interview, Mr. Andy reminisced on his tobacco picking days when he was just four-years-old but said he didn't branch off until he was just out of high school, though the venture was still a partnership with his dad and older brother, Carey. They farmed with Delmas and Ray Todd (who have also been featured as a Farm of the Month in Evans County) for a number of years as well. Mr. Andy briefly attended South Georgia Tech in Americus to study welding, and the three farmed together until Carey was killed in a car accident in 1981. In 1983, Archie Hendrix retired and everything was left in the control of Mr. Andy.
He has continued the family tradition of farming, but with a different (and added) diversification.
And it includes a trucking company.
Mr. Andy bought his first truck in 1983 to pull logs to adjust for the farming income and
losses, though he continued to farm corn, soybeans, and peanuts topping out around 2,500 acres at the peak. He formed a relationship with Georgia Pacific, who wanted the resources of what is now known as Canoochee Transport, to be more readily available. The demand caused Hendrix to gradually expand his business, where he was one of the truck drivers off and on for a good 25 years. Couple that with the growth spawned by word of mouth and you have a family-owned small-town business 35 years in the making.
The 61-year-old self-taught man works just as hard as he ever has, alongside his two sons, Eric and Kent, and Justin and Ashley Meeks, whom he also claims as his children.  Canoochee Transport now employs 25 people with trucks traveling as far north as Michigan and Wisconsin and as far west as Texas and Iowa.
The business has persevered through changes in the workforce, regulation, politics, and every other factor that impacts trucking on the regular. He talked in-depth about how much the industry has changed and laughed about being among the first to have a mounted phone in his truck in the late 1980s with a $3,000 monthly phone bill. "Heck, we had hands-free in 1989," he joked.
The rollercoaster of the industry has placed him back in the saddle of wanting to farm more, though.
When asked what made him want to go into farming in the first place, Mr. Andy simply said, "It's what we've always done. It's in our blood. It's still there. I don't do as much farming now, but I still plant and do my stuff, and I want to get back in it."
"It's not stress-free, but it's relaxing. It's just what we do, it's what we know how to do," he continued.  Hendrix sold his cows a few years ago and has scaled back some, but never stopped. And he still tends to about 2,500 pecan trees.
"I've done it my whole life. I've been around farming for 60 years, I reckon, I've watched it."
He worries about the future of farming, as fewer and fewer people are getting into farming and without familial ties, there just isn't the same understanding of farming that there used to be. And, of course, it takes a special kind of person to farm – Hendrix says you've got to be able to work on your own equipment, be self-sustainable, and you've got to be committed.
Hendrix told a story of a time that renowned heart doctor Dr. Hames stopped by the shop when his dad was still around. He said Hames was asking what all of the equipment was, noting that he'd never seen most of it before. "You know, I've never seen the inside of a heart, but that's what he's done for a living and this is what I've done for a living. And I love it."