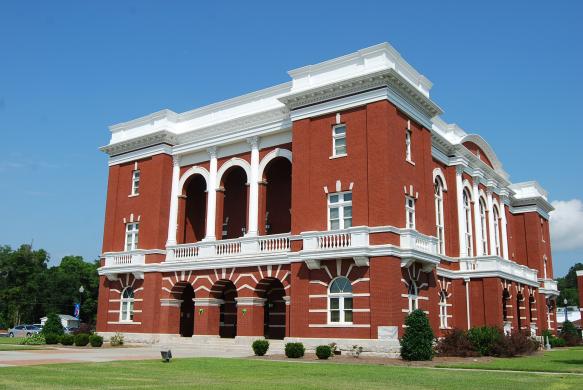 The Tattnall County Commissioners voted Monday to approve a pay raise for Superior Court judges in the Atlantic Judicial Circuit. The decision means the judges are one step closer to a pay bump from their current salary of $162,264.

The vote followed a request made by Superior Court Judge Glen Cheney in a letter dated February 27, 2020. The letter first requests that the county move to a local legislation structure for payment of Superior Court Judges, of which there are four. The move, Cheney explained, is at the recommendation of the Office of Administrative Courts and the Council of Superior Court Judges. He asks that the Commissioners pen a letter of support to state lawmakers, expressing that the county has no objection to the pay local legislation or the salary supplement increase.
Supplemental appropriations are paid by county governments from general fund monies in addition to the minimum salary schedule set by the state legislature. Commissioners have the authority to object to the local legislation. 
The Atlantic Judicial Circuit, which includes Bryan, Evans, Liberty, Long, McIntosh, and Tattnall counties, pays each Superior Court Judge an extra $30,000 annually on top of the state set salary. 
According to OpenGeorgia.Gov, Atlantic Judicial Circuit judges were paid as follows:
Judge Glen Cheney – $132,264.96 (+ $6,617.70 in travel reimbursements)
Judge Robert Russell – $132,264.96 (+ 8,848.59 in travel reimbursements)
Judge Charles P. Rose – $132,264.96 (+ $5,791.45 in travel reimbursements)
Judge Jay Stewart – $132,264.96 (+6,455.36 in travel reimbursements)
Each then received the $30,000 supplement for a total of $162,264 in FY 2019.
The letter doesn't include how much the increase would account for all four judges on an annual basis, only that Tattnall County would be responsible for an additional $232.00 per month per judge while Liberty, the largest county in the circuit, would pay an additional $580 per month per judge if the local legislation is approved.
Tattnall County's monthly increase would bring the total to $2,400 per month for all of the Superior Court Judges, or another $28,800 each year. 
The total supplement increase for the combined counties is $1,575 per month per judge, or $6,300 per month across the judicial circuit. The increase would mean a $75,600 increase for the year for the Atlantic Judicial Circuit judges.
The salaries would then be $181,164 per judge.
Cheney's letter was accompanied by draft legislation, meaning at least one of the Superior Court judges had already contacted a lawmaker about drafting legislation, notably before commissioners considered the pay increase.
The letter also compared the Atlantic Judicial Circuit to the Ogeechee, Brunswick, and Waycross Judicial Circuits and said the proposal would bring the Atlantic Judicial Circuit "closer in line with our sister circuits."  
You can read the proposed legislation and the letter from Superior Court Judge Glen Cheney below.
doc02376520200302122458