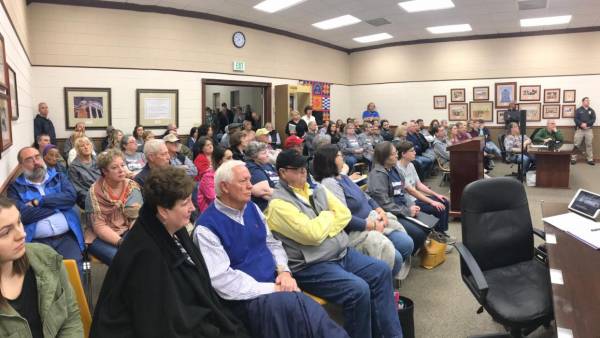 Following a lengthy and emotional moderated public forum during an emergency meeting, the Evans County Board of Commissioners voted 3-2 to direct $50,000 per month for the next six months to Evans Memorial Hospital (EMH) in Claxton. 

The courthouse annex was standing room only overflowing into the lobby Thursday evening as Commissioners heard from concerned citizens worried about increased taxes and the sustainability of the hospital. Hospital Authority appointees, EMH administrators, and hospital employees -many of whom arrived an hour and a half to land a seat up front in their 'Save Our Hospital' tshirts – filled chairs for the opportunity to tell Commissioners what they believe the hospital brings to the community. After more than an hour and a half of questions and comments from both sides, Commissioners mulled providing additional funding to the hospital for the next six months with the help of the Jack Strickland Foundation. 
Statement from Commissioners
Commissioner Jill Griffin read the following statement: 
"The Evans County Board of Commissioners sympathizes with the financial struggles of the hospital. As many of you know, rural hospitals across our state and nation are experiencing these very same struggles. Many hospitals have closed for these reasons and many are on the brink of closure. Evans County supports healthcare for our citizens and we realize the importance of health care to our community. We appreciate the employees of the hospital and the importance of the hospital as an employer in our community. We appreciate all of the efforts of those who served or who are serving on the hospital board and the hospital authority.
So that everyone is clear on how the hospital is structured, we want to clarify for the public. Evans County contracts with the Evans County Hospital Authority to contract these services to the indigent sick. The Hospital Authority, which owns the facility, then leases the facility to Evans Memorial Hospital, Inc. – a nonprofit corporation. 
I'm sure almost everyone in this room is aware of the bond. The bond is something that the commissioners voted on in 2006 and the Hospital Authority borrowed over a little more than $7 million through the issuance of a bond. A condition of the bond required Evans County to pledge up to 7 mills of the taxes to guarantee the payment of the bond. The Hospital  Authority agreed to pay the annual bond payments. In 2014, the Hospital Authority notified this Board that it did not have sufficient funds to make the annual bond payment. As you know, since that time, the county has been making those payments for the bond. There's also been additional funding by Evans County in FY 15, FY 16, the 2011 SPLOST funds, and the 2017 SPLOST funds.
This is to let you know that the Commissioners of Evans county have supported this hospital. 
Recently, we received a letter from the Authority and the Board and we're here to discuss a joint request for funding from the Board of Directors and Evans Memorial Hospital. The request includes the following:
The support of Evans County and the Evans County Economic Development Authority compiling an attractive package for attractive buyers for the hospital;

$100,000 each month for up to 12 months with a re-evaluation of the strategic plan occurring in six months;

Refinance of the current bond to remove the debt from the Hospital Authority and thereby making Evans Memorial Hospital more attractive to potential buyers.
Those were the specifics of the funding request. There was also a strategic plan submitted with the funding request. The Hospital Authority and the Hospital Board provided the following strategic plan:
Submit a request for proposal (RFP) for any type of affiliation, partnership, joint venture, purchase, or arrangement from interested parties to facilitate or expand health care services in the community;

Reach out to regional partners regarding the RFPs

Reach out to local foundations and civic organizations about donations

Continue educating individuals and businesses regarding the Rural Tax Credit Program
There has been a RFP submitted by the Hospital Authority so they have prepared an RFP to be sent out to interested parties.
In response to the funding request, Evans County submitted questions related to the funding request. Those questions have been answered in writing and they are available if citizens wish to review it.
Hospital Authority Chairman Dr. Jesse Scott also announced that the RFPs were submitted and there is a deadline of April 9, 2020. 
Q & A
Evans County Economic Development Director Adam Kennedy moderated the Q&A portion of the meeting. Before questions formally began, citizen Marie Blizzard asked Commissioners to read the answers to the questions submitted by the hospital so citizens could hear the answers collectively instead of individually seeking the documents from the Commissioner's office. 
"I feel like these questions are what most of us want to know. They're the most important questions to be asked. Maybe this is what we need to hear first," Blizzard said. Commissioners agreed to read the answers from the hospital. 
What procedures have been put in place or to be implemented to reduce costs, improve collections, and review current services in relation to contracted payments? 
"The hospital's largest expense are wage and benefits, which make up about 55% of our total operating expenses. Every department is looked at monthly to see how they are performing on labor and productivity and overtime. Staffing is determined based on census in all departments daily. During low census days, staff are flexed off to reduce hours. Administration and clinical employees have been taking extra paid days off to reduce liability. Also we switched from being self-insured on our employee health insurance to fully insured this calendar year. This will help save the hospital $80,000 per year in health insurance for employees. 
Overall, our wage and benefit expense per adjusted admit has been reduced 7% this fiscal year over last. Last fiscal year, our wage and benefit expense per adjust admit was $2,446 and we have reduced that to $2,284 this fiscal year, or $162 per adjusted admit.  
To improve collections, we have added an early out service in which a company is calling patients when a statement is mailed to verify they received it and to discuss payment arrangements. This takes place during the first three months statement cycle before a patient is sent to collections.
2. Short term and long term financial planning and budget with the hospital if the hospital will continue under EMH. 
"We are projecting a loss of about $1.6 million this fiscal year ending September 30, 2020. We do expect a loss from operations for FY 2021 to be significantly less, about $700,000. This is mostly due to the steady increase in surgeries and increase in behavioral health unit census."
Measures in place or to be implemented to educate citizens on the hospital tax credit available to provide financial support to the hospital.
"Marketing for the tax credit includes: meeting with accounting firms in Statesboro and Claxton and some in Metter educating these firms about the tax credit. We have held two separate radiothons about the tax credit and brought in Senator Jack Hill and Representative Bill Werkheiser to speak during these events about the tax credit as well as hospital administration. We have spoken at multiple public events locally, such as the Senate Rural Georgia Study Committee, the Claxton-Evans Rotary Club, Rotary Club Tattnall, Claxton-Evans Chamber of Commerce, Lions Club, Rotary International, and a senior club at the Methodist Church. We have tables set up at multiple events in evans, Bulloch and surrounding counties such as senior fairs, job fairs, Rattlesnake & wildlife festivals, and health fairs. 
At EMH since 2018 have held two tax credit workshops, question and answer sessions for the public – these were not well attended. September 2018, we held a town hall meeting on the state of rural healthcare in Georgia and the tax credit that was also not well attended.
Multiple newspaper articles done on the hospital tax credit in a number of publications. We post information on website and social media platforms – Facebook and Twitter – sent out hundreds of emails each year to accountants, businesses and individuals. We also do mailings annually to businesses in Bulloch, Evans and Tattnall counties."
EMH's Lisa Ryles explained what Georgia HEART does, which EMH contracts with for marketing and collection of the tax credit. Ryles did not mention that Georgia HEART gets a cut of the tax credit. 
"We have also met with Senator Jack Hill, Representative Bill Werkheiser, U.S. Representative Rick Allen, Lt. Governor Geoff Duncan, and Mike Dudgeon (who is a staffer of Duncan)"
Current services provided to Evans County citizens and the method of billing as it relates to Evans County citizens. 
"All services that the hospital offer are provided to Evans County citizens. Evans Memorial uses federal guidelines for billing and all patients are treated and billed the same regardless of the county that they are from."
Tax credit funds received by the Authority and EMH in previous years and specific application of those funds. 
"In FY 2019, we received $246,587. The funds were used for capital leases and reducing the hospital's AP (Accounts Payable). 
IN FY 2018, we received $852,096. The funds were used for the digital radiology equipment ($300,000), the AC  units ($40,000), merit increases ($150,000), and about $360,000 for reducing the AP.
In FY 2017, we received $623,332 and the funds were used for gastroenterology and surgery equipment ($300,000), new ultrasound equipment ($100,000), and additional capital expenditures of $43,108 for hospital upgrades. About $180,000 were used for reducing AP."
Estimate of monthly funds necessary through subsidy by Evans County to maintain operations on a temporary basis. 
"The hospital needs approximately $100,000 per month to cash flow this year. That amount will allow the hospital to cover operations and also keeps AP (Accounts Payable) at current levels."
Plans in place or to be implemented to offset loss of billing reimbursements in 2020 as referenced in the letter.
"The hospital added a 10-bed geriatric behavioral health unit in 2017. BHU patients are reimbursed at a higher rate than acute medical surgical patients. Initially, we could only accept voluntary patients. In 2019, we applied with the state to be able to accept involuntary patients. This was approved. This has already proven to increase our census. We also added a general surgeon in September 2019 to provide more complex, higher margin procedures at the hospital."
The benefit of a Capital Needs Assessment of the current facility. 
"A capital needs assessment is not needed at this time. Any potential purchaser interested in the hospital would perform this during the due diligence process."
The benefit of hiring a private firm to analyze community demographics and to provide suggestions on long-term healthcare solutions for our citizens.
"As part of the Affordable Care Act, the hospital is required to perform a Community Needs Assessment every three years and it's posted on our website. This was completed by an independent party. The county would have to decide if it wanted a private firm to analyze community demographics and long-term healthcare solutions.
Alternate operations plans of the Evans County Hospital Authority in continuing operations in the event of a breach of contract by Evans Memorial Hospital. 
"The Hospital Authority has issued an RFP to any parties interested in the purchase, affiliation, management, etc of the hospital."
---
Employee Benefits
Marie Blizzard asked "Based on information over the last couple of weeks, it is understood that the hospital administration has let the funds deplete to the point that the funds left to operate does not include money for severance packages, banked vacation, sick leave, or current insurance. So the question is: is there money to actually take care of the employees in the event that the hospital closes? Do they have insurance and will severance packages be prepared and paid? Or if the commission plans to fund, even on a temporary basis, what is the plan to immediately restructure the current administration in order to protect the employees and taxpayer that may reluctantly have to take on this debt and not continue to work for a negligent administration…which should have been caught way before now."
EMH CFO John Wiggins: "We have about $1.8 million in AR (Accounts Receivables) that will be coming in over the next 2-3 months and that's based on our billings. So that AR would cover any employee liabilities that are due."
Administration Salaries
Charles Moore: "What I'm looking at is extravagant salaries that we pay for the administration of this hospital with two or three patients in the hospital. I'm asked to absorb 4 mills of property taxes for extravagant tshirts, when I run my budget, I don't have nobody to run to. The money that the county uses comes from each one of y'all on your property taxes. I'm concerned. I run a tight budget. I'm retired. I live on my annuities and investments. I have a rainy day but I sacrifice to maintain that. But it seems like the administrators of this hospital don't want to sacrifice for the community. We're going to continue these high salaries regardless of whether it comes from the county. Our tax base is small. People are suffering. People who have worked all their lives for a home, living in it, all of a sudden they're stuck with a mismanaged hospital because they can't manage a $20."
Dr. Jesse Scott responded to Moore: "I appreciate the comment and I understand that if you're looking at the outside, you may not understand everything. I'm Chairman of the Hospital and I've only been Chairman for 4 months, so I've been thrown into this…the tshirts were paid for by employees. Addressing the administration, I've heard several not-so-nice comments tonight about the administration. I will say they inherited what they have. They did not cause the issue. As to their salaries, Nikki (CEO), she has about 5 jobs. She's the Chief Nursing Officer, she's responsible for scheduling of the hospital. She does many other things, she works night shifts. Every department head is required to take a day off per pay period to save money. All of the department chairs have to pull working shifts. As for the CFO, that's required. We don't have any other option. It's a competitive salary. We pay the CEO one of the lowest salaries in the state."
Timeline for Sale of Hospital
A citizen, in expressing not wanting to have her taxes raised, asked if the hospital was up for sale.
CEO Nikki NeSmith: The RFPs were sent out on March 3, 2020. That's for anyone interested in buying, affiliating, leasing, any sort of agreement with the hospital. We also sent out RFPs in April 2012 and those were sent out. There were no offers to buy. We had two responses and they were for affiliations. It did not end up working out.
Commissioner Wesley Jenkins asked for clarification on how the RFP process works. Help explain how that gets done.
Dr. Scott: It is a long process. It's not simple. What that involves is a detailed proposal, services we provide, characteristics of the hospital the county, and that goes to anyone we think might be interested – major hospitals in the area, firms, outside companies. They have until April 9th to respond. That does not mean they're offering to buy the hospital, they're proposing what they would like to do. After that, the Hospital Authority, the Board of Directors, the Administration looks at that proposal and decides is that best for the community? Not just Evans Memorial, but the community. We think the best option may be to sell what we have….If successful in selling, it takes several months. It has to restructure and apply for Medicare, Medicaid, tax ID numbers, that takes up to 4 months. It may take up to a year to go through that process.
Marie Blizzard: "Why haven't we been trying to sell the hospital for 18 months? We have seven years worth of increased revenue that the county has been given, now we're asking for six months more. I'm definitely against just give give give."
Dr. Scott: "I want you to understand that a lot of the companies aren't going to come in if they do not see some sort of county support. Tax abatement, continuing paying the bond, that is why we have not tried to sell since 2012…We did send out an RFP in 2015 and there were zero responses.
Marie Blizzard: "We already give 2 mills and we pay the bond. So doesn't that show as a county we support the hospital?"
Dr. Scott: "We were paying the bond when the RFP in 2015 went out and part of the reason no one responded was because they felt that there should be some additional support above the two mills."
Making the hospital an urgent care center
Nikki NeSmith: "We contacted two companies. One of them said they would not even talk with us or do anything further because of the size of the county and the payer mix. the other one performed an analysis and after looking at the demographics and the payer mix, would not move forward with talking with us. They said the county could not support an urgent care. An urgent care – AppleCare – in Vidalia could not be supported in Toombs County. It's not a viable option."
How much would taxes increase by adding 4 mills to the property tax?
A $150,000 property could go up by $400 to $600 per year (subject to tax assessment, exemptions, and other things)
How much will the county owe if the hospital closes:
The county will be responsible for the 2006 bond payments, of which the balance is $4.8 million.
Adding another penny to the sales tax
County Administrator Casey Burkhalter: "The state only allows us to go up to 8% and we're already maxed out so we can't go any higher on our sales tax."
Who runs the hospital if the hospital closes? Can the county run the hospital?
County Attorney Jay Swindell: In the event of a breach of contract, the Hospital Authority would run the hospital.
Why is this the county's responsibility"
Citizen Robert Hodgson: "When did we become a loan company? It's not right to the taxpayers to have to support the hospital…"
Hodgson was interrupted by Eston Price who shouted, "You're wrong, mister," before uttering that Hodgson was 'stupid.'
Hodgson: "Every year, we have given them money and we keep giving them money. It's got to stop. It's not fair to the seniors on a fixed income. It's not fair to the farmers. When's it going to stop? It was probably on good faith that they were going to pay back the loan (meaning the bond) but they haven't paid that back. You are the keepers of our money and we trust that you spend it right."
Support of the hospital
Star Harris: "I hope everyone realizes that if we don't have a hospital here, there will not be a single industry looking at Evans County. It's not gonna happen. The ones we have will probably not be here either.
Michelle Johnson – EMH employee: "The hospital generated $51 million in revenue last year. $5 million last month. We are generating revenue, I don't understand why people understand that. Revenue is being generated. The issue is because of our county and our payer sources, that have decreased – but our county structure has changed. Our commercial payers are fewer, so Medicaid, Medicare, underinsured, not insured, this is what is taking away our revenue. We made $51 million last year, we only got $10 (million). Are we not understanding that? Evans Memorial is not a failing hospital. We are a prospering hospital, we're not getting paid."
Holly Hutto: "I am in favor of saving the hospital by whatever means possible. If you need to raise my property taxes, go ahead. I would rather know that by me paying more taxes could potentially save someone's life, it could be my parents or someone I don't even know. I would much rather live with that option than voting NO, not to save our hospital and hear someone lost their parent, spouse, or child trying to make it one of the outlying hospitals."
Eston Price – former CEO of EMH: "[We] have heard how other hospitals have closed and the dire effects it would have on the community. I just cant believe that we would let that happen to our communities. If our hospital were to close, we'd be going back to the 50s…$100,000 a month. I don't know why we can't come up with $100,000 a month from this county. I'm willing for my taxes to go up for my share. All the other property owners here would be willing to come up with enough money. $1.2 million per year. Surely we can do that."
Lisa Alderman: "I only work here, I eat at the restaurants, I buy gas here, there's a lot of us that shop, work, buy gas, support this economy in Evans County. If this hospital closes, you're not going to have that support."
Scarlett (did not announce last name): "Without a hospital here, they're not going to make it to Statesboro or wherever else. I'm currently working to move out this way and without a hospital, you're not gonna bring people here."
Pastor Wainright of Antioch Missionary Baptist Church: "I know money's important, but Matthew 25, this that you're doing to the least of these, you do even unto me. I know it gets hard, it gets rough, but when it comes to being the hands and feet of Jesus Christ, are you willing to let money compromise who you are?"
Commissioner Vote and Terms of Financing
Commissioner Jill Griffin made a motion to do the following:
Evans County will contribute up to $50,000 per month with a $50,000 match by the Jack Strickland Foundation for up to six months to allow the hospital to pursue a purchaser;
Create an advisory committee for the purpose of submitting and reviewing the RFPs, to include 2 hospital authority members, the county administrator, one commissioner, the IDA Director, and one IDA Board member.
The Hospital Authority will provide a monthly financial report for the county commission meeting
The existing lease between EMH and the Hospital Authority must be amended to remove the clause giving EMH the first right of refusal on a purchase offer.
If the hospital does not secure a purchaser or partner in six months, there will be no further funding after six months from the county.
Commissioner Tony Lewis seconded Griffin's motion for the purpose of discussion.
Commissioner Wesley Jenkins said there were too many unanswered questions to make a decision Thursday evening. "If I'm forced to make a decision tonight, I'll vote no. There's just too many unanswered questions."
Commissioner Shela Holland agreed with Jenkins and said she needed more time to think.
Commissioner Brian Croft told the room that he didn't think $50,000 a month was a burden to the taxpayers and Commissioner Tony Lewis explained that the community must change in order to save the hospital. "I cannot make my constituents keep paying for the hospital. There has to be an end."
Ultimately, the vote was 3-2 with Jenkins and Holland dissenting. There was no discussion of whether or not the hospital or the hospital authority agreed to the terms.
Please Note: The live stream is broken into 2 parts due to poor internet service in the courthouse. Part 2 has clearer audio to the wi-fi connection in the annex.
Evans County Commission Meeting —special-called meeting on Evans Memorial Hospital. Begins at 6PM. (Audio muted until start of meeting)

Posted by All On Georgia – Evans on Thursday, March 5, 2020
PART 2: Evans County Commission Meeting —special-called meeting on Evans Memorial Hospital. (we have connected to WiFi, so the video should be clearer)

Posted by All On Georgia – Evans on Thursday, March 5, 2020