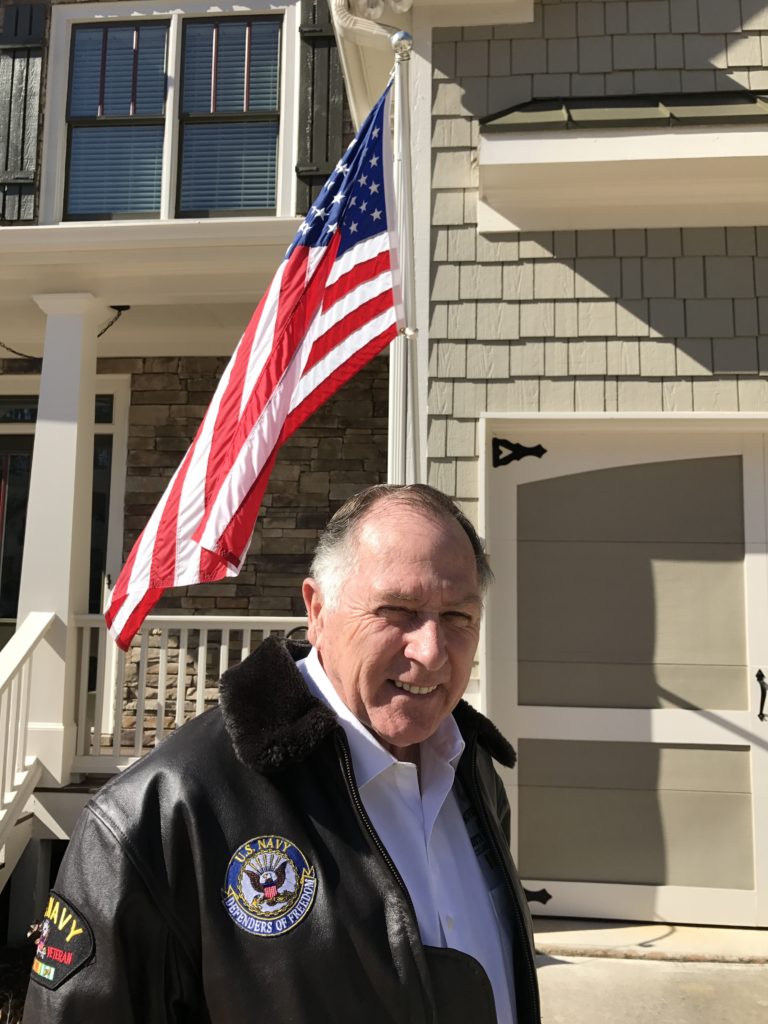 All On Georgia Paulding (AOG Paulding) sent 8 questions to the candidates running for Post 4 commissioner. This is the last of 4 articles we're posting with the candidate's answers. Tony Crowe (TC) is the current Post 4 Commissioner, and is seeking his second term in office. The following are the answers he provided to AOG Paulding, unedited.

Post 4 Commissioner Tony Crowe is a Paulding native who served three tours of duty in the US Navy during Vietnam. Upon his return from the Gulf of Tonkin, Commissioner Crowe met and married Cindy, his wife of 48 years, with whom he has two children and four grandchildren. He also has a great grandchild on the way!
Tony founded Crowe's Drywall and Construction in Paulding in 1973, and brings business and management experience to the Board of Commissioners.  Having been a former County employee, Tony not only has a unique perspective of County business as both employee and Commissioner, but has the trust and confidence of staff employees he's worked with over the years. Tony supports governmental efficiency and transparency, public participation, and policies that encourage business development and job growth.  A man of integrity, Tony is known to keep his promises to the citizens, County employees and fellow Commissioners.
AOG Paulding – 1. If elected, this will be your second term. Why should the voters re-elect you?
TC – Because I have provided the county with an honest government and worked hard to keep all of the major projects going and has always made it about People and not Politics.
AOG Paulding – 2. What is the one thing that you've done while in office that you think has benefited your constituents the most? Why?
TC – I have done more than one thing, but the thing I'm most proud of is getting water placed in homes that did not have water. Because this is a necessity that we should not have to live without.They didn't have water lines down their roads because no one had taken time to put them there. Noone cared about the people enough to run water down their roads. They had to run on a well and their well had run dry. I have also been on the board to move the jail along and I've been on the board to keep the water reservoir on budget and on target. I'm proud of these accomplishments.
AOG Paulding – 3. What do you see as the #1 issue facing your constituents today? What have you currently done while in office to address this?
TC – Post 4 has not had representation. They have not had anyone hear their voices. I hear their voices. I work dilligently to call people back, pay people visits, and do what I can to resolve what they personally feel is an issue.
AOG Paulding – 4. Where do you see Post 4 in 5 years? If re-elected, what would you do to further this vision?
TC – I would like to see the county with enough infrastructure to sustain businesses that want to come to this county.
AOG Paulding – 5. Many of Post 4 constituents spend a lot of time in other counties working and shopping. What have you done as Commissioner to help recruit more industries and business to our area?  What have you done as Commissioner to help broaden the tax base?
TC – I rely on an economic development board, IBA and chamber to seek new business. My job is to open the door for private sector to come here. The private sectors creates jobs. The government does not. "Goverment is not the solution. It's the problem" Ronald Reagan
AOG Paulding – 6. Post 4 is a heavily residential area. How many new developments would you be willing to allow?
TC – At this point as few as possible. Due to the overloading of our roads, our schools, and our quality of life I would like to slow it down. We are overloading the infrastructure. We need to get the groundwork in place first before moving forward with new development
AOG Paulding – 7. What is the one area that you see Post 4 is lacking in? What have you done while in office to help alleviate that?
TC – I feel this is a bit redundant. You can find answer in question 2 and 3.
AOG Paulding – 8. Is there a decision or vote that you made while in office that you would like to have changed? Why?
TC – If I had one that I could change it was the support for an air show for the county that the airport never paid for. Because they did not pay back the county for their services. They said they were going to. They gave no money to charity. I voted yes to this because they were going to give money to charity and pay back 55k to the county for services and they didn't do either. I would like to change that decision