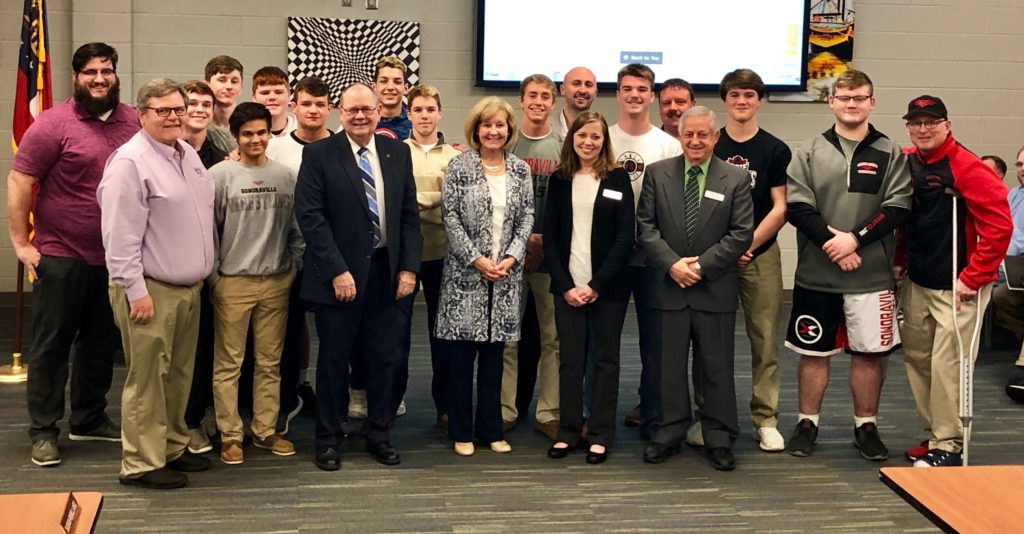 Sonoraville's back-to-back State Championship wrestling team was recognized by the Gordon County Board of Education on Monday night. Superintendent Susan Remillard introduced Head Coach Randy Steward and emphasized this year's team accomplishments including defeating Jefferson to end their 17-year streak of Traditional team titles.
Coach Steward thanked the board and singled out his 12 State Qualifiers and 10 State Placers who put Sonoraville at the top of the AAA division for a second year.
106 lb – Hector Arbos 3rd Place, 120 lbs – Eli Knight 2nd Place, 126 lbs – Rowan Burdick 5th Place, 132 lbs – Jayce Derryberry 6th Place, 138 lbs – Allen Stone 2nd Place, 145 lbs – Trevor Burdick 4x State Champ, 152 lbs – Davin O'Neal State Qualifier, 160 lbs – Bailey Hughes State Qualifier, 170 lbs – Jebb Knight 6th Place, 182 lbs – Charlie Brown 2nd Place, 195 lbs – John Knight State Champ, 220 lbs – Jaxx Knight State Champ, 285 lbs – Brandon Bristol 4th Place.
Coach Steward and assistant Coach Brandon Hufstetler thanked the board and confirmed their commitment of continued excellence.
Dual Meet Record 34-1
·      1st Cartersville HS Hurricane Duals/16 Teams
·       1st   Woodstock Invitational/18 Teams
·      1st Allatoona HS Parley Invitational/13 Teams
·      1st North Paulding Duals/16 Teams
·      1st Calhoun New Year's Duals/12 Teams
·      1st South Paulding Duals/16 Teams
·      1st  3A Area Duals/9 Teams
·      3rd 3A State Duals/ 12 Teams
·      1st Area 3A Traditional Tournament/ 9 Teams