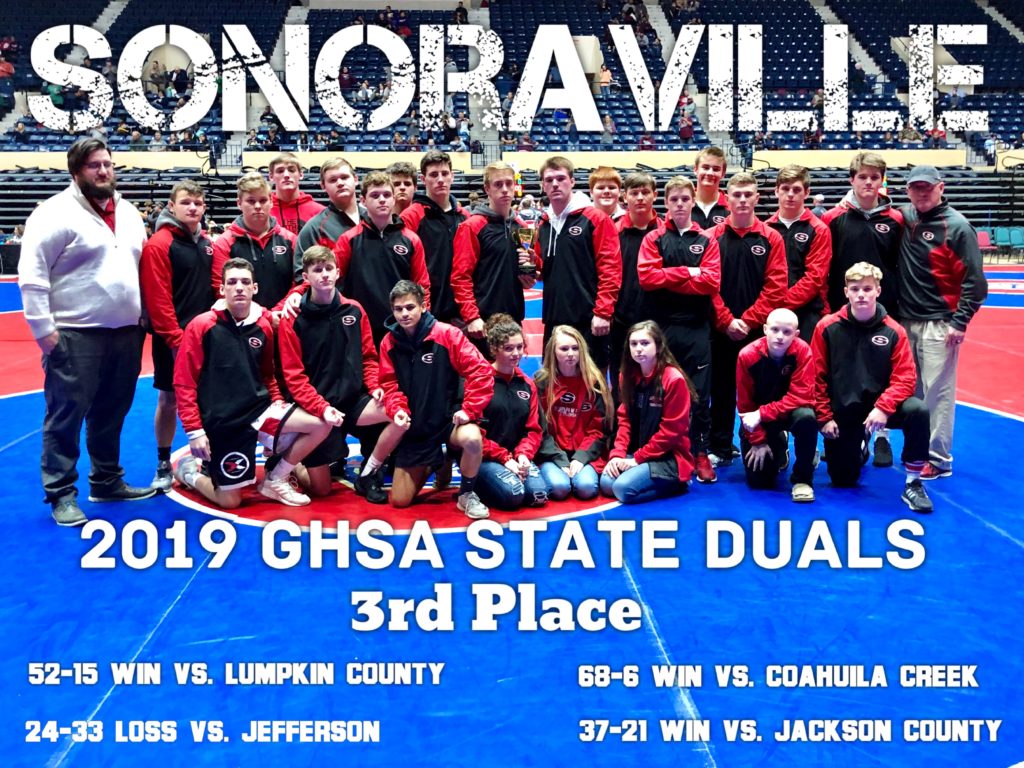 Sonoraville wrestlers wrapped up the 2019 GHSA State Duals with a 3rd Place finish after defeating Jackson County 37-21 in the Consolation Finals.
While not the ending he had hoped for, Head Coach Randy Steward had his team prepared to finish the weekend on a high note as the Firebirds swept ten of the fourteen matches against the Panthers including a Major from senior John Knight and pins from sophomore Eli Knight and senior Trevor Burdick. The victory marked the Phoenix's third consecutive Top 3 finish in AAA Duals wrestling as Sonoraville completes 2019 with a 33-1 Duals record.
The lone defeat of the weekend came at the hands of perennial powerhouse Jefferson Dragons. With pins from brothers Eli & John Knight, and Trevor Burdick, Sonoraville managed to keep within striking range going into the final bout as they trailed Jefferson 24-30. The three pins had the Phoenix in position for an upset if they could manage a Fall in the last match, but came up short, and lost 24-33 in the dual.

Quarter Finals
Sonoraville opened up the tournament with a convincing win over Lumpkin County, 52-15. The Phoenix had a forfeit at 113 lbs and only lost two matches to the Indians in the Dual. The big win in the matchup coming at 145 lbs in a rematch of last year's State Finals as Trevor Burdick knocked off Keller Brown 6-0. The Phoenix won 11 of 14 bouts including four pins, one Tech and two Majors.
Area Rematch
In the Conso-Semi matchup against Area 4 runner-up Coahulla Creek, the Phoenix established their dominance with a 68-6 routing of the Colts. Dropping just one match, Sonoraville swept the remaining 13 matches with nine pins and a tech fall.
"I am very proud of the way the kids competed on Saturday. We didn't get what we came for but we took all that was left. We are trying to establish a program that is in position to compete for Dual and Traditional Titles every season," Phoenix Coach Steward said.
Behind the Numbers
157-42:   Margin of victory in Sonoraville's three dual victories
20: combined team points scored by two Sonoraville freshmen Jebb Knight and Rowan Burdick
24: Most Team Points, Eli Knight led all scorers with three pins and a forfeit.
42: Combined team points from the senior duo of John Knight and Trevor Burdick.
35: Most Total Match Points scored by Jebb Knight to lead the team.
Undefeated Sonoraville Wrestlers
120 Eli Knight
132 Jayce Derryberry
145 Trevor Burdick
182 Charlie Brown
195 John Knight
285 Brandon Bristol