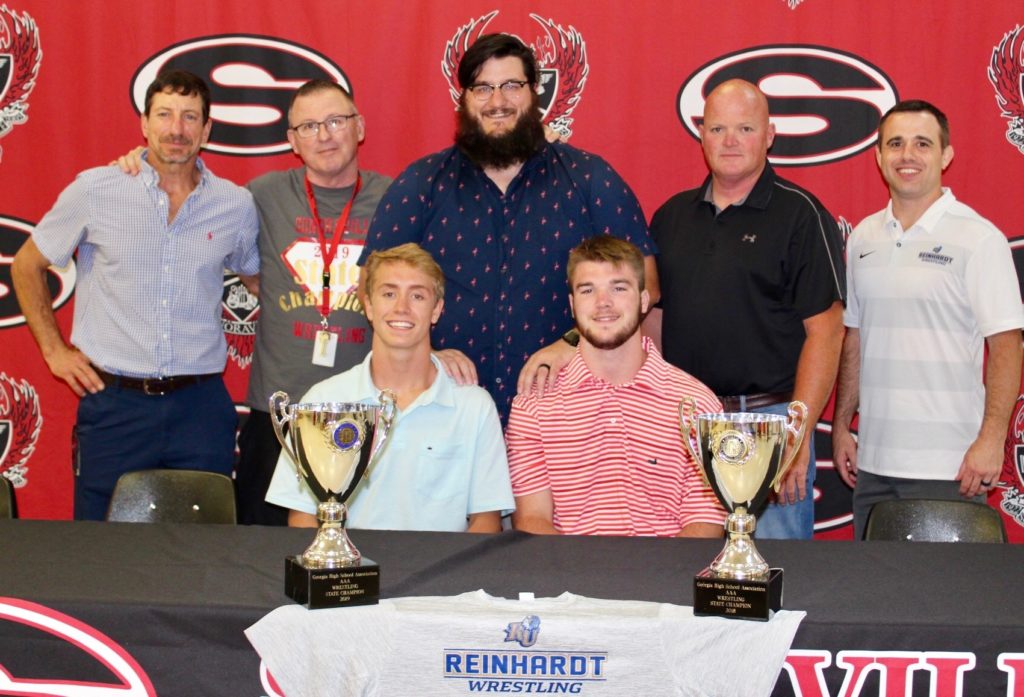 Sonoraville senior wrestlers John Knight and Trevor Burdick capped off their high school careers in style with back-to-back Team Traditional Championships. As team captains, the tandem ended an 18-year run by Jefferson and each claimed individual championships as well.
Despite Division 1 offers for both athletes, the Reinhardt Eagles landed the recruiting coup of the year as Head Coach Jeff Bedard and Assistant Coach Matthew Pitts reeled in the package deal at today's signing.
The Eagles finished last season at 12-2 overall and 12-0 in NAIA as they jumped to #5 in the nation and Bedard was named NAIA Coach of the Year. Reinhardt had five All-Americans and are well on their way to increasing that number with the addition of Knight and Burdick.
Knight closed out his career 134-36 as a 3-time State placer, 2-time State Finalist, and 2019 State Champ. Knight evolved into an elite wrestler and was 79-7 over his last two years.
Burdick finished his career with a 157-4 record including 87-0 over his final two seasons. His four consecutive GHSA State championships placed him in rare company and his 9 consecutive USA Wrestling State Championships are unmatched in the history of Georgia.
During the signing ceremony, Sonoraville Head Coach Randy Steward listed off the accomplishments of his co-captains and explained to the crowd how the pair had "set a new standard for Sonoraville Wrestling." Steward elevated the program to an elite level in just his third year with the Phoenix. Steward was named the GHSA 3-A Coach of the Year and emphasized his relationship with the team as a core component. A key element to Knight and Burdick choosing Reinhardt was their commitment to returning and helping the team chase another title. "I'm hoping they'll bring back some coaching from Bedard and Pitts next year and keep helping the team," said Steward. The old-school coach finally became emotional as he closed the ceremony, "I have life-long friends in these two kids… and I'm gonna miss 'em like crazy."