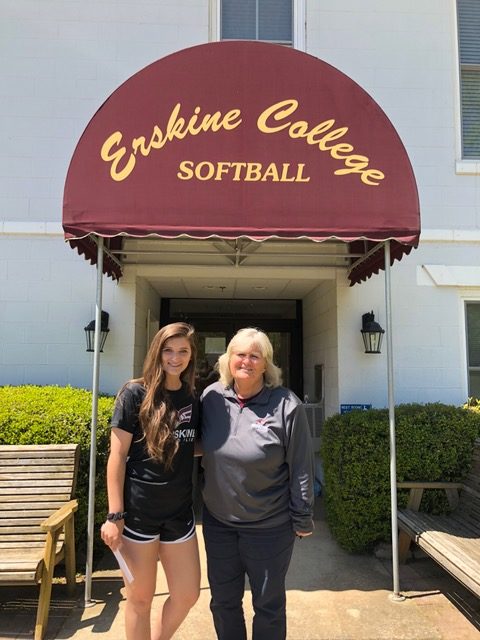 Calhoun High School Junior, Anna Taylor, committed 
Saturday
 afternoon to Coach Alleen Hawkins and the Erskine College softball team.  Taylor is an outstanding 2nd Baseman and Outfielder for ProStar Fastpitch and also plays for the Yellow Jackets.  During her career with Calhoun, Taylor has already made three trips to the State Finals, winning two state championships with the legendary Coach Diane Smith.  Taylor, now in her second year with ProStar Fastpitch, has been a mainstay in the starting line-up both years.
"Anna came to us from a strong Calhoun High School program and we immediately put high expectations on her.  She came to us as an outstanding athlete but I would like to think that she has polished her skills and improved her mental game as a part of ProStar Fastpitch," Coach Chattin said.
Despite playing softball for many years, Taylor feels the last few years have changed her perspective on the sport and elevated her skill level. "It seems like I have played and loved softball my whole life but it was only in the last couple of years that I really believed and knew I might have the opportunity in college," said Taylor. "I have attended camps and visited several campuses but I really fell in love with the Erskine College experience.  It was the opportunity to play for Coach Hawkins , the campus itself, and the people I met on my unofficial visit that made me know this is where I wanted to be."
Travel softball experiences a high turnover as high caliber athletes pass through the program from their various schools. ProStar's Coach Chattin enjoys his opportunity to leave a mark on his players and prepare them for competing beyond the high school diamond. "The ProStar family and myself are very excited for Anna as she takes this next step on her journey into adulthood.  She is one of the most balanced young ladies in our program and I contribute that to her parents.  She works extremely hard and is 100 percent into our practices and games but she also has a strong interest in family, academics and God," Coach Chattin said.
Anna is the daughter of Joe and Michele Taylor and has a brother Joseph who is a senior at Calhoun. At Calhoun, she maintains a 3.9 GPA and is a member of the Senior Beta Club, National Honor Society, and serves as a Student Ambassador.  Anna attends Calhoun First Baptist Church and volunteers at Calhoun Pre-K as part of the Teaching as a Profession pathway.
At Erskine College, Anna plans to major in Accounting.  Erskine College is a member of Conference Carolinas.   Coach Hawkins is a long time collegiate coach with success in multiple conferences but, most importantly, she is also very successful at turning young ladies into strong women through the sport of softball.
"I have known Coach Hawkins since the mid-80s when she recruited one of my players and I had the pleasure to be her assistant at UGA.   I think she is a perfect fit for Anna.  She is a strong coach fundamentally but she has a true heart for her players.  I expect Anna to continue to blossom as a player and a person under her tutelage," Chattin said.
As for Taylor, she knows that her successes on the field would never be possible without the support from her family, teams and coaching staffs. "I would like to thank my parents for supporting me in all of my endeavors.  They have been my biggest fans no matter the activity and they have taught me the concepts of dedication, loyalty and hard work," said Taylor. She goes on to attribute her family to building her foundation in faith that has kept her focused with her goals. "Softball is important to me, but it is a game… and it does not define the person I am or the future I have — it is a part of my journey," Taylor said.
"I would like to thank all of the coaches I have played for but in particular Coach Smith and the Calhoun staff and Coach Chattin and the ProStar staff.  Coach Chattin has been able to help me grow mentally and physically as a player and as a person," Taylor said.