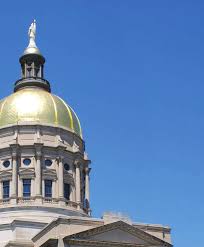 By: Sen. Larry Walker (R – Perry)
The Senate is quickly approaching one of our busiest times of the legislative session and as our conversations have gotten longer, we remain committed to our service to you. This thorough review of legislation has allowed us to speak with you about your opinions, concerns and what you believe are the areas that are most critical. Crossover Day is only a few short days away and we are working hard to ensure the bills that pass out of the Senate Chamber have your best interests in mind. With this all important deadline, we were efficient in our work this week and passed several significant pieces of legislation that we believe are impactful for all of Georgia.
Previously, I had mentioned the General Assembly's continued emphasis on Georgia's election process and finding remedies for several of the problem areas you have been concerned about. We accomplished some great legislative success in regards to that this week and I believe, passed some key bills that will help restore integrity and voter trust.
Throughout the weeks, I had discussed Senate Bill 67 and its progression throughout the committee process. On Tuesday, SB 67 along with four other election-related bills, received passage out of the Senate and are now awaiting a hearing in the House. SB 67, as many of you know by now, is a well-regarded common-sense legislation that would provide added security measures to our absentee ballots, which experienced a tremendous rise in usage during the pandemic. I would like to clarify, SB 67 in no shape or form intends to disenfranchise voters and it should not limit the ability for individuals to cast a vote. Rather, it works in tandem with a changing and modernizing election system by codifying the online application portal and establishing a uniform request process. By requiring the addition of a driver's license number or other state-issued identification, which roughly 97% of Georgians already have, and removing the subjective signature matching system, we can rest assured that only those who are qualified to vote are doing so. The other bills passed (Senate Bills 40, 89, 184 and 188) are additional steps in providing transparency and much needed oversight in the way our elections are managed. As we continue to analyze our voting systems, I look forward to working with my colleagues to find additional ways we can provide confidence in our free and fair elections.
This week, I also had the privilege of presenting another one of my bills, Senate Bill 215, to the full Senate body which serves as a response to COVID-19's strain on our healthcare workers and particularly vulnerable communities. SB 215 would subsequently address personnel challenges experienced in nursing homes and would allow them to employ additional individuals, who have been certified by the Department of Community Health, to serve as medication aides. Abiding by rules concerning peer review and services by licensed pharmacists, SB 215 would allow such aides to help administer prescriptions to nursing home residents and provide a path for advancement. This substantially helps our state's issue with nursing shortages, as well as ensuring that these residents are able to receive the proper medical treatments they need in a timely manner. Throughout the pandemic, our nursing homes have served at the center of much turmoil – they experienced record high cases, despite being more vulnerable to the effects of the virus, and the quality of both their physical and mental health has diminished extraordinarily. SB 215 works to aid our healthcare community, who have made incredible sacrifices, while also guaranteeing that those who need it the most are able to receive the assistance and support that they need. We have listened to you throughout the months, and I hope SB 215 alleviates some of the challenges you have all experienced.
In addition to the bills we passed and covered this week, our support of Georgians goes beyond legislation and we spent additional time recognizing some of the hardworking individuals who help our state grow. Known as "FFA Week" for our "Future Farmers of America," we were able to offer our appreciation for the individuals who have contributed to Georgia's largest industry, our agribusiness. FFA plays a pivotal role in the education of our children, the creation of strong leadership skills and the development of our economic infrastructure. Not only does it help promote expansion and innovation in the world of agriculture, it also provides a pathway for our children to be able to explore their passions in the field. Coupled with that, the Senate had the opportunity to recognize Forestry Day at the state Capitol and my resolution, Senate Resolution 146, acknowledges the tremendous work and successes of those who have helped spur Georgia's $36 billion industry: the Chattahoochee/Marion Forestry Industry, the Brooks/Cook Forestry Unit, Area 7 and the State Lands Timber Sales Team. Georgia's rich natural resources have promoted growth in a multitude of areas and the development of our state, and economy, could not be possible without the efforts of our agriculture workers. I would like to personally thank you for helping Georgia continue to be a great place to live, work and raise a family.
As we remain committed to passing legislation that helps improve your livelihoods, I am grateful for your support and the opportunity to serve the interests of Middle Georgia here in Atlanta. Crossover Day is rapidly approaching and along with that, is our deadline for completing Senate committee work. I anticipate a rather long list of bills to be placed on our calendar that will affect you. If you have any questions about the legislation we passed or the ones anticipated up ahead, please reach out to my office. I want to make sure I am representing you as best as I can.
# # # #
Sen. Larry Walker serves as the Majority Caucus Vice Chairman and Chairman of the Senate Agriculture and Consumer Affairs Committee.  He represents the 20th Senate District, which includes Bleckley, Houston, Laurens and Pulaski counties.  He may be reached by phone at 404.656.0095 or by email at larry.walker@senate.ga.gov.