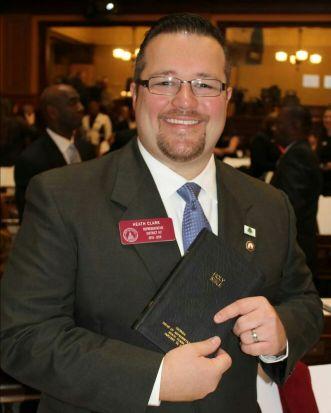 The second order of business for Georgia lawmakers last week included voting on a resolution commending the armed forces for their successful elimination of Qesam Soleimani. The measure was filed on the second day of session and voted on two days later.

But while lawmakers mostly broke along party lines, one lawmaker went against the majority that shared his party letter next to his name. 
The resolution, HR 882, was sponsored by State Representatives Heath Clark, Dave Belton, Josh Bonner, Bill Hitchens, Ed Setzler, and Shaw Blackmon – all Republicans after soaring through the House Defense & Veterans Affairs Committee, of which Clark is the Chairman. It passed with only 3 votes to spare in of vote of 93-68. 
Specifically, the resolution urges the American people to support the president, the armed forces, and the respective intelligence agencies. The resolution cited President George Washington's 1793 State of the Union Address in which he said "peace through strength," stating that "if we desire peace … it must be known that we are at all times ready for war." The resolution also cited President Ronald Reagan, President George W. Bush's designations of 'Axis of Evil,' and noted that "the best guarantor of peace throughout the world for the past 100 years" was the United States.
Republican State Representative Matt Gurtler voted NO on the measure, citing constitutional concerns. On his Facebook page, he explained his vote:
"I do understand the President's difficult position though—he needs to defend America while defending himself at the same time, and I support him in his executive position.
I, on the other hand, am part of the state legislature, which rarely has any input over matters of war and peace. When we do though, I'm going to take that responsibility seriously and as my oath requires, I will always put the Constitution first—precisely when doing so may help avoid these huge, foolish wars to begin with.
War comes at the cost of blood, sweat, tears and American lives and should always be declared by a vote in Congress according to our founders and the US Constitution in Article 1 Section 8. The legislative branch holds the sole power to declare war. Passing a resolution like this—one filled with half truths and absurd conclusions—is insulting and demeaning to the Constitution to which every member of our strong military swore an oath to protect and defend.
While I agree the Iranian terrorist deserved what happened to him, we obviously won't always have presidents who make good decisions unilaterally. And this is why the responsibility ultimately lies with the Congress. If I can help encourage the Congress to do their Constitutional job, I'm alright with taking a few arrows along the way.
That being said, I'm quite sure many of my colleagues only had good intentions and simply wanted to support President Trump and more importantly, offer support for our troops. However, I don't think a resolution that condones and supports the bankrupt foreign policy of Barrack Obama and George W. Bush—which our president unfortunately had to inherit—is the best way to go about doing so.
Lastly, I don't believe that Trump himself would vote for this meaningless resolution, as he would never utter one single positive thing about George W. Bush and Barack Obama's foolish, expensive quagmires in the quicksand of the Middle East."
 You can read the full statement here.
The following state representatives were present but did not cast a vote:
Rep. Todd Jones

Rep. Vernon Jones

Rep. Marc Morris

Rep. Mary Margaret Oliver

Rep "Able" Mable Thomas
You can see the vote here. Read the full resolution here or below.
HR 882_2020