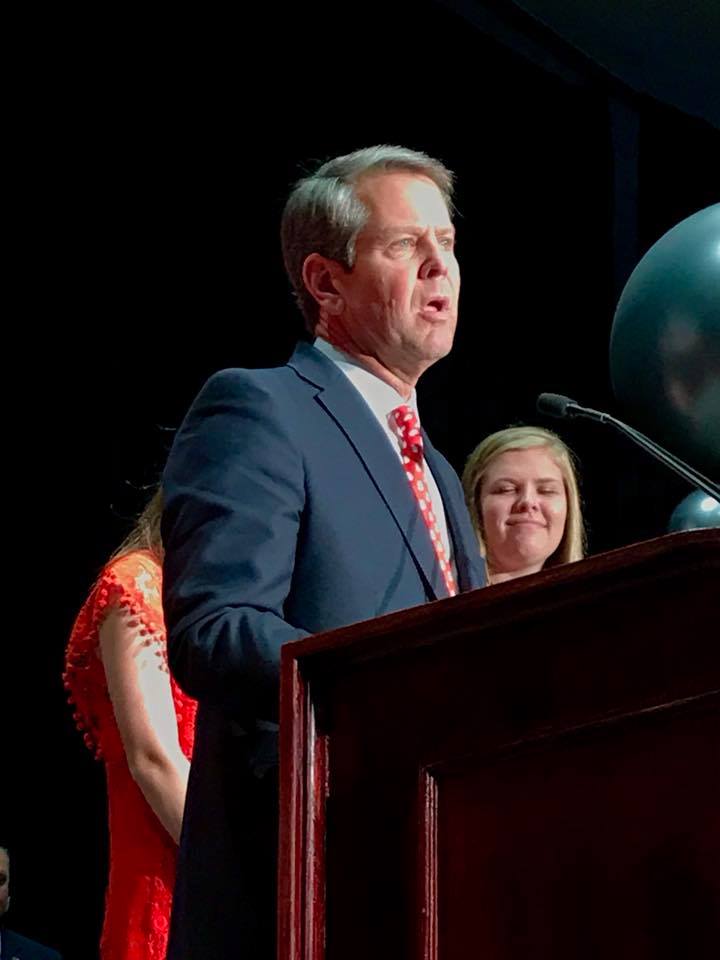 Governor Brian P. Kemp recently conducted swearing-in ceremonies for thirty (30) Georgians to serve on various state boards, councils, and commissioners.

Phenna Rene Petty recently retired from her role as the Career Technical and Agricultural Education Director of Murray County, after serving Murray County Schools for twenty-three years. Throughout her career, she has served on numerous boards including DFACS Region 1 Board, Georgia Junior Achievement Board, and United Way Women's Leadership. Petty and her husband of thirty-six years have two adult children.
Martha Zoller is a talk host with the Jacobs Media Corporation in Gainesville. She obtained a bachelor's degree from the University of Georgia in 1979. Zoller and her husband live in Gainesville, and they have four children.
Sally Lynn Nabors is the payroll manager for Alston & Byrd, LLP. She earned a BBA degree in Finance from Georgia Southern University in 1989. She and her husband, Brian, live in Winston, and they have a son, Evan, who is a college student.
Lisa Kinnemore and Jason Downey were reappointed.
Georgia Board of Corrections
Hernitha (Neat) Robinson is a certified paraprofessional educator who works with the Henry County School System at Austin Road Elementary School. She served as a council member for the City of Stockbridge from 2016-2019. Robinson earned a certificate from the Robert E. Know Municipal Leadership Institute through the Georgia Municipal Association in 2017, a Community Planning Certificate in 2017, and a Regional Leadership Institute Certificate in 2018 through the Atlanta Regional Commission. She previously served for three years as a correctional officer in DeKalb County. She is a devoted mother and resident of Stockbridge.
Board of Community Supervision
Charles Nick Norton is a four-term sheriff in Lanier County, and his service in law enforcement has spanned almost three decades. Sheriff Norton lives in Lakeland.
Steve Queen was reappointed.
Georgia State Board of Veterinary Medicine
Dr. Matthew Bradley graduated from the University of Georgia College of Veterinary Medicine, and he currently practices at Clairmont Animal Hospital in Decatur. He is a member of the Georgia Veterinary Medical Association and serves on the Student Relations Committee. He is also an active member of the American Veterinary Medical Association and the Atlanta Humane Society. Dr. Bradley is married to Maggie of Alpharetta, and they have a newborn son named Copeland.
Dr. Wendy B. Cuevas-Espelid, BS, BVSc, MPH, DACVPM, earned a bachelor's degree in Biology and Geology from the University of Rochester in 1993, a BVSc degree in Veterinary Science from the University of Liverpool in 2002, a master's degree in Public Health from Emory University in 2001, and a Diplomate of the American College of Veterinary Preventive Medicine in 2014. Dr. Cuevas-Espelid worked in a private practice in England, Florida, and Georgia for ten years, becoming an associate state veterinarian with the Georgia Department of Agriculture. Currently, she is the Director of Veterinary Services for the Georgia Veterinary Medical Association. She serves as a liaison with GEMA during emergencies/disasters affecting Georgia, and she is a member of the bioterrorism preparedness group, Antibiotic Resistance Stewardship Committee, companion animal welfare group, United States Animal Health Association, and the Georgia Beekeepers Association. She lives in Canton and is the mother of two children and a Lhaso Apso named Quincy.
Dr. Beckey Malphus and Dr. Larry Corry were reappointed to the board.
Georgia Firefighters Standards and Training Council
Captain James William (J.W.) Thaxton started his fire service in 2003 as a volunteer firefighter with Oconee County, where he still serves as a volunteer today. He worked his way through college while serving Baldwin County Fire Rescue and Putnam County Fire Rescue before being hired with Gwinnett County Fire and Emergency Services. While in Gwinnett County, he worked in many capacities, including on the Hazardous Materials Team and in the Office of Emergency Management. Since 2017, he has served Athens-Clarke County Fire and Emergency Services as a training captain. Captain Thaxton holds an associate's degree in Fire Science, bachelor's degree in Business Management, and a master's degree in Fire and Emergency Management. He is Pro Board certified as a Firefighter II, Hazardous Materials Technician, Fire Instructor II, Fire Inspector I, and Fire Officer IV, and he holds an Advanced Emergency Medical Technician (AEMT) license in the State of Georgia. He is also credentialed as a Certified Emergency Manager (CEM) with the Georgia Emergency Management Agency (GEMA) and the International Association of Emergency Managers (IAEM). Captain Thaxton lives in Watkinsville with his wife, Mariah, and two sons, Eli and Wade.
Randy Toms was reappointed.
Georgia State Board for the Certification of Librarians
Anne Moody Isbell earned a bachelor's degree in Business Management from the College of Commerce and Business Administration from Jacksonville State University in 1987, a master's degree in Library Science from Florida State University in 2014, and a Library Financial Management certification from the Carl Vinson Institute of Government at the University of Gerogia in 2014. She serves as a director for the Lake Blackshear Regional Library System and has served in that capacity since 2006. She resides in Americus.
Kathryn Epps is appointed as a consumer member of the board. She is the president of Epps Brothers, Inc. Epps earned a bachelor's degree in Elementary Education at Georgia Southern University, and she holds a lifetime teaching certificate. She and her husband, Bubber Epps, live in Dry Branch, and they have three children along with several grandchildren and great-grandchildren.
Georgia State Board for the Registration for Professional Geologists
James Alton (Bubber) Epps, Jr. is appointed as the consumer member of the board. He served in the Georgia House of Representatives from 2008-2019. He studied at Brewton Parker College and Mercer University and earned a bachelor's degree in Political Science and a master's degree in Education. He retired from Epps Brothers Construction Company, Inc. He and his wife, Kathryn, live in Dry Branch, and they have three children along with several grandchildren and great-grandchildren.
Georgia State Board of Occupational Therapy
Marla Morris Marlowe is an occupational therapist with Amedisys Home Health and Phoebe Worth Hospital. She graduated magna cum laude from the Medical College of Georgia in 1995. She has over twenty-four years of experience as an occupational therapist practitioner, including experience in numerous settings like school systems, inpatient rehab facilities, outpatient rehab facilities, skilled nursing facilities, home health care, Babies Can't Wait, and Early Intervention. Marlowe is also experienced in pediatrics, sensory integration, assistive technology, and therapeutic taping. She has CKTP certification, is a member of the Georgia Occupational Therapy Association, and serves as a mentor for other occupational therapists and COTAs. She resides in Tifton.
Robert McClellan was reappointed.
Georgia State Board of Cemeterians
Mark H. Anderson is the owner and funeral director for Joiner-Anderson Funeral Home and Crematory in Statesboro. He attended Georgia Southern University and earned a BBS in 1985. Anderson earned a degree in Funeral Service from Ogeechee Technical College.
Clift Dempsey and Mickey Couey were reappointed.
Georgia Council on American Indian Concerns
Terry Raber is the tribal council chairman for the North Georgia Cherokee Indians. He spent his youth in the Cherokee area, and he received parental education from his father in the ancient Cherokee ways, language, and legends. After college, he began a career in the insurance industry and has thirty-six years of experience as a commercial property/casualty field underwriter and field safety consultant. Raber also served as a police officer in Carl from 2004-2018.
J.B. Jones was reappointed.
Georgia Trauma Care Network Commission
Dr. Fred Mullins is a specialist in burn, wound care, and general surgery, and he is a practicing physician on staff at Doctors Hospital in Augusta. He also treats the special needs of pediatric and general burn care patients at Joseph M. Still Burn Center.
Dr. Robert S. Cowles, III has over twenty-five years of experience as a specialist in urological disorders and disease. He is the founder of Cowles Clinic Center for Urology.
Victor L. Drawdy is the EMS representative for the commission. He is the NRP Program Director of Air Evac Lifeteam.
Board of Directors of the Georgia Lottery Corporation
Carol (Missy) Burgess was reappointed.
Board of Commissioners of the Sheriffs' Retirement Fund of Georgia
Bill Huston was reappointed.
Georgia Film, Music, and Digital Entertainment Commission
Representative Terry Rogers was appointed as chair of the Georgia Film, Music, and Digital Entertainment Commission.