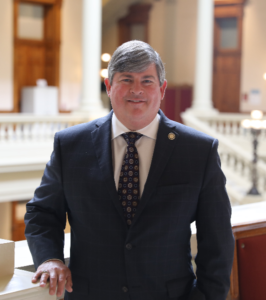 On Tuesday, February 8, Sen. Larry Walker (R – Perry) spoke to members of the Georgia Farm Bureau at their annual advocacy day at the Capitol.
"As our state's largest and most important industry, it is vital that we continue to advance policies that support agriculture across Georgia," said Sen. Walker. "Of particular importance are issues related to protecting our farmers from frivolous nuisance lawsuits, which we aim to address through the Freedom to Farm Act this year. It was a pleasure to address members of the Georgia Farm Bureau, policymakers in the field of agriculture, and many student FFA members who will go on to lead the next generation of agriculture leaders in our state. I want to thank Georgia Farm Bureau President Tom McCall for always advocating for our state's farmers and I look forward to supporting GFB priorities in my role as Chairman of the Senate Agriculture and Consumer Affairs Committee."
The Georgia Farm Bureau held their annual day at the Capitol on February 8, 2022. A total of 480 members from across Georgia were in attendance to hear from state legislators on agriculture related policies currently under consideration by the General Assembly. Sen. Walker centered his remarks around Integrated Precision Agriculture and protecting existing farm operations from lawsuits stemming from "nuisances" which are attempting to be addressed in the Freedom to Farm Act.